An Adventure to Remember
I truly enjoyed my time in Johannesburg, South Africa, one of the 50 largest urban areas in the world. I was there to teach a PECB Certification course, ISO/IEC 27032 Cyber Security Manager Training Course.
I was also there for vacation. I love when my work takes me to such interesting places and that I am able to have my nights and weekends free for sightseeing and enjoying the local culture. I have been to Africa many times in the past and visited Kenya, Tanzania, Angola, Nigeria, UAE and Egypt. However, this was my first time to South Africa.
I stayed at the Indaba Hotel, Spa and Conference Center, which is a wonderful relaxing resort that also houses 22 conference rooms and an auditorium. It also has world-class restaurants which cater to over 120 African-inspired dishes. While it was tempting to just stay at the Lodge, which had so much to offer, I did of course venture out to see the country.
My work/teaching days started with a swim in the pool, wonderful buffet breakfast, great tea breaks served outdoors in the bright sunshine, superb buffet lunches with the students in beautifully decorated restaurants and also at the outdoor terrace restaurant. Yes, I was working, too. Four of my students were from South Africa and one was from Kenya. The ISO/IEC 27032 is for Cyber Security Managers/CISOs. The brilliant students were well versed in Cyber Security and eager to learn how to implement even better Cyber Security Programs.
Two of the evenings after class, I treated myself to the Mowana Spa. The first night was a 5-hour experience, from 6 PM to 11 PM. It consisted of a grand reception which included being greeted by spa staff singing traditional songs and a selection of champagne and juices. After changing into luxurious robes, guests were led to an appetizer buffet. I was soon greeted by my masseuse for a 45-minute massage. This was followed by a three-course meal, then a 45-minute neck and shoulder massage, another break with choice of drinks, and then a 45-minute foot massage. Five hours of being pampered. It was so enjoyable that I scheduled a facial the following evening. I enjoyed sitting outside in one of the seating areas with a large outdoor patio heater. Absolute bliss!
On days that I did not have to teach, I spent each day sightseeing from early morning until the evening. While it's not necessary, to learn my way around, I took a private day tour with a very knowledgeable guide in a Mercedes Car, much better than a large bus tour. I am very interested in history and seeing local sights. We went to Soweto and Johannesburg City.
Soweto is a sprawling township with over 4 million people. While there, I visited the original homes of Nelson Mandela and Archbishop Desmond Tutu. Both of the Nobel Prize winners lived on the same street. I enjoyed visiting the famous Shebeen Township and experiencing the friendly atmosphere. I stopped for lunch at one of the many local restaurants. Afterward, I went to see the outside of the final home of Nelson Mandela where he lived after his Presidency while being married to Graca Machel. While in Soweto, I suggest visiting the Hector Pieterson Museum, which recaptures the anti-apartheid rebellion in the 1970s-1980s.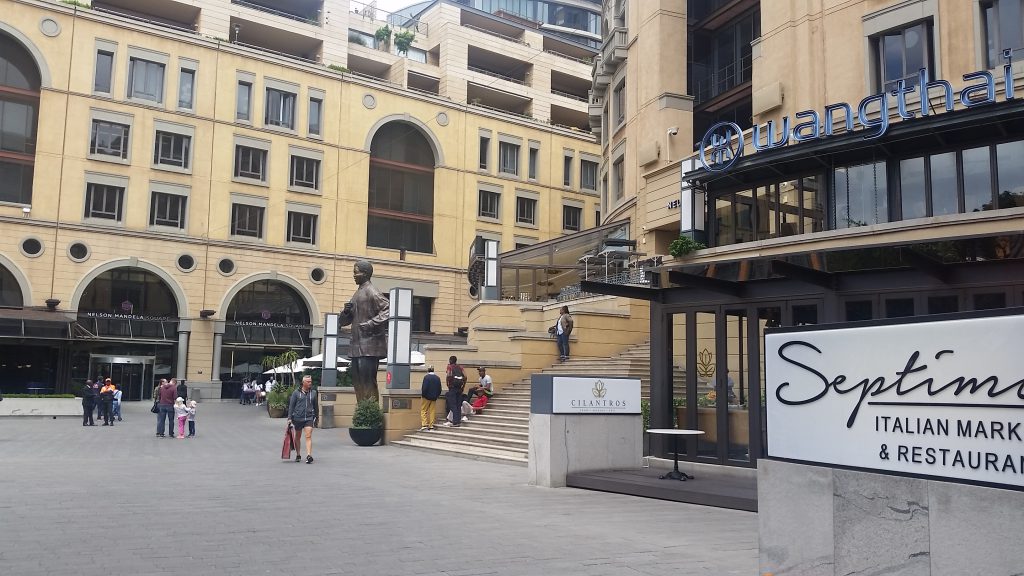 I enjoyed the downtown Johannesburg a lot. The area around Nelson Mandela Square offers plenty of great retail shops and restaurants with culinary tastes ranging from Mediterranean, European, Thai, Indian and other cuisines. Johannesburg has so much history. I do recommend taking tours of the S.A. Constitutional Court, The Old Fort Prison Complex where both Mahatma Gandi and Nelson Mandela were imprisoned. You can pay for the tours at the entrances. Allow yourself time to stay longer after the tours to revisit areas that you are most interested in. The Apartheid Museum is close to downtown Johannesburg and covers the history of South Africa from 1948 to 1994.
What would a trip to South Africa be without seeing the animals? I did not choose to find out and took a day at the Rhino and Lion Nature Reserve, which is approximately 60 km from Johannesburg. The Reserve has more than 30 different species of animals excluding a variety of cat species we host; from buffalo, white rhino, zebra, eland, wildebeest, springbuck, ostrich to lion, tiger, leopard, hyena, wild dog and many more. The Wonder Cave, which is nearby the nature reserve, is the third-largest cave chamber in the country and is believed to be about 2.2 billion years old. It has only been open to the public since 1991. Wear very comfortable shoes. The pathways are well lit, but sure-footedness is necessary.
To sum up my impression of Johannesburg, there is so much to do and the people are friendly, helpful and very kind. I recommend Johannesburg as a must see location. Enjoy your trip.