From road trips and outdoor thrills to captivating resorts and unique local cuisine, Arizona is home to exhilarating scenery, lovely cities, and world-class spas. Arizona is a kind-of-place that it is easy to fall for as it includes many world famous attractions, such as the majestic beauty of the Grand Canyon National Park and the Sonoran Desert, an organic allurement for outdoor enthusiasts.
Also known as The Valley of the Sun, Phoenix is home to a lot of natural wonders, which include mountains, canyons, and deserts. The unique climate offers the perfect opportunity to enjoy the outdoors all year round.
Ranking as one of the fastest growing cities, Phoenix has become the fifth largest city in the U.S. With scenic views that give a sense of appreciation for the work of nature, Phoenix is a destination that suits everyone. One of the major reasons people come here in February, March, and April is the Major League Baseball (professional baseball) Spring Training which is held in Phoenix and Florida.
Additionally, we also have the largest classic car auction in the world called Barrett Jackson. Considering that Arizona in average offers more than 300 days of sunshine a year, you can always plan on perfect weather and therefore, I suggest you put Arizona in your vacation bucket lists and especially Phoenix. Come, and let Phoenix surprise you.
A taste of Phoenix
Experience a taste of Phoenix with some of the favorite spots to eat and drink. Heritage Square is a must see – it is a great combo of fantastic food and a trip through history. Discover what Phoenix was like during the 19th century and enjoy a great meal at award-winning restaurants. There are three different types of cuisines to choose from Nobuo at Teeter House, Pizzeria Bianco & Bar Bianco, and The Rose and Crown.
For a more local taste don't miss Rancho Pinot. It's worth it! The restaurant is smaller and quieter. Ambiance, service, and food are all over the top good. The tables are spread out, which is always nice for conversation. Between the delicious food and amazing service, it's a place for everyone looking for a memorable evening! I should also mention that their desserts are fabulous.
For the best steakhouse dining, visit Durant's Steak House – a restaurant which has been operating for 65 years in the valley and offers a truly enchanting atmosphere and makes for a perfect setting for a business dinner. The food and drinks along with the ambiance and impeccable service make a great experience.
Another great dining place is the FnB, known for its use of the best Arizona's farming and agricultural products. The food is fresh, locally grown and truly flavorful. Don't miss the Arizona wine selection and desserts (try butterscotch pudding and stout chocolate cake).
Exploring the "Valley of the Sun"
Phoenix is Arizona's serene metropolis, offering impressive cultural attractions, the best golf courses, all combined with a perfect weather and great Southwestern and Mexican food, which makes Phoenix a not-to-miss destination. There is also a cultural dimension to visiting Phoenix – the city offers an array of museums such as the Phoenix Art Museum, Heard Museum, Musical Instrument Museum (MIM) and many more.
In addition to museums, while you're visiting Phoenix, make sure to experience a live performance, whether it's an opera, symphony or ballet. Moreover, outdoor attractions such as desert tours, rock climbing, hot-air, and great recreational activities are also a must-do! The list of activities goes on in this urban Heart of Arizona:
Grand Canyon National Park
Being one of the Seven Natural Wonders of the World, The Grand Canyon is definitely a place of "wonder". No matter how many times I visit the Grand Canyon it never seizes to amaze me with its unique combinations of geologic color and erosional forms that decorate the canyon. This place is nothing like what you see on TV or pictures because they cannot capture the true beauty and grandeur of it. Activities include sightseeing, rafting, hiking, and camping with a permit from the Backcountry office. With over five million visitors a year, the canyon is definitely worth the visit.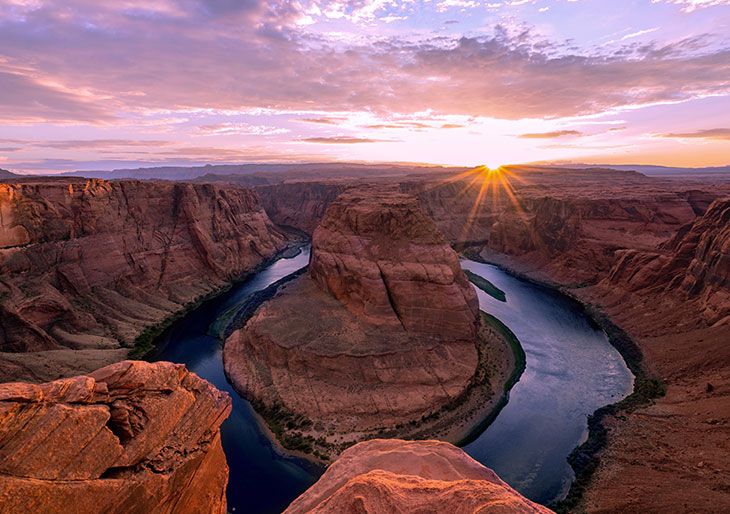 Saguaro National Park
Saguaro National Park is a must-see attraction for anyone visiting Arizona. Home to the majestic Saguaro Cactus, this place offers beautiful scenery of desert and mountain landscapes. This is really a wonderful park even for those who are not into hiking. There are hiking trails, but there is also an 8-mile loop that takes you through the main part of the park and provides great overlooks. This is a great location as it's also close to the film studio where many famous cowboy movies were filmed.
Arizona – Sonora Desert Museum
The wonder of this place lies in its variety of plants and animals, walking trails, caves, historical exhibits and the sprawling view of the Sonoran Desert, which makes for a wonderful half-day trip with great lunch options. The museum is divided into 3 parts: a zoo, botanical garden and museum. All of the exhibits are brilliantly presented and they offer plenty of interesting educational information. The common belief that the desert is home to nothingness is debunked when you experience the lavishness of colors that can be found there. Usually, between October and the end of March, the museum has live raptor shows.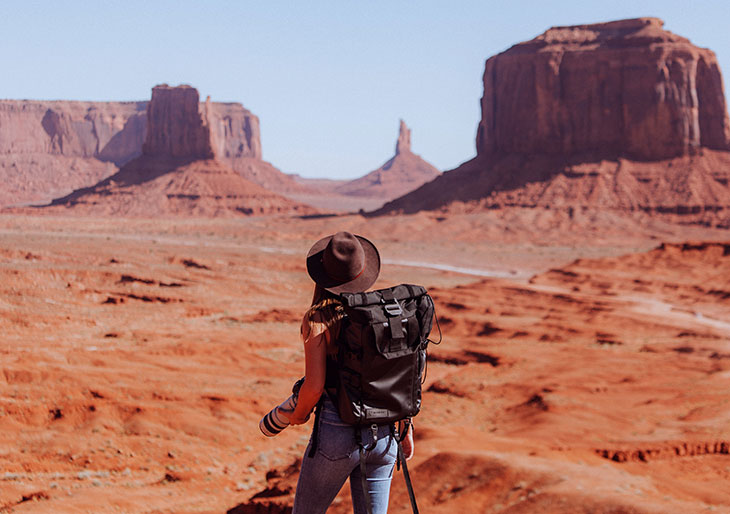 Monument Valley Navajo Tribal Park
Monument Valley is one of the truly iconic places of the United States. The setting for hundreds of Western movies, its unique sandstone formations make the views beyond your imagination everywhere you turn, and the colors are so spectacular. If you ever visit the Monument Valley, just start looking for the reservation at this incredible hotel inside the Monument Valley. This is the only hotel located in the valley which gives unobstructed views and has the entrance to the trail which leads to all other monuments inside the valley.
Sedona
Sedona is a true oasis, a traveler's paradise and one of the most popular destinations of Arizona. Its breathtaking scenery leaves visitors speechless. Due to its exquisite and relaxing natural beauties, this place has attracted many artists to visit the area. Apart from numerous art galleries, Sedona provides an excellent nightlife, including fine dining and various kinds of entertainment options. As for dining, I highly suggest Mariposa Latin Grill – it's a great place, both for its food and spectacular views. Try to be there just before sunset.
Desert Botanical Garden
One of the wonders of Phoenix is the Desert Botanical Garden which is home to over 50,000 arid plants – which gives you a unique chance to explore the different flora that the desert has to offer. Situated between the red rocks of the Papago Buttes, the gardens provide you with many event options, ranging from specialized tours, seasonal exhibits, concerts, family activities, etc.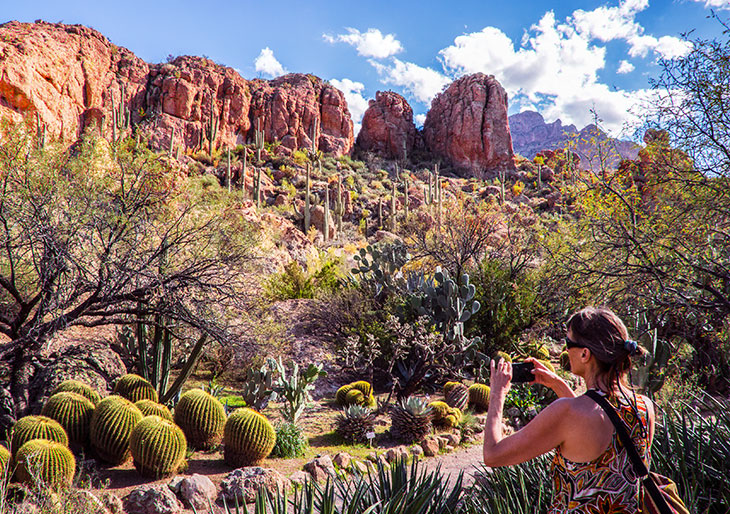 Golf courses
Phoenix is becoming one of the leading locations for golfers, as it offers hundreds of courses and different levels of difficulties. One of the hot spots for golfing is the Arizona Biltmore Golf Club, which is also frequently visited by celebrities. Head over in February and experience the Phoenix Open, which is visited by more than half a million golf lovers. Enjoy a golfing experience with views of the desert and the magnificent backdrop of red rocks.
Phoenix Zoo
Another fantastic experience is the Phoenix Zoo, which is one of the largest non-profit zoos in the U.S. Focused on promoting the conservation of nature and its beauties, the zoo has over 3000 animals – 30 species of which are listed as endangered species. With many activities to offer the zoo is a great opportunity for a day of fun and exploration.
Scottsdale
The residents of Scottsdale and Phoenix are known for their active lifestyle. With the unmatchable trails for hiking and biking, such as the South Mountain National Park which is one of the largest municipally-ran parks in the nation, it is easy to get motivated and go out for a run, bike or hike. These amazing trails stretch for over 51 miles and the highest geographical point reaches 2,230 feet.
Camelback Mountain
Another famous hiking location in the valley is the Enhancing business travel Camelback Mountain, on the top of which there are mesmerizing views of Phoenix, Scottsdale, and Paradise Valley. Hiking on Camelback Mountain is listed on top 10 things to do when visiting the valley.
Frank Lloyd Wright Historic Sites
Phoenix was the hometown of Frank Lloyd Wright, one of the greatest and most celebrated architects and interior designers in the country. You can visit and tour many of the buildings and homes that he designed in the valley including Taliesin West, which was his winter home and is now a National Historic Landmark, and the center of the Frank Lloyd Wright Foundation as well as the School of Architecture at Taliesin.
Accommodation
Depending on your preferences, there are a lot of types of accommodations in Phoenix. For those looking to relax and unwind, a stay in one of the many luxury resorts is a must. These resorts are tailored to fulfill you every need, with activities and services suitable for all ages. So whether it's a family trip with the kids or a "solo" relaxing getaway trip, you will certainly find a resort that meets your needs.
Looking to experience something different and memorable? Then why not camp in one of the stunning camping areas Phoenix has to offer. Sleep under the stars and enjoy the beauty nature has to offer. Don't forget to get a permit for your stay.
Both Scottsdale and Phoenix are home to many wonderful resorts with incredible views and amazing food. Each resort offers its own unique experience. Some of them include:
Fairmont Scottsdale Princess: 5 top-rated restaurants, two 18-hole championship golf courses, and some of the most spectacular Desert Oasis views. This place has something to offer for everyone with its genuine hospitality, six sparkling pools, top-rated cuisines for all tastes and a spa-worthy of being the highlight of the stay.
Hyatt Regency Scottsdale Spa & Resort at Gainey Ranch: Known for its beautiful setting with unobstructed views of McDowell Mountains. It has Gondola rides on a 7-acre lake to tour the resort. It offers an excellent experience from the food, entertainment, scenery and provides an atmosphere which will make you want to stay just one more day.
Beyond business: Enhancing business travel
Even though it is said that balancing work and leisure travel can be complicated, considering that most of my traveling is for business purposes, I enjoy that these trips can also take a touristy character sometimes.
As a PECB Platinum Partner, we offer training courses which cover all of the over 65 ISO and GDPR Accredited Courses. Phoenix is a major Train-cation destination enabling you to have training + vacation, all-in-one in the Fall, Winter, and Spring months. You will find an available course in the Valley of the Sun all year long with our season of beautiful weather starting in October and running through May.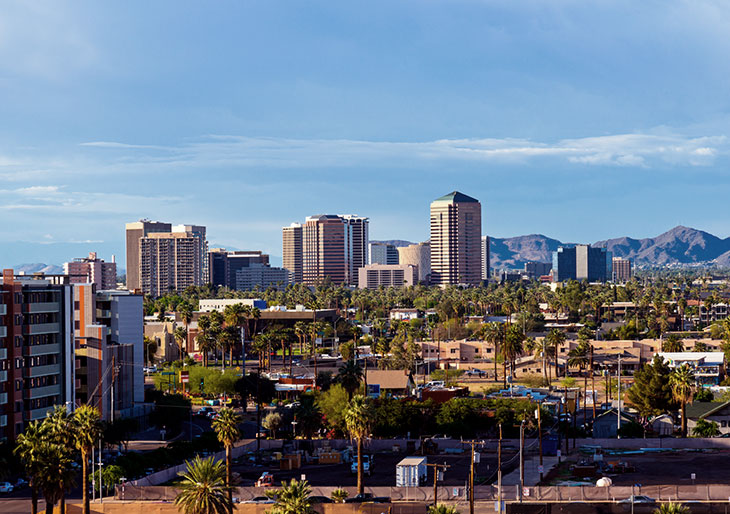 Our Master trainers provide a depth of knowledge in the standard ranging from implementation and certification audits. The 4 days of training are taught by a range of master trainers in a comfortable setting, great breakout lunches which often allow for outdoor seating during the months of beautiful weather. Following the 4-days of training, trainees will complete a certification exam and be provided with a certificate following the course. Visit our updated calendar for our many events in the valley and across the country.
Traveling for business is better when you also have the time to explore and discover what the destination has to offer. When I go somewhere new, I always try to make the best of my free time and add some fun to the trip, and Phoenix is the perfect destination to blend business and relaxation because of its inimitable climate and nature.
The scene of the city allows you to work in a setting like no other, making work enjoyable and promising an exceptional and memorable experience.
For more Business & Leisure and Travel articles click here.