Rated as the third most livable city in the world, Auckland is the largest city in New Zealand and home to more than a third of the entire country's population, and is the main arrival point for many international visitors. The city hosts a combination of metropolitan delights and natural landscapes and will sure keep you captivated.
"New Zealand is a land of immigrants, beauty, and valor. The beauty, culture, and nostalgic history of Auckland can hypnotize anyone, and I was one of them. I moved from Pakistan to Auckland in 2008. A visit to Auckland was sufficient for me to decide to live, work, and enjoy life here. Auckland has a subtropical climate, and always sprays rain on people. Whenever you walk in the streets, you will see people greeting you with a smiling face. I call them people of God."
Getting around Auckland
Auckland's international and domestic airport terminals are only 45 minutes from downtown, and you will get the salty whiff of clean air as soon as you land. There are regular transfers, private transport, and busses available 24 hours, seven days a week. The public transport is a great way to get around. You can take the train, bus, or ferry for visiting the inner or wider region, attractions, shopping centers, and entertainment points. The main transport hub where many bus and train journeys start and finish is Britomart. If you are planning to stay for a longer period of time around Auckland, you can get an AT Hop Card, which is a prepay smart card to get discount for travel on trains, ferries, and busses around Auckland.
The link bus services are very convenient, run very frequently, and get you around the city center and inner suburbs by starting from just 50 cents. Besides that, you can hire a car, motorhome, or motorbike. In Auckland, you can legally drive for up to 12 months per visit, with either a current driver's license from your home country or an International Driving Permit (IDP). The only disadvantage may be that in New Zealand, people drive on the left, and some might need a bit of adjustment.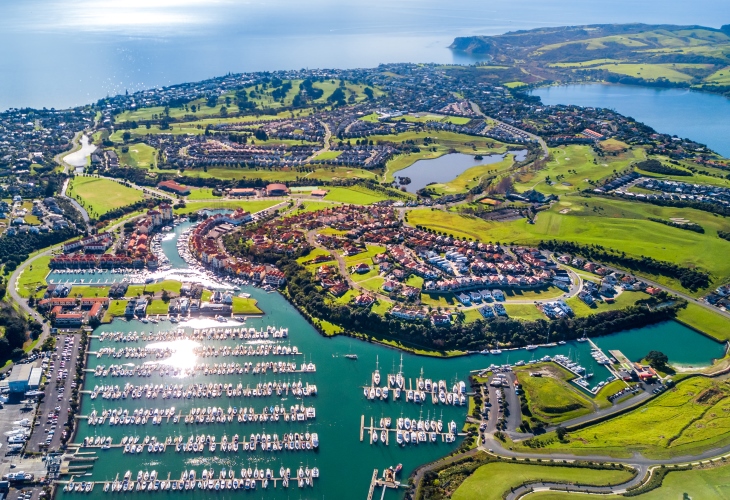 Accommodation
Hilton Auckland — With a unique design and ideal location with panoramic sea views, located 300 meters out to sea on Princes Wharf, Hilton Auckland is home to a variety of shops, restaurants, bars, and is within five minutes' walk from the main shopping precinct, the Viaduct Harbor, the ferry terminal, the museum, and the heart of the city.
There are 177 spacious designer-furnished rooms and 10 suites who all have private balconies and decks. You will get a fabulous view of the harbor, and an outdoor lap pool underwater viewing window. For a fine dining experience, the hotel's fish restaurant offers a menu of fresh seafood from the morning's catch throughout the week by New Zealand master chef Simon Gault. The prices range from $350.00 – $1600.00 per night. The hotel has also its business center and meeting rooms, making it very convenient for organizing any business event or conference.
Crowne Plaza Auckland — With a selection of 352 rooms to suit your needs, Crowne Plaza Auckland is located in the heart of Auckland, and it is just a short walk away from the city's attractions such as the Sky Tower, the Civic Theater, and Aotea Center. You can relax during your stay in one of the rooms that come with amazing view and different sizes: Superior Rooms, Deluxe Rooms, Executive Club Rooms, and Suites. Club guests will have exclusive use of the Club Lounge with spectacular views over Auckland Harbor and great benefits like complimentary continental breakfast, and evening drinks, and canapes.
The guests can use all the facilities of the hotel including 10 event spaces for business meetings, conferences, or any other event. In addition, Aria Restaurant and Bar offers delicious food, where you can also watch your breakfast get cooked in-front of you at the live cooking egg station. Whether you decide to use the fitness center, relax in the sauna, club lounge, or business center, Crowne Plaza will ensure you have a good night's sleep with its Sleep Advantage program so that you wake up for a productive day.
Pullman Auckland — Pullman Auckland Hotel is one of Auckland's largest five-star residential and conferencing hotels with sixteen event venues. This hotel that offers calm, comfort, and convenience for its guests, is situated in the heart of the city with views of the center, harbor, and the historic Albert Park.
Residences by Pullman have won leading awards as "Luxury Apartments of the Year Auckland New Zealand" and "New Zealand Leading Hotel Residence." To have a memorable culinary experience, Tapestry dining is situated on the Lobby Level of the Hotel, and is open seven days a week from 6 am to 10:30 pm. Featuring a unique selection of international flavors and techniques using a fresh locally sourced produce, a meal at Tapestry Dining is perfect for any occasion, business meeting, or simply a casual night out with friends or family. Guests can enjoy a massage with heated stones and exotic wraps after working out at the fitness center. The restaurant has a show kitchen, while the bar offers an extensive wine list.
Stamford Plaza Auckland — One of the finest accommodation's that the city has to offer, Stamford Plaza Auckland rooms surround you with charm and sophistication. Located in the center of Auckland, within close proximity of Queen Shopping District and Britomart Transport Center, the hotel also offers many recreational opportunities, including spa tub, sauna, and an indoor pool.
The rooms (286 in total) are air-conditioned featuring refrigerators and minibars, in-room free WiFi, and LED TVs. Two restaurants, and a business center, including 10505 square feet of space for conference space and meeting rooms.
Franklin 38 — A very quiet place to relax, Franklin 38 is a new Luxury Boutique accommodation with four guest suites, all decorated with contemporary architecture materials and furnishings and individual character. Located in Freeman's Bay, just 15 minute walk to Auckland Central City, a heritage area with Victorian villas.
Recently renovated, this place has maintained its original period features. The suite has a wonderful view of the city and upper harbor which you can enjoy from your room or the verandah. All suites have their own tiled ensuite bathrooms with underfloor heating, heated towel rails, NZ natural toiletries and luxurious towels and linen. You can have breakfast prepared by the hosts starting from homemade breads and baking, to eggs of your choice, salmon, and even vegan or vegetarian options are available.
Attractions
Auckland museum — Whether you have an hour spare or the whole day, Auckland Museum is the best stop to gain an insight into New Zealand's compelling story, its culture, and heritage, and war. The museum has served as a place of remembrance for those who have sacrificed their lives at war.
For more, there are a thousands of items on display, including Māori treasures such as rare carvings, whole buildings, and the last great Māori war canoe carved from a giant Totara tree with daily cultural shows.
Wine tasting — Known as New Zealand's "Island of Wine," Waiheke Island is considered the jewel in the Haruaki Gul's crown. Only 35 minutes from Auckland, there is nothing like taking a ferry over to Waiheke, for all of those who love a glass or two of good quality world-class wines, stunning views, and good food. This is the perfect place to escape to for the day, as the architecture of the place is also a must-see.
The Hauraki Gulf — On the doorstep of Auckland city, the Hauraki Gulf is home to a multitude of emerald islands that you can journey to by ferry. The gulf waters are ideal for a cruise. Besides the Waiheke Island, you need to visit the wildlife of sanctuary on Tiritiri Matagi, a place of endangered birds, including the rare Takahe. The summit of Rangitoto, the black lava volcanic island is also a must-see place, which you can visit with a kayak. Discover the historic Manison House on Kawau Island, once home of Governor George Grey, and sunbathe and swim at Motuihe Island. Last but not the least, embark on an adventure on the Great Barrier Island, a totally different world from your typical holiday.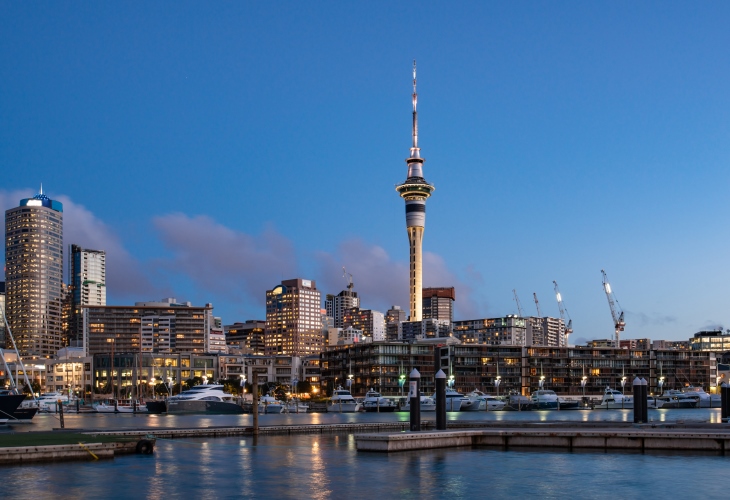 Restaurants
In its coastal setting with verdant surrounding landscape, Auckland is a city in which the cuisine is driven by exceptional local produce that is defined by the seasons. But as one of New Zealand's most exciting hubs, it also benefits from the culinary creativity that comes from international influence and a hunger for world-class dining experiences.
Kazuya — The culinary art of European and Japanese fusion at Kazuya is a feast for the eyes. Kazuya chef uses the unique process of low-temperature long duration roasting for meat, and also traditional Japanese methods for preparing fish so that the guest have a surprising and memorable dining experience. At Kazuya you have fixed-price meals, dégustation options, craft beer selection, and much more.
The Grove — The Grove is one of Auckland's top restaurants, located in the heart of the city, in Saint Patricks Square next to the historic Saint Patrick's Cathedral. Here you can enjoy a unique approach to food and service, of New Zealand and French influence cuisine with degustation dining that changes frequently with seasonality and market availability. The menu changes frequently as it focuses on finding the freshest local ingredients each season; however, specialties like terrine of honey bugs and ripe tomatoes with fennel and tarragon, and Mooloolaba king prawns with samphire can be found at all times. New Zealand and international wines will be served to you for enjoying an amazing journey into the world of wine too.
Sidart — Offers contemporary Indian fine dining using only New Zealand produce. Besides the beautifully presented and tasty dishes here you can find exceptionally good value wine. The Chef's Table experience offers a closer look into the kitchen. Here you can watch dishes being created, and be guided through the menu by our chefs. This is our most exclusive dining experience, starting with a glass of Champagne on arrival, before taking you on a journey of flavors with our Full Discovery Menu. The Chef's Table is available for four to five guests.
The Sugar Club — Located on floor 53 of Auckland's iconic Sky Tower, this seems like the perfect place with fine food, creative cocktails and a well-curated wine list, and a 360 grade spectacular view of the city. The elegant Art Decoinspired fine dining restaurant and accompanying cocktail bar is the setting for meals of Asian and European fusion cuisine by lauded chef Peter Gordon that champions New Zealand's seasonal ingredients.
Bracu — For a more relaxed meal, Simunovich Olive Estate is also home to a unique restaurant, Bracu, which takes its name from the Adriatic island of Brac, the place where the olive growing tradition began. The menu is on the traditional side with some innovative twists and a commitment to fresh seasonal produce. A meal here is well worth the 40-minute drive from Auckland. The food is cooked from the Estate's own gardens and passionate local producers while you relax on the all-weather verandah or inside the magnificently restyled Kauri villa.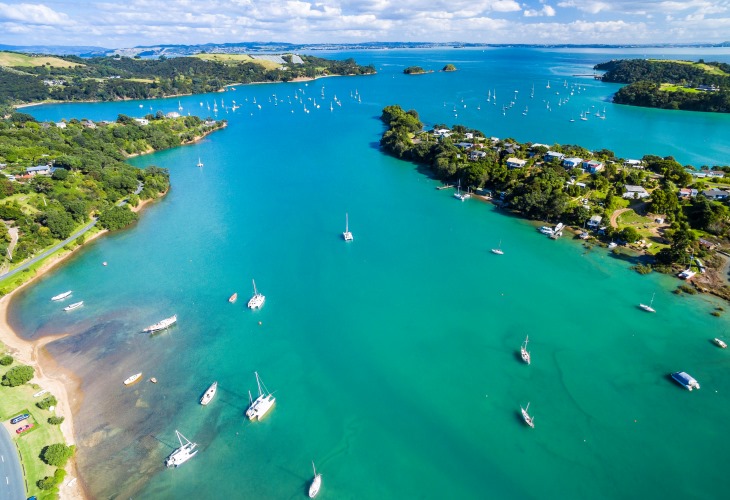 Business
Auckland generates nearly 40% of the country's GDP and is a major skills, production, and research and development hub for Asia-Pacific. Besides being strategically located, Auckland is also connected, as the business hours are complementary to key regional markets and markets in Europe, Britain, and the US east coast. With the country's largest airport, seaport, and freight operations, Auckland is also the main logistics hub in and out of New Zealand.
Auckland is considered to be the economic center of New Zealand and an innovation hub of Asia-Pacific. According to the IFC World Bank — Doing Business Report 2020, New Zealand was voted, for the fourth year, the first out of 190 economies in the world for ease of doing business. This evaluation is done based on a number of indicators such as "starting a business" to "resolving insolvency" and "protecting minority investors." For more, New Zealand has been ranked as number one for "ease of starting a business" by the Doing Business Report, for the twelfth year in a row.
There are available websites and resources that make it simple to register companies and help understand the steps and obligations to starting a business. For more, it is very easy to run your training courses in Auckland, as the best hotels are there to accommodate your requirements in order to have an immaculate training.
All these factors make New Zealand, and especially Auckland, a favorable place to start thinking of making business: a business-friendly and stable environment coupled with an easy lifestyle and a great place to raise a family.