For many people, the 4th of July means independence and freedom, the birth of a nation, and so on. For Burgundy, in France, it represents something quite different; it represents the veneration of centuries of tradition and culture, because it is on this day, in 2015, that Burgundy's climats became officially recognized by UNESCO.
Encapsulating far more than just its unique geological, geographical, and meteorological characteristics, these plots of land represent over 2000 years of viticulture know-how and heritage that has inspired winemaking all around the world. Stretching mainly from Dijon to Beaune, Burgundy includes some of the most prestigious wineries, with their highly prized gems reaching up to thousands of euros per glass.
The Best of Burgundy
Producing some 200 million bottles of wine a year, Burgundy is known to offer perhaps the best expression of chardonnay and pinot noir grape varieties in the world. Its wineries include those from famous appellations and communes with fairy-tale histories such as Vosne-Romanée, home to Romanée Conti, which means wine of the prince.
They sit on parcelles or patches of terrain, more than 1200 of which make up the climats. They are also so precisely defined that the price and taste of a wine from one parcelle can be surprisingly different from the one right next to it.
Burgundy's centuries of winemaking history also play a part, having refined the art from generation to generation. But more than just wine, the climats offer everything that UNESCO sites promise: its sumptuous landscapes of rolling hills and vineyards as far as the eye can see, speckled with romantic villages with its church spires and stony paved streets; its rich culture, history, monuments, and architecture.
Beaune is home to the Hospices of Beaune, for example, which dates back to the 15th century, being designated also as a former hospital (which is now a museum, and well worth the visit) and a winery. Its 60 hectares of vines produce some of the best wines in Burgundy. All of its vines come from donations and their wine is sold each November at what is now perhaps the most famous charity wine auction in the world.
Beaune will also soon be home to one of three new 'wine cities' dedicated to all things related to wine in Burgundy. The first bricks of the future Cité du Vin in Beaune were placed on site just this year.
More than just a building, the Beaune complex will feature hotels, conference rooms and a big building, resembling a spiral shape inspired by the vine wound around its trellis. Visitors will be immersed in the world of centuries-old viticulture and viniculture, from the vine to the glass, with spectacular views of the surrounding wineries.
It will be part of a project encompassing three attractions, with smaller but equally reverent wine centers and experiences promised in Chablis, to the north, and Macon, to the south, as well. The whole thing is due to open its doors sometime in 2022.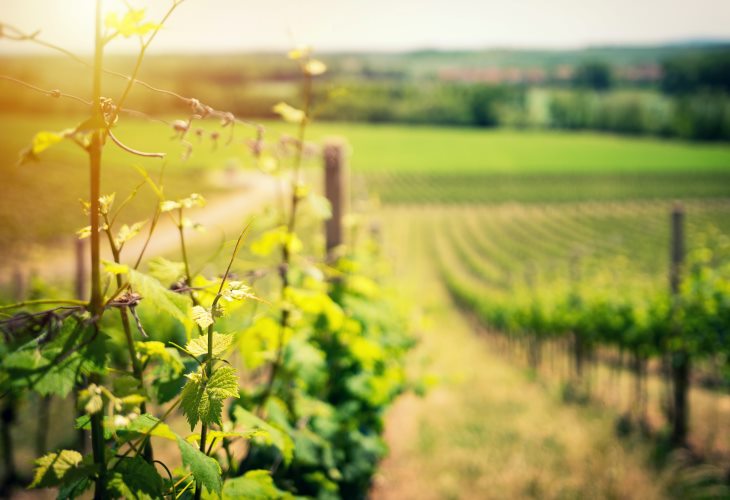 Marvelous Maconnais
Macon is at the heart of Maconnais, the perhaps lesser known region of Burgundy, equally charming but a lot more accessible in terms of price than its northern cousins. Here you will also see a beautiful scenery and passionate winemakers amidst appellations such Macon, Saint Véran and Pouilly-Fuissé. Producing mainly white wines (with chardonnay being the most prominent in this area), Macon also produces a fair bit of aligoté and much smaller amounts of pinot noir. What's more, as it touches the Beaujolais region, you'll find some beautiful displays of gamay growing there too.
Awash with medieval castles and abbeys and geographical formations such as caves and rock formations, there's a lot to see even from the comfort of your car. But viticulture remains the mainstay of the Maconnais, so what better way to pass a weekend or a few days than visiting, or even staying on, a winery.
Waking up in a Wine Barrel
One way of getting the full vineyard experience is to not only to admire the wine barrels but to also sleep in one. The Clos de Grand Bois in Lugny has been offering this unique adventure for some years, with each barrel cozily accommodating up to four people. Each barrel is named after a Burgundy grape variety (Chardonnay, Aligoté, Muscat, Pinot Noir, and Gamay) and the stay includes breakfast in the main building along with a guided visit and tasting.
Le Grand Bois, a predominantly chardonnay winery in a terrain that also features a large wooded area, has been home to vines for at least 300 years, though the vines had been left to wallow many times. It too, like virtually every winery in France, was devastated by the phylloxera crisis in the 1880s, a turning point in the history of French wine. It was at this time when a pesky insect, known as phylloxera, ravaged around 90% of French vines, forcing winemakers to pull out all of their precious vines, as no treatment proved effective enough. This was, unsurprisingly, disastrous for the industry, which searched for alternatives, and ultimately found one in the form of American vines, that were resistant to the bug.
However, the American vines, not being destined for wine at the time, didn't produce very good wines, so the first attempts proved unsuccessful. The solution was later found in grafting French vines to the American ones. So, to this day, most of the vines and grape varieties in France, and indeed all around the world, are made up of the vines grafted to American vines in this way.
Some 100 years later, however, the vines were revived by the winemaker Joseph Lafarge, who came from ten generations of winemakers. The vines, carefully tended to by himself and later his descendants were awarded for both their quality of wine and tourism.
These days, while much of their wine is sold to the Cave de Lugny, a renowned wine cooperative, making quality wines from vineyards in the region, the Lafarges have been making more and more of their own label onsite.
Producing mostly still white wine from chardonnay, they also produce some sparkling wine, the odd rosé and a bit of red from pinot noir and gamay. Accessible in terms of price, the wines reflect the culture and essence of Burgundy, but most of all the land where they are made.
To get the full domaine experience, to feel fully immersed in the splendor of Burgundy and Lugny, best head there around late October. From the winery gate, turn right and stroll through the forest for about ten minutes before popping out to a view of the surrounding vineyards in all their glory; miles and miles of vines, as far as the eye can see, with all its gold and orange shades, speckled with charming villages and their churches. Then, when your eyes have had its fill, head to the local town of Lugny, or any of the local villages, each bursting with history of the Middle Ages.
The best way to see Lugny, Maconnais, and in fact all of Burgundy, is by doing so outdoors. The tourist office publishes a map that details 800km of cycle routes in Burgundy, using mostly cycle paths or quiet roads, enabling you to choose your section and truly embrace the charm of quintessential French villages and vineyards.
For more information see: