Viking history and modern word-class architecture melt in the splendid city of Copenhagen — the center of Europe's most dynamic region, Øresund. Nominated as the best city for livability, sustainability, and many other factors, Copenhagen is a very popular place to live and visit due to its fascinating architecture, parks, and other attractions that are veiled with an exclusive royal touch. Home to the world's oldest monarchy and a number of ancient and mesmerizing castles, Copenhagen is considered as one of the healthiest and happiest city in the world!
Getting around
Copenhagen has one of the most efficient and reliable public transport infrastructure in the world, which can get anywhere you wish in the capital region. The Copenhagen Airport is only 15 minutes away from the city center and top attractions. Metro is a quick, cheap, and easy way to get from the airport to the city, or vice-versa. They run each three minutes during rush hour, and three to six minutes outside rush hour and weekends.
If you are planning to spend more time there, you might want to use Copenhagen Card with unlimited transportation in the entire capital region of Denmark. You can enjoy unlimited travel on buses, trains, and the metro in Copenhagen in zones one to four with a City Pass, from the moment you arrive in Copenhagen via the airport.
However, Danes prefer sustainable modes of getting around such as cycling or walking (more than 49% of Copenhageners go to work or studies by bike) — it is an integral part of every citizen. The city has a bike culture, and it is one of the world's most bicycle friendly city. That is why, we suggest that you rent a bike to explore the city on two wheels like a real Copenhagener.
Where to stay
Copenhagen Admiral Hotel: The view of the waterfront, the opera, the playhouse, Ofelia Square, and other main tourist attractions make the stay at the Admiral hotel an extraordinary experience. The hotel has 366 rooms and suites decorated with a unique and modern design, each different from the other. There are also flexible conference rooms that can be used for meetings of any kind. Two hundred-year-old Pomeranian pine beams, archways, and brickwork add charm to Copenhagen Admiral. You would not want to miss it!
Nimb Hotel: The magic of Tivoli, the warm Nordic atmosphere, and Moorish aesthetics are magically merged in Nimb's style. The hotel has luxurious rooms with elegant and antique furniture. You can book a staycation and enjoy a picnic at Nimb Roof or other outdoor areas surrounding the hotel. For more, you can also enjoy delicious dishes at Nimb Braserie or even have an exclusive dining experience by inviting your guest, just like at home.
Absalon Hotel: Only five minutes' walk of Tivoli Gardens and Copenhagen Central Station, this hotel offers bike rentals and popular Scandinavian breakfast buffet. There are 161 modern guestrooms, dry cleaning service, full internet access, and many other amenities for your comfort and entertainment. The hotel is located in the heart of Copenhagen; this will make it easier for you to visit other sites in the city by walking.
Attractions
Christiansborg Palace: The richly decorated walls and ceilings of this 800-year old place will make your jaws drop. The palace has survived two major fires and still stands fierce. It is the only building in the world that houses all three of government branches: the Danish Parliament, the Supreme Court, and the Ministry of State. Several parts of the Palace are open to the wide public. The unique tapestries with motifs from Danish folk ballads, the thrones, and the marble busts of Danish kings and queens will have you stand in awe of their beauty and rigor.
The Tower, Christiansborg Palace: Once home of kings and queens, the Christiansborg Palace is now one of the most attractive parts of Copenhagen. The city's highest tower, open to the public for free, offers a priceless aerial view of the old town, the sea, and even Malmö of Sweeden in a cloudless day. The viewing platform has four open galleries with the grandest views of Copenhagen offering a splendid panorama viewpoint.
The Lapidarium of Kings and the Royal Cast Museum: Nobility runs in Copenhagen's "veins." Sculptures have made great kings and queens live through decades and centuries. The Danes preserve their history well in the Lapidarium of Kings, located under the vaulted ceilings of a 400-year-old brewhouse in the heart of Copenhagen. The building is home to 300 statues, sculptures, and ornamentation gathered from royal gardens and buildings. The other Danish museum, the Royal Cast Museum, is housed in a beautiful warehouse that shelters over 2000 plaster casts of sculptures from all over Europe. Denmark's impressive collection of statues has made Copenhagen a great place to be for art lovers.
The Six Forgotten Giants: Are you up for treasure hunting? Six wooden giants are hidden in the forests of Copenhangen's suburb areas and impatiently waiting to be found. These off-the-wall sculptures, finely crafted by artist Thomas Dambo using recycled wood, were scattered in the forests aiming to get people out exploring and enjoying the Danish nature.
Tivoli Gardens: The world's second-oldest operating amusement park is now the third most visited theme park in Europe. The park includes a variety of attractions all in one place: a theater, flower gardens, thrilling amusement rides, restaurants and cafés, and more. When the sun sets in the east, the gardens are illuminated by colored lamps. Fascinated by the ambience, Walt Disney is said to have been inspired by the Tivoli gardens to make his own Disneyland theme park.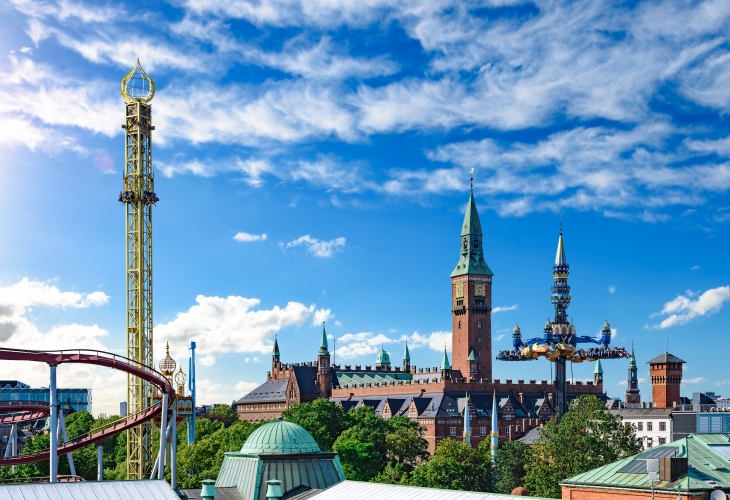 Restaurants
Mielcke & Hurtigkarl: One of Copenhagen's most acclaimed restaurants, serves gorgeously presented dishes that represent a fusion of Asian and Nordic flavors. The restaurant is located in one of the most beautiful settings of Copenhagen, the Royal Danish Horticultural Gardens, and the interior is designed in that fashion and spirit. It is headed by Jakob Mielcke, who fuses local and global ingredients of Western and Eastern flavors resulting in a heavenly menu and flawless dishes.
Alchemist: In Rasmus Munk's famous, award-winning restaurant, you will see art, activism, and eating — all in one. Alchemist is for sure an exceptional experience and is often considered by its visitors as otherworldly and as Copenhagen's "New frontier in fine dining" due to its special representation of dishes and the message they pertain, the interior, and, of course, the taste. The dinner at Alchemist is presented in different acts at various locations including the planetarium dome, a filmic experience with floating jellyfish among plastic debris and sparks from fire rising to the sky.
What is special about the dishes here is that they represent an amalgamation of creativity, complexity, and some even try to raise awareness on issues such as climate change, food waste, etc. The famous "lamb heart" dish for example, covered with red jelly, has at its side a card to sign up to be an organ donor.
Kokkeriet: Experience a world of taste in this beautiful restaurant located in Copenhagen's historic Nyboder neighborhood (the 400 years housing blocks build for the navy) that has been awarded a star in Guide Michelin Nordic Cities 2020. Danish traditional food and finesse is served and reconstructed in the best way, mixed with the chef's contemporary and innovative work. There is a variety of menus, including a dedicated vegan tasting menu. While on Tuesdays, the restaurant serves menus with experimental dishes that the chefs are testing out — for free!
Schønnemann: Here you can enjoy smørrebrød, one of the highest quality and well-served beer, as done traditionally for almost 150 years. The menu consists of warm freshly made dishes and specialties of classic Danish smørrebrød. Schønnemann's traditional matured herring, breaded fillets of plaice, smoked eel with freshly-made scrambled eggs, tenderloin steaks with onions, beef tatar with a touch of lovage, and a beer and a glass of snaps, are what has continued the legacy form 1877. You can enjoy more than 140 selected Danish, Norwegian, and Swedish snaps and aquavitus. An informal, cozy atmosphere awaits for you at the top choice in the Strøget and the Latin Quarter.
Noma: Denmark's ultimate chef and Time magazine's "World's 100 most influential people" person, Rene Redzepi, runs one of the world's best restaurants called Noma. This restaurant is considered as the crown jewel in the Danish food scene and it represents a new Nordic kitchen, with three menus per year, each roughly 20-courses, cooked with ingredients of the respective season.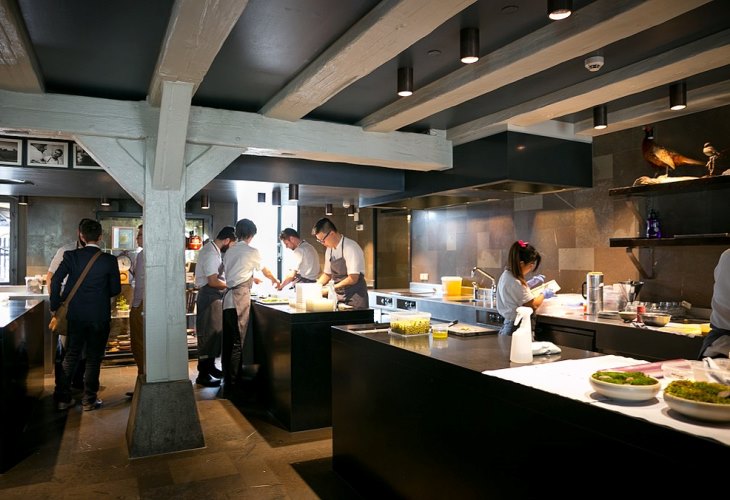 Business
Doing business in Denmark is probably one of the smartest decisions you can make as a businessperson. It takes only 24 hours to set up a business here, due to the simple procedures and lowest bureaucratic regulations (via https:// indberet.virk.dk/). Denmark has been ranked by the World Bank for the seventh year in a row as the best country in Europe for doing business. It is considered as a business and commercial hub of the Nordic countries and the Øresund region. It has a natural attractive location which serves a hub for transport routes, sea, air, and land traffic.
There are a number of public funding schemes for entrepreneurs, such as the Innovation Incubator Scheme, which provides counselling, pre-seed, and seed capital. There is also the public venture capital fund, Innovation Fund Denmark, which offers grants.
Many internationally recognized companies such as Skype, Unity Technologies, etc., have chosen Denmark as their place of business. The country has also a thriving tech sector with a high speed internet, making it a perfect place to test ideas there. There are organizations that offer consulting and serve as a link between businesses and the council.
The country has a very open and collaborative work culture as they foster equality and collaboration for businesses, be that national or international. With flexible schedules and lighter working hours, it is no wonder that the productivity rate of the Danish is the highest in Europe.