Rome, alias Urbe, Caput Mundi, Eternal City has been considered the center of the world for centuries. It is the birthplace of Caesar, home to the Catholic Church, full of ruins, history, and some delicious food! Consider this article as a small guide to Rome that can help you plan your trip, navigate the endless amount of sites and attractions, and learn how to get around in the chaos!
Are you a fast traveler and don't like idle times? Or do you prefer to take your time? A "fast" traveler can visit Rome in two or three days and discover the major attractions. If you will have more time, it is better to organize a journey of four to five days which will allow you to explore the tourist attractions of the city at your own pace.
Rome is known for its sunny Mediterranean climate, and is a great escape in every season. No amount of time will ever be enough to see everything in Rome, but 48 hours is just enough time to visit the city's main attractions and eat at some of Rome's best restaurants.
Friday evening you can visit the Vatican Museum and see one of the world's most important art collections after dark, making for a once-in-a-lifetime experience. Friday night you can spend the evening having dinner at one of the city's bistros: start off with some local wine and a platter of cold-cuts and cheeses before moving on to the daily specials.
Saturday morning you can't miss visiting the world's largest amphitheater. After exploring the Colosseum, head over to one most important forums in ancient Rome, and the greatest sign of the Roman Empire, the Roman Forum. Saturday midday you can't miss the opportunity to walk around the Trastevere district and try the specialties of some local bakeries.
How to Get to Rome
After a long flight you might be inclined to fork out for a taxi for door-to-door service. Just make sure you know what you're paying before you jump in the taxi. There are airport transfers available. For a fixed rate of 30€, you can take a taxi from Ciampino Airport to Rome. This includes a stop in the center. A more affordable option is the airport shuttle bus which costs around 6€ and it takes around 45 minutes. Rates from Fiumicino-Leonardo da Vinci Airport are 48€. However, the fastest way to reach the city is on the Leonardo Express train to Termini Station which costs 14€ and lasts 30 minutes.
Getting around Rome
Buy your ticket in advance, a one-way ticket is approximately 1,50€. There are plenty of choices for unlimited journeys. A mixed solution named Roma Pass offers free use of the city's public transport, free skip-the-line admission to one or two museums (although not the Vatican), and discounts for other museums, services, and activities in Rome. A 48 or 72-hour city card is available.
Attractions
The Colosseum: This monument dates from AD 72 and is known for its oval shape and enormous proportions. It is also known as the Flavian Amphitheater and it was the largest setting for mass slaughter with a seating capacity of over 50,000 ‒ 80,000 people. Stories of glory battles between gladiators, slaves, prisoners, and wild animals have emerged from this monument.
The Roman Forum: The forum was the center of the city and you can see ruins of ancient markets, administrative, and religious buildings. However, you will not find any explanation on the sites, so if you're interested in history, you should really opt for a guided tour.
The Pantheon: The greatest evidence of the great Roman empire, a temple devoted to all divinities, draws tourists from all over the world for its magnificence and for its particular architecture. The dome in fact is the magnificent part of this building, opening to the eye called "Oculus," the only source of light. Outside is covered by seven eaves that offset atmospheric pressures and guarantee the way down of rain alongside curves.
Fontana di Trevi: Within walking distance from Pantheon, you will find one of the most important attractions of Europe, Trevi Fountain, enveloped in charm of the legend and of the tradition of launching two coins: one to express a wish, and the other one to go back in Rome!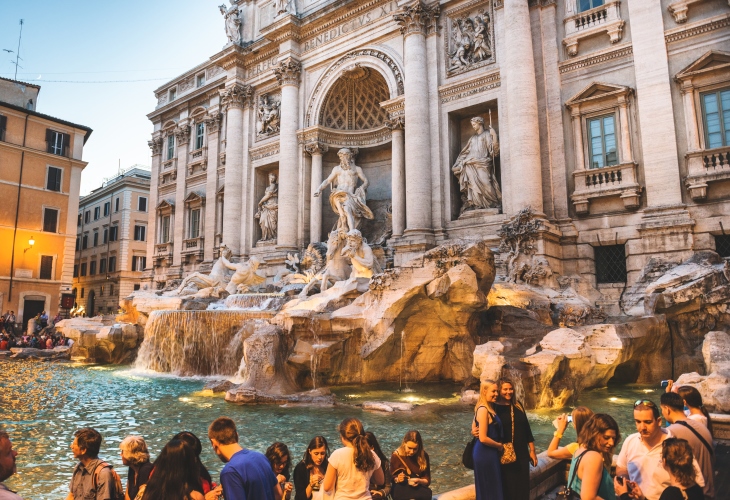 The Vatican: A building by the Vatican City State, the church was made by Gian Lorenzo Bernini in 1661. It is smaller world's nation but more visited by travelers during the holidays in Italy. It's surrounded by two colonnades of almost 280 columns and 145 Sainte's sculptures. In the middle of the square stands an Egyptian obelisk surrounded by two big fountains. Inside the church you can see masterpieces such as the "Piety" made by Michelangelo and the "Canopy" made by Bernini.
Castel Sant'Angelo: If you keep walking from the square of the St. Peter's Church, you'll get across the Sant'Angelo's Bridge, and then you will arrive at the homonymous castle. The bridge is decorated with 10 statues representing angels, all designed by Bernini, offering an incredible view of the river and the city. The primary purpose of the Castel Sant'Angelo, built by Emperor Hadrian, was to serve as a mausoleum. It afterwards served for military purposes, and even as a place of refugee for the popes during invasions. Over the centuries it became a prison, next, a Renaissance residence, and today is a museum.
Capitoline Museum: These museums are set across three buildings in Piazza del Campidoglio, a trapezoidal piazza designed by Michelangelo in the 16th century and one of the many must-see museums in Rome. Considered as the first public museums in the world, they are home to Renaissance marble statues and Roman bronzes such as the Equestrian statue of Marcus Aurelius and the Capitoline Wolf, which symbolizes the founding of Rome.
Accommodation
Living la dolce vita does not always come cheap! There are Vespas to rent, attractions to explore, Negronis to imbibe at the best bars in Rome, and truffle-topped pasta to eat. Prioritizing more budget-friendly alternatives for hotels allows you to enjoy more cultural temptations and iconic and tasty dinings. And luckily, some of the city's best hotels are also most budget-friendly; finding cheap accommodation does not require being stuck in some soulless suburb. Here are some of the recommended cheap hotels:
Relais Le Clarisse: The hotel is located in the heart of Trastevere and is housed inside a former church convent that dates to 1122.
Alice Vatican House: Located 450 meters from St. Peter's Square, this place has contemporary rooms with neat decoration from 95€ per night, with breakfast included. The place has an ideal location, a terrace overlooking the Vatican, and a warm welcome. This is the best choice for your stay in Rome under 120€!
iRooms Pantheon & Navona: Everything in the hotel is controlled by the in-room iPads, and even the front desk needs to be reached by Skype rather than a landline.
Roma Luxus Hôtel: This is the best hotel for a luxury stay in Rome and is located only 400 meters from Piazza Venezia. Beautiful double room starting at 200€ per night, breakfast at 20€. The room design, the 5 stars service, the superb breakfast, the spa, and the amazing staff are what make this place worthwhile.
You can also rent exclusive apartments from many private individuals in any place in the city.
Best Rooftop Bars in Rome
Although in cities across the world an escape from tourists takes the form of ventures down little-known side streets, in the capital of Italy, respite comes in the form of the best rooftops in Rome.
Roof Garden Les Étoiles
Chiostro del Bramante
Marco Martini Cocktail Bar
Zuma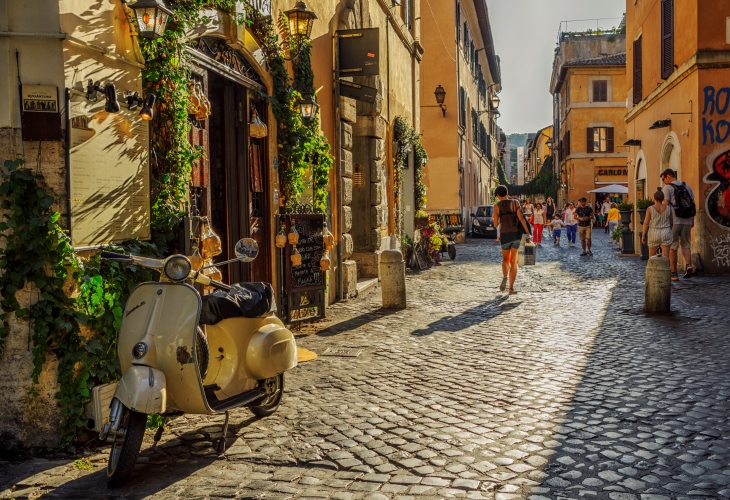 Shopping and Restaurants
Shopping in Rome is a study in extremes, from the breathlessly expensive Italian fashion houses asking you to part with hundreds of euros (for good reason, of course) to wallet-friendly street wears, plastic models of classic attractions and spray-paint art sold clandestinely on street corners, the city is basically a shrine to shopping.
You won't go hungry in Rome. Rome's dining scene is a symbol of excellence worldwide. The city is home to thousands of great restaurants and trattorias. The area south of Spanish Steps has a lot of little restaurants offering casual and fine dining. Trastevere is a very popular area and lovely to wander around the narrow side streets of it lined with bars and restaurants. Piazza Navona contains several cafés which face the Pantheon although walking back a street or two from the main squares and attractions will find you a meal for half the price.
It's tough choosing where to eat but you won't go far wrong with menus offering simple, fresh traditional dishes like pasta, pizza, chicken, veal, seafood, and the typical Caprese salad. In most restaurants, the house wine is unusually good.
Business
Italy is considered an attractive place for investment as it is growing at a steady rate and continuously recovering from the global financial crisis. It is the third-largest economy in the European Union and eighth in the world. While known for its art, food, and rich history, Italy also offers businesses well-established infrastructures for R&D, innovation and design, and a strong manufacturing base. Italy's geographic location is significant, making it a strategic logistics hub and a gateway to the European Single Market.
Advantages of doing business in Italy:
Strategic logistics hub
Pro-investment culture
Robust manufacturing base
A tradition of innovation
High-tech performance
Based on the Doing Business 2020 report, out of 190 economies, Italy performs below the EU average, ranking 58th for overall ease of doing business.
Ten Tips to Visit Rome
Book all your attraction tickets in advance: Spend your time getting to know the city and don't follow the crowds, buy your tickets online.
Wear comfortable shoes in Rome: The city very big, and you will be walking a lot.
Always carry cash: Coins, or "spicci," are especially welcomed at cafés and small shops.
Visit Rome in the low season: Spring and Autumn are the best periods to visit the city.
Ice cream is good anytime: Italians enjoy this treat year-round and Rome has many artisan ice cream shops, where will you try the "gelato."
Buy bus tickets ahead of time: Be sure to stock up on bus tickets ahead of time because you can't buy them on the bus.
Always order coffee at the bar: Italians don't really linger over their coffee and quite literally down it, so do it like the locals. If you are planning not to sit, a coffee will cost 1-2 euros. You will pay 5 euros for coffee if you sit.
Never pay for water: Use the water fountains instead, affectionately called "nasoni" or big noses around every other corner and these fountains have good to drink water.
Get ready to dine very late: If you're an early dinner person, you'll have to wait a little to get yourself dinner in Rome. Dinner in most restaurants is served at around 8:30 p.m. or later. You can order until 11:30 p.m. when the last order is received.
It's free museum day on every first Sunday of the month: Rome's state-owned museums, galleries, archeological sites, parks, and gardens are free on Business the first Sunday of each month.
Note: PECB advises you to avoid traveling nowadays due to the ongoing COVID-19 outbreak. However, make sure you add this incredible destination on your travel bucket list.