The formula to make customers satisfied in the hospitality industry is not to provide services that will only make customers say "it was a good experience" but to make them say "we will definitely come back again" and keep them loyal, by providing quality in services with pleasure. Pleased customers are defined as loyal customers in the hospitality industry. In order to understand customers and which attributes they base their decision on when choosing between various hotels, museums, restaurants, amusements parks, etc.; the implementation of quality management and effective policies is crucial and extremely helpful.
Correspondingly, managers should provide trends, which will make customers attached to the quality service of the hotel, restaurant, or resort and become loyal customers. The right recipe is to focus on the customers' needs and the actual services provided. For the sole purpose of illustrating the importance of customer satisfaction in the hospitality industry, hotel services will be the main focus throughout the article.
Hotels should provide an evaluation of images that customers have received; the characteristics that have contributed in returning to a hotel, or advising it to others, this is considered as a source of the success in a touristic destination. Moreover, the hotel industry should provide analysis of evaluation for all the levels of services, and implement continuous improvement at all times. Factors contributing to tourism are; cleanliness, price, location, security, personal service, physical attractiveness, opportunities for relaxation, the standard of services, appealing image, and reputation are known as influential drivers by travelers to assess the quality of the hotel. On the other hand, a quality framework is important for the hotel, in order to improve its operations, increase income, strengthen quality assurance and retain customers. A retained customer is a satisfied customer and to keep this trend going the hotel should make sure that every article needed is available. Genuinely, customers are the best representatives of businesses, thus, the hotel industries should constantly focus on them and make sure to embed a positive image and valued mark upon their arrival and when they leave.
In order to provide quality in the hospitality industry, it calls for the implementation and integration of ISO 9001(Quality Management), ISO 10002 (QMS- Customer Satisfaction-Guidelines for complaints), and ISO 14001 (Environment Management System) standards. ISO 9001 provides to the organization the adoption of process approach, improving effectiveness of a quality management system and meeting customer requirements; while, ISO 10004 provides guidance on the process of complaints related to products, organization, design, operation, maintenance and improvement; and ISO 14001 provides guidelines for the improvement of financial and environmental performance contributing in saving and reduction of waste.
Influential Factors of Customer Satisfaction in the Hospitality Industry
Service Quality: In order for a company to achieve success it should provide quality products and services; especially in regard to hospitality, even though, quality is hard to be measured because the techniques that can measure quality are incident-based or attribute-based; it is very important to have a deliberate consideration.
Perceived Value: Is the value that customers receive after the service is done, however, the characteristics that define perceived value might vary from personal experience and among customers. People are different and have different preferences adding up to quality; for instance, one customer might define quality when the personnel is exceptionally pleasant from the waiter, housekeeping to the front desk; while the other customer looks for quality in the food, fast service, and fancy rooms or overall decorations.  To sum it up, most customers tend to visit a hotel and create an impression about the services, rooms, and personnel; and based on those characteristics a customer will either feel satisfaction leading to loyalty or resentment leading to a lost customer. Therefore, top management should be involved when developing a strategic plan in order to provide services to the properly trained personnel that will lead to satisfaction of customers.
Customer Expectation:  Customers create their expectations based on culture and past experiences, expectations are made on the first encounter. In other words, the first impression is important, however, what is even more important is ensuring that the business continues to provide the same quality services every time and holds a continuous improvement culture.  Factors that contribute to customers' expectations are the hotel personnel, the way the hotel welcomes their customers, fast-paced services, a deliverance of physical and functional needs, while the factors that might shape these expectations are gender, age, and income.
Commonly-known strategies: providing low-cost leadership including; discounting prices for loyal guests and developing customer loyalty by providing unique services, continuous evaluation and improvement of services to attain customer satisfaction, the growth of per-customer revenue, and a decrease in operating cost.
Measurement Models of Customer Satisfaction in the Hospitality Industry
SERVQUAL
SERVQUAL instrument in the hospitality industry is used in external services, in order to increase quality. Certainly, the measurement of the customer satisfaction is important and many hotels, top managers, and professionals have benefited from its implementation. This method of measuring customer satisfaction is divided into five dimensions:
Tangibility: Decoration of the hotel, hotel facilities, accommodation, staff appearance, clean rooms.
Reliability: Accommodations on time, and necessary equipment in rooms.
Responsiveness: Information about the hotel services, the speed of the staff and services, response to the customer request.
Assurance: Educated employees who are with experience, professionalism, and polite with customers, security of the hotel, and a calm atmosphere.
Empathy: Staff accessibility, attention to customers and their needs, staff that is willing to help.
Feedback
In order for the hospitality Industry to know where it stands, it should make evaluations of its performance, through different channels to gain customers feedback about the services:
Comment cards – are paper based, which are normally located in bedrooms with short answer questions.
Surveys – are paper based, phone based and online.
Mystery shopping – the investigator follows the guest and see what attracts them more.
Focus group with guests – involve questions based on their experience.
Photo-elicitation – guests are asked to take pictures of what they considered the most attractive part of the hotel rather than discuss it during an interview.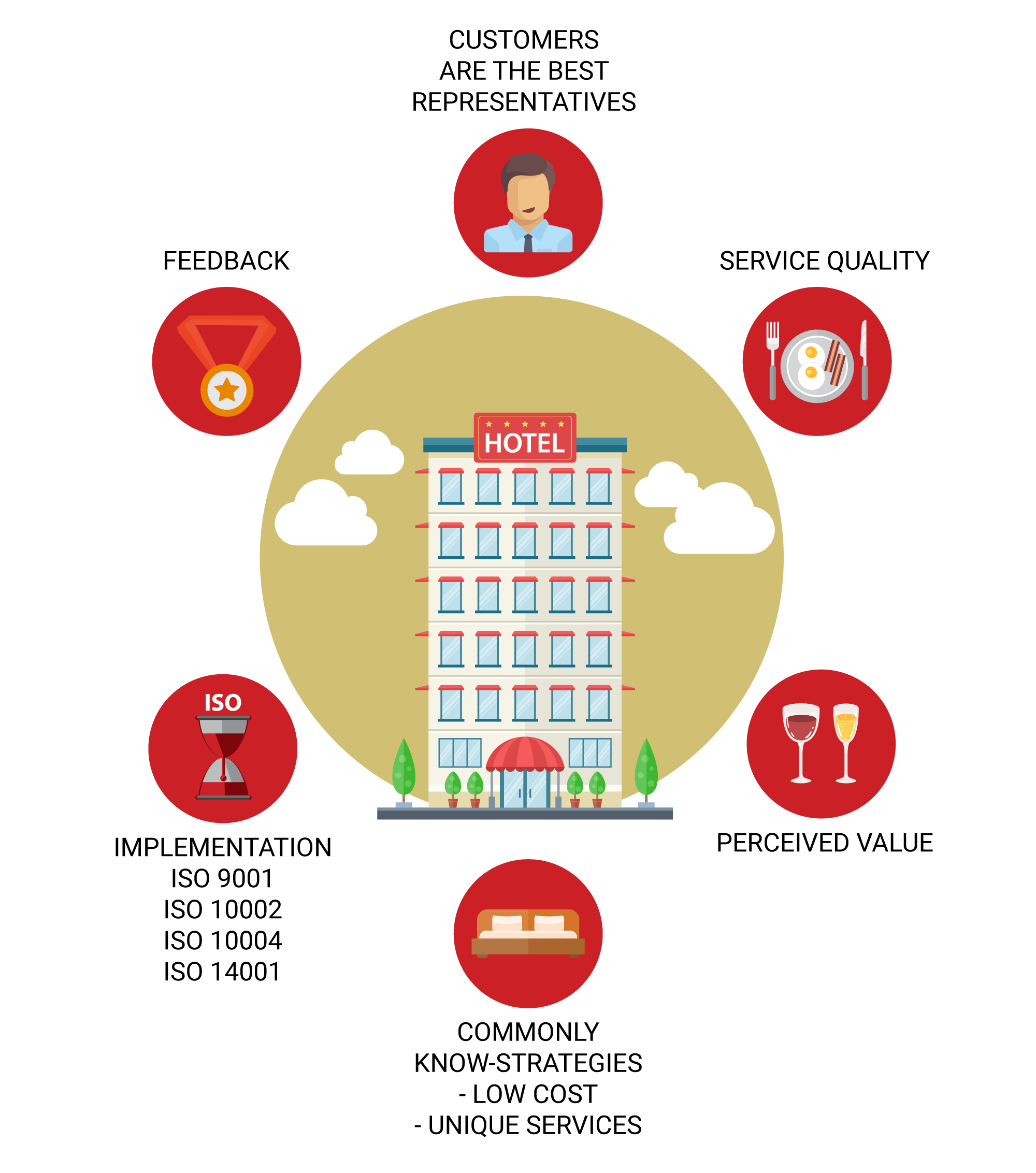 The best approach to increase and maintain customer satisfaction in the Hospitality Industry is the implementation of a strategic validated quality framework.
In summary, the factors that have a huge role not just in the hotel business but in the hospitality industry are; properly trained professional staff, management's commitment, management style embedded, environment and culture, customers' expectations & beliefs, quality services, and accessibility to resources. Surely, with the implementation and integration of ISO 9001, ISO 14001, and ISO 10004 the hospitality industry can measure its performance and benefit from the implementation of improvements in areas needed.
Furthermore, organizations operating in the hospitality industry that either integrate or implement solely any of these internationally recognized standards-especially ISO 9001- will have the guidance and proficiently to improve their credibility, process integration, employee involvement, strategic decision-making process, etc. Evidently, these improvements lead to; a reputable organization with a better image, customer satisfaction, efficiency and cost savings, and a continual improvement culture and to the right decision effectively and efficiently.
---
PECB
Nevertheless, PECB understands the importance of customer satisfaction to succeed and organizations commitment towards its achievement. Therefore, it offers services to multiple fields including ISO 9001, ISO 14001, and ISO 10004 training courses and certification. With the implementation of these standards- alone or together- organizations will ensure to guarantee to customers qualitative services, continues improvement, meet requirements and needs; and provide models to measure customer satisfaction in the hospitality industry.