The ability to handle disruptions and crises during emergencies has never been more important to organizations than nowadays. The ISO 22301 has become a global benchmark for business continuity management systems. Taking this into consideration, ISO 22301 is being updated in order to ensure its relevance to a constantly changing business environment and conditions. The revised version of the ISO 22301 is predicted to be published in fall 2019.
A DIS (Draft International Standard) of the ISO 22301 has been published at the beginning of 2019. During this time, all interested parties were allowed to make comments and submit them to their relevant bodies which are taken into consideration prior to the final publication of the standard. Even though some changes may be evident in the final version of the standard compared to the draft, the latter just gives an idea of what the final version of the standard will contain.
The Likely Changes ISO 22301:2019 Will Bring
Considering that ISO 22301 is being developed using Annex SL and the High-level Structure that can already be aligned with other management system standards such as ISO 9001 – Quality Management or ISO/IEC 27001 Information Security Management, no drastic structural changes are expected in the revised version. On the contrary, the main focus of this update has been towards simplification, clarity, and the word choice for the clauses; thus including less prescriptive procedures. As can be seen in the current DIS, redundant information has been removed, the terminology has been simplified, and the content has become more consistent.
However, there are a few changes worth mentioning: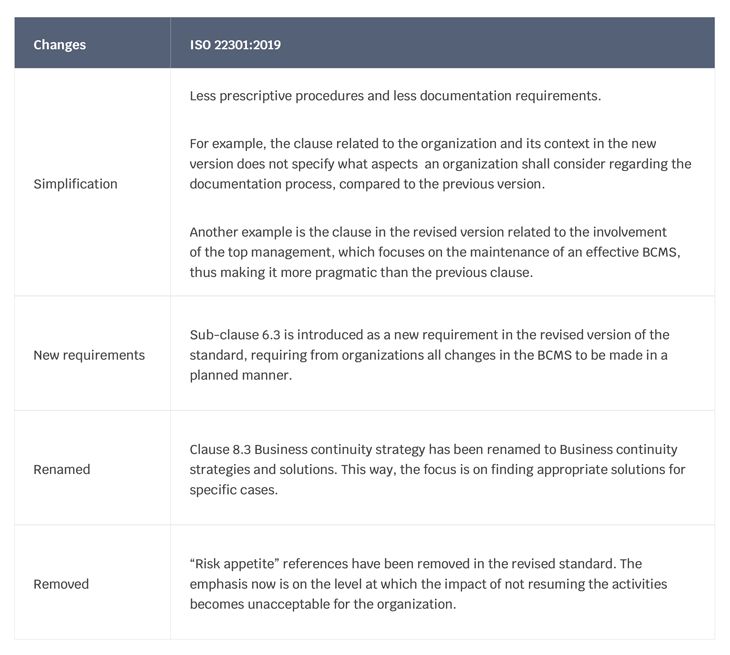 ISO 22301:2019 — Positive improvement that will bring even more value to practitioners, professionals, and businesses worldwide.
While removing duplications, the revised standard has clearly distinguished the requirements (what) and the guidance (how). It should be noted that ISO 22313, a guidance document, will also be updated reflecting the changes of ISO 22301, and it will be published after the release of the new version of ISO. Since the latter is expected to be published in fall of 2019, there will be a transition period of three years for all current certifications. Hence, all the certificates of 2012 will be valid only until the fall of 2022.
NOTE: The information provided in this article covers in general, the major changes that the revised ISO 22301 will bring to the existing one. For more detailed information regarding the changes in ISO 22301:2019, please refer to the article written in the 19th Issue of PECB Insights Magazine.