In a digital era fraught with complexities and challenges, the name Dr. Obadare Peter Adewale resonates as a trailblazer who has harnessed his expertise to carve a remarkable path in the realm of Information Security and GRC (Governance, Risk Management, and Compliance), and Cybersecurity.
As the visionary founder of Digital Encode Limited, a company he established two decades ago, Dr. Adewale's journey is a testament to his unparalleled commitment, extraordinary credentials, and a transformative impact that has rippled across Africa and beyond.
Unveiling a Visionary Leader
Twenty years ago, Dr. Adewale embarked on an extraordinary mission, driven by a compelling vision to safeguard the digital landscape. With the establishment of Digital Encode Limited, he set out to fortify organizations against the burgeoning tide of cyber threats, making cybersecurity an inherent part of modern business operations.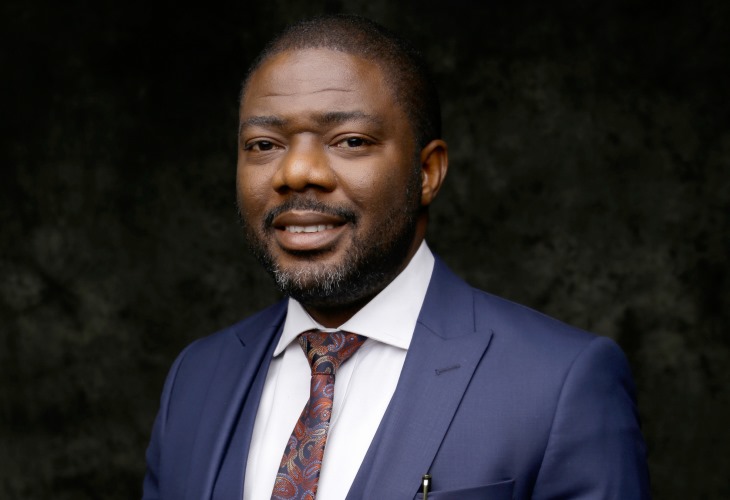 A Monument of Accomplishments
Dr. Obadare Peter Adewale's accomplishments paint a portrait of an exceptional leader who has forged an indelible mark in the cybersecurity realm.
Credentialed as the most prominent PAN-African cybersecurity and GRC Thought Leader, he is adorned with a constellation of fellowships, including the British Computer Society (FBCS), Institute of Management Consultants (FIMC), Institute of Information Management (FIIM), Enterprise Security Risk Management (FESRM), Institute of Brand Management (FIBM), and Chartered Information Technology Professional (CITP).
First in Milestones
Dr. Adewale's journey is marked by several pioneering milestones that underscore his groundbreaking contributions to the field. He holds the distinction of being one of the first PECB Certified Digital Transformation Officer (CDTO), as well as PECB Certified Data Protection Officer (CDPO) in Nigeria, and also the first Forbes Technology Council Member in Nigeria and the first Forbes Best of Africa Outstanding Digital Trust Leader Awardee in Africa, which serves as a testament to his multifaceted expertise.
Educational Brilliance
Dr. Adewale's commitment to education and knowledge is unwavering. His academic pursuits are a testament to his dedication to excellence. Armed with a Master of Science in Cybersecurity from the University of Liverpool, UK, he earned the prestigious Doctor of Human Letters in Cybersecurity from Trinity International University of Ambassadors, Atlanta, Georgia, USA. His executive education journey has seen him embrace Harvard Business School, Harvard Kennedy School, MIT Sloan School of Management, MIT Professional Education, and Oxford University's Said Business School, where he further honed his expertise.
A Remarkable Portfolio
Dr. Adewale's remarkable skill set encompasses a wide spectrum of domains within the cybersecurity realm. From Data Privacy and Data Protection to Cybersecurity, Information Security, Vulnerability Management, Penetration Testing, Computer Forensics, Business Continuity, IT Governance, Risk Management, and Compliance, his proficiency is both comprehensive and deeply impactful.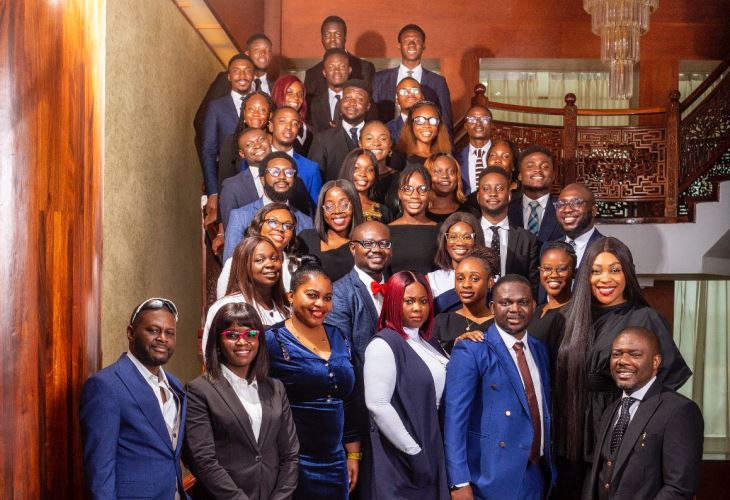 PECB Platinum Partnership and PECB University
His commitment to shaping the cybersecurity landscape is evidenced by Digital Encode Limited's Platinum Partnership with PECB. This partnership empowers them to offer a series of transformative courses. Some of these courses include ISO/IEC 27001:2022 Lead Implementer/ Lead Auditor, ISO/IEC 20000:2018 Lead Implementer/ Lead Auditor, ISO 22301:2019 Lead Implementer/ Lead Auditor, GDPR – Certified Data Protection Officer, Lead Cybersecurity Manager (ISO/IEC 27032), Lead Incident Manager (ISO/IEC 27035), Lead Risk Manager (ISO 31000), Lead Cloud Security Manager (ISO/IEC 27017), and Lead Penetration Tester. This collaboration is further underscored by Digital Encode Limited's partnership with PECB University, showcasing its dedication to knowledge dissemination and empowerment.
Championing African Engagements
Dr. Adewale's expertise is not confined to accolades and certificates; it translates into real-world impact. His numerous successful engagements across Africa stand as testaments to his influence and the practical significance of his skills. His contributions span realms like Data Privacy, Vulnerability Management, Penetration Testing, Business Continuity, and beyond.
The Legacy Continues
As he reflects on the journey that brought him here, Dr. Obadare Peter Adewale envisions a future where the digital world is fortified against evolving threats. His tireless dedication, unrelenting pursuit of knowledge, and transformative contributions have elevated him to a position where he is not just a luminary, but an inspiration. His journey serves as a beacon for aspiring cybersecurity professionals, entrepreneurs, and innovators who dare to dream big and make a lasting impact.
Within the field of cybersecurity, the name Dr. Obadare Peter Adewale stands tall, an embodiment of excellence and innovation, and a testament to the boundless possibilities of a determined visionary.
His journey from the inception of Digital Encode Limited to its current stature as a hub of expertise exemplifies the transformative power of passion, knowledge, and unwavering commitment.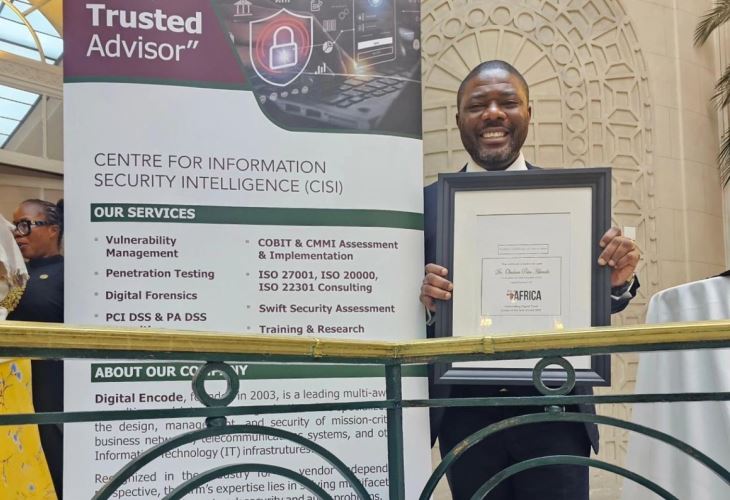 Shaping a Resilient Future
Dr. Adewale's legacy extends far beyond personal accolades; it is a testament to his commitment to shaping a secure and resilient digital future for Africa and the world. His relentless dedication to education, innovation, and strategic collaboration has fortified Digital Encode Limited as a lighthouse of cybersecurity excellence.
Inspiring a New Generation
One of Dr. Adewale's most enduring legacies is his role as an educator and mentor. His influence reaches beyond the boardrooms and into the hearts and minds of the next generation of cybersecurity professionals. Through mentorship programs, training initiatives, and public speaking engagements, he imparts his wealth of knowledge, igniting the spark of curiosity and excellence in those who will carry the torch forward.
Defining the Future Landscape
Dr. Adewale's leadership extends to his involvement with industry associations and professional bodies. As a Platinum Team Member of the Open-Source Security Testing Methodology Manual (OSSTMM), he contributes to defining industry standards and best practices. His role as a Senior Member of the Risk Managers Association of Nigeria (RIMAN) further emphasizes his commitment to shaping a risk-resilient landscape.
Global Recognition and Influence
Dr. Adewale's journey has been acknowledged and celebrated on a global scale. His involvement in esteemed institutions like Harvard Business School, MIT Sloan School of Management, and Oxford University's Said Business School not only reflects his commitment to ongoing learning but also his integration into the international community of cybersecurity thought leaders.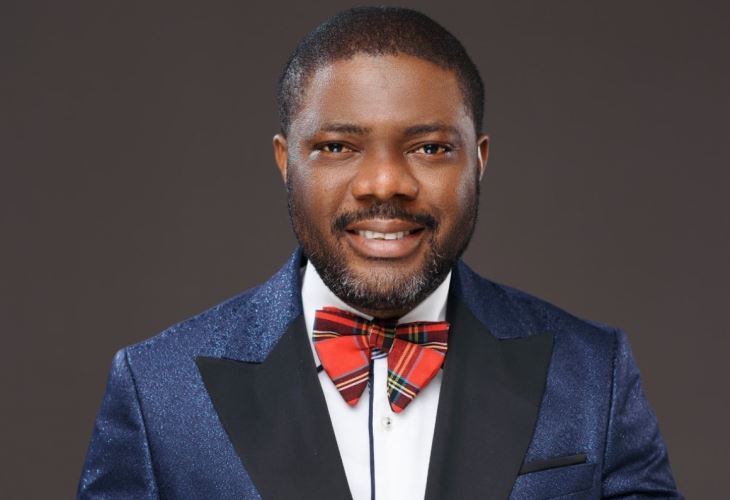 The Trail Ahead
As the founder and driving force behind Digital Encode Limited, Dr. Obadare Peter Adewale's journey continues to evolve. The company's Platinum Partnership with PECB and its collaboration with PECB University symbolize his enduring dedication to knowledge sharing, capacity building, and continuous improvement. These initiatives not only solidify his commitment to the body of knowledge community but also underscore his role as a driving force in shaping the future of the field.
A Living Legacy
In conclusion, Dr. Obadare Peter Adewale's narrative is a testament to the transformative power of expertise, commitment, and vision. His journey from a visionary entrepreneur to a distinguished leader has laid the groundwork for a more secure digital world. Through Digital Encode Limited, he has not only fortified organizations against cyber threats but has also fortified a legacy that will inspire generations to come.
In the ever-evolving landscape of Information Security, GRC, and Cybersecurity, Dr. Adewale's story serves as a reminder that the digital realm's challenges are met not with fear, but with innovation, knowledge, and a relentless pursuit of excellence. As we move forward into an increasingly interconnected world, his journey continues to guide us, reminding us that with determination, resilience, and a commitment to learning, we can forge a safer and more secure digital future for all.