What methodologies do you use while teaching and preparing a curriculum?
I try to find out more about the trainees' needs, expectations, skills, and experience, and understand the relevance of the training for them. Depending on these, I can choose to use a collaborative method to get trainees take responsibilities for their own learning.
Which subject do you teach more often? What are the advantages of this training course?
My training portfolio includes courses for implementing, managing and auditing a significant number of ISO standards, but also management, logistic and acquisition, sales and human resources courses. In the last year, the subject I taught the most was anti-bribery. This training course is interactive and based on theory, case studies and practical examples.
Did you have any situation where the training results were not as you expected? If yes, what happened and what did you learn?
It happened that at one of my first lead auditor courses, I did not manage the time correctly and this caused some discontents at the end. The reason was that I went into too much detail for some subjects and neglected some practical exercises. At my future trainings, I reorganized my teaching time and, that is very important, I managed students' questions better.
Give us an example of a successful training program you taught. What made it so successful?
I remember with great pleasure a training event dedicated to quality managers and engineers in the automotive industry "Anti-bribery policies and value added to the organization". The basis for this successful training was the correct assessment of training needs, the creation of a list of learning objectives, adherence to adult learning principles and the use of an interactive learning material. Instead of powerpoint, we used PREZI (a web-based presentation software).
Provided that people have different learning styles and techniques, how do you ensure that everyone that attends one of your trainings acquires the necessary knowledge and skills?
The correct choice of training methods and techniques is the key to this problem. Establish a series of positive expectations for the trainees and show them the relevance of the things they will learn. I try to get the trainees to participate actively, I ask them questions and make them focus on what they have to do. Whenever possible, I value group dynamics and encourage them to learn from each other. In this situation, my role is to make sure they do this right.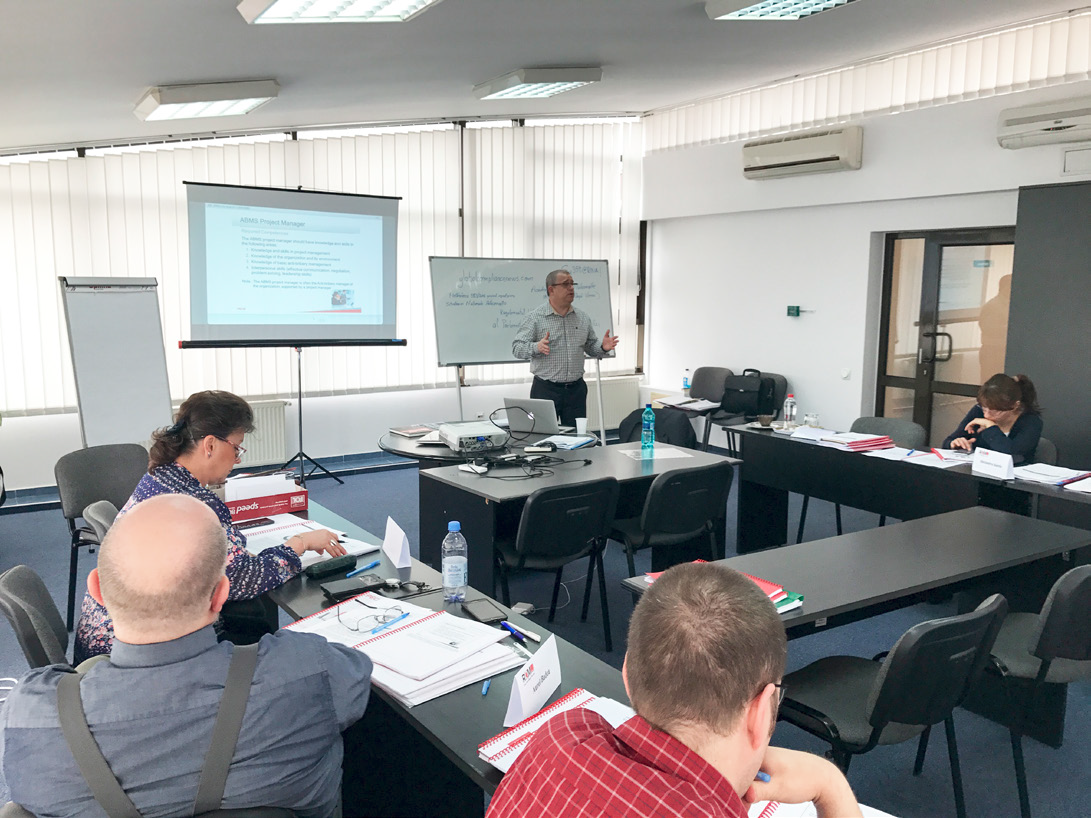 How do you increase student engagement in a training course?
Trainees engagement is a real challenge for any trainer. I ask trainees to share their experiences with the course theme. Many of them are experienced, and their information can be extremely valuable. I create activities that encourage learners to use their personal experience to find a solution on their own, or they organize themselves in groups and work together to find a solution to the situation in the case study. In order to allow students to learn from mistakes, I offer them feedback as soon as they make a mistake.
What do you consider the key criteria for conducting an effective training session?
I agree with Kirkpatrick's Four-Level Model of Evaluation.
Level 1: Reaction, how useful and relevant the trainees thought the training session was.
Level 2: Learning, to what extent do trainees acquire knowledge and skills following their participation in the training session.
Level 3: Behavior, to what extent do trainees apply what they learned during the training session.
Level 4: Results, to what extent are the results of the training session achieved.
I consider that Evaluation by Return on Investment (ROI) to be one method for determining the results of Kirkpatrick's fourth level of evaluation.
What advice would you give to the new trainers in enhancing their training dynamics?
Use visual presentations only if the images are relevant and appropriate to the message you send. Do not mix relevant information with irrelevant information because it reduces the ability of a person to remember any of these.
---
Ion Iordache is the Managing Director at iQuality Services from Melbourne, Australia, consultant, speaker and trainer for RQM Certification from Romania. He is a security consultant, a professional trainer in adult education, PECB Certified ISO 9001 & ISO/IEC 27001 Lead Auditor and PECB Certified ISO 28000 & ISO 37001 Lead Implementer. Ion has over 20 years of experience in consulting services and training in management systems.