The quality management system of an organization is a complex set of processes that produces consistently reliable products with high qualitative characteristics, that fulfills customers' expectations, and involves other stakeholders in all stages of the product development. Consequently, ISO certification represents a guarantee of sufficient processes and production of quality products in the organization. Product quality is one of the most important concerns in industrial activities including the automotive industry and has become so critical that nearly all countries have sent an objective to increase quality. Nevertheless, the added value of certification is the ability to realize higher income and ascertain a better success in the production of quality automobile parts and related services in the automobile industry, opening the doors for automobile manufacturers to justify their superior products and good services to customers/suppliers.
The ISO/TS 16949 is an ISO technical specification which was aimed for continual improvement, particularly on reducing defects, variation and waste in the automotive supply chain during the production processes and other stages of producing parts.
Moreover, ISO/TS 16949 was first developed and prepared in 1999 by the International Automotive Task Force (IATF) and the "Technical Committee" of ISO, since then it has become one of the most used international standards in the automotive industry in the world. The previous standard ISO/TS 16949 is set to evolve with the publication of a new global industry standard by the International Automotive Task Force (IATF). It has been renamed IATF 16949, and no longer is an ISO/TS 16949 standard anymore.
IATF 16949:2016 does not include the ISO 9001 text boxed as in the previous version of the ISO/TS 16949:2009; the new standard will reference the ISO 9001:2015 clause reference and title only. However, the IATF 16949:2016 is aligned with and refers to the most recent version of ISO's quality management systems standard, ISO 9001:2015 fully respecting its structure and requirements. As a standard, it does not stand alone but is implemented as a supplement to and in conjunction with ISO 9001:2015. All the organization in automotive sector seeking for IATF 16949:2016 certification, also must comply with new ISO 9001:2015.
Reason behind the revision
To be up-to-date with the business needs and expectations, ISO standards are reviewed every five years to determine what changed and is relevant to the modern business world. Since the last revision of the ISO 9001:2008, business needs and expectations have changed significantly, therefore, ISO 9001:2015 brings quality management and continual improvement in the heart of the organization, adopting the new technology and addressing the need for more sustainable development initiatives for the organizations. This is achieved through the better understanding of the context of the organization and relevant interested parties, also by taking proper actions to understand risks and opportunities at entire levels.
The new IATF 16949:2016 supports all requirements and changes of ISO 9001:2015 with extra requirements for the automotive industry sector. For organizations that need to implement IATF 16949, the alignment of this standard to ISO 9001:2015 structures makes it easier for the organizations that need to comply with more than one quality management system standard. A proper implementation of IATF 16949 will benefit the organization including:
• Better recognition from regulatory authorities
• Having reliable products
• Meeting customer requirements
• Better processes and documentations system
Summary of important changes on the new IATF 16949
Most of the requirements of the new standard are carried-over from ISO/TS 16949; however, there has been a significant update to the new standard on the evolving of automotive industry direction. The IATF 16949 has adopted the high-level structure specified in the ISO Annex SL which is a requirement for all new and revised management systems standards. The new standard focuses and includes the following:
• Requirements for safety-related parts and processes
• Traceability of products according to applicable standards
• Requirements for products with embedded software
• Warranty management process including "No Trouble Found"
• Clarification of requirements for sub-tier supplier management and development
• Requirements concerning corporate responsibility
• Specific requirements for (OEMs) and (CSRs)
Transition Audit Process and Transition Requirements
As the new standard has become available on October 1st, 2016, according to IATF, starting from the 1st of January 2017, audits to IATF 16949:2016 can be conducted, therefore 3rd party certification body auditors will start qualification upgrade training on December 15th, 2016. All audits to ISO/TS 16949:2009 will no longer be applicable from October 1st, 2017 (including initial, surveillance and recertification or transfer audit); consequently, after this date, all the organizations will need to go through a transition audit to the new automotive standard. By September 14, 2018, certificates to ISO/TS will no longer be valid.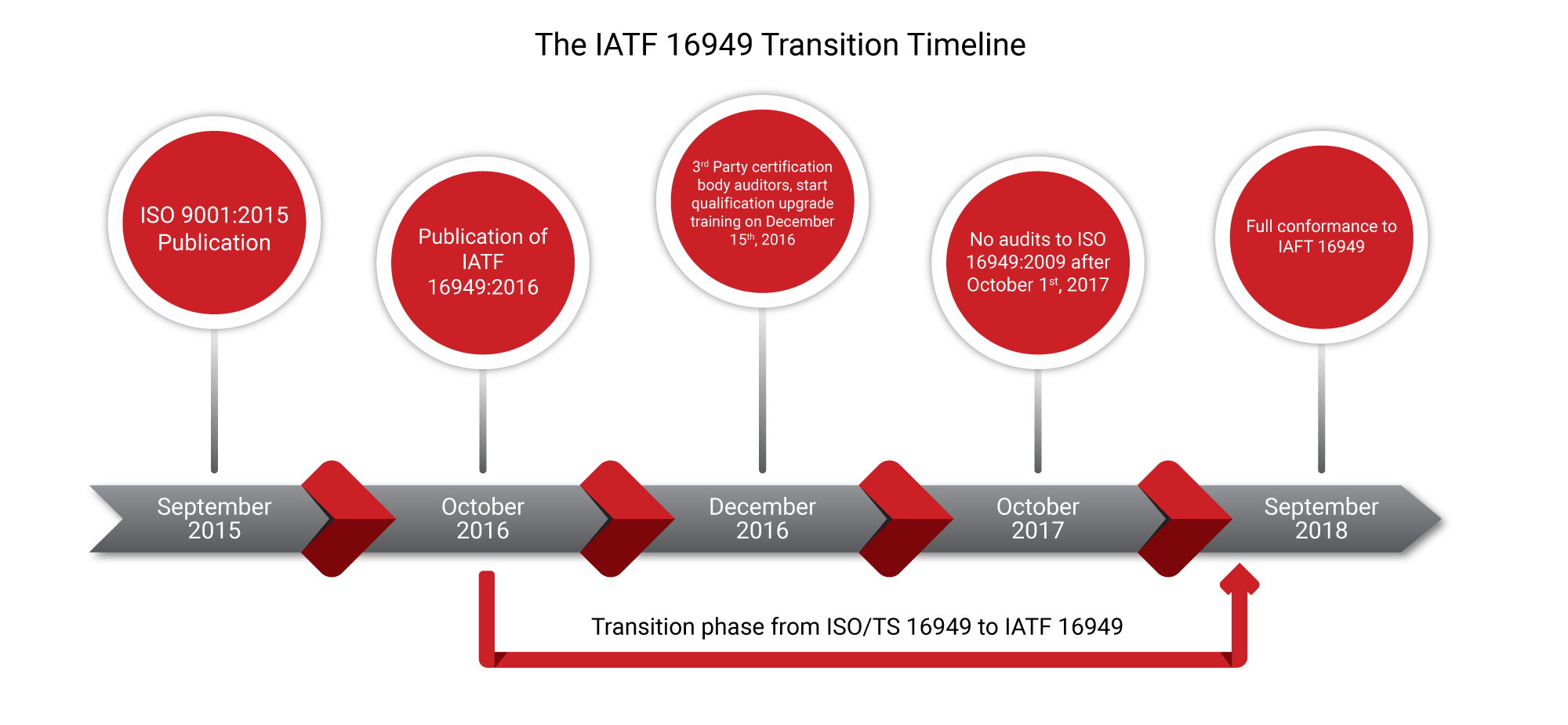 Benefits of proper Implementing IATF 16949
The IATF 16949 structure benefits organizations tremendously. Having proper implementation in place ensures that customers receive reliable, better quality products and services which in return benefits the company in many ways. Some of the benefits are included as following:
Achieving a system approach to managing process and operation
Requires a fundamental quality management system for the vehicle manufacturers and OEM automotive customers
Gain international recognition
Easy access to the worldwide automotive supply chain market
Customers at first, consistently met and enhance their satisfaction
Address and identifies the risks related to your organization
Proper implementation of IATF 16949 not only increases your company's qualifications among sellers but vastly improves quality, efficiency, communication and cost reductions within the organization.
---
PECB
It is recommended for the organizations involved in the automotive industry to conduct a transition audit at an early stage, as part of the next planned audit. Therefore, a PECB ISO/TS 16949 and soon IATF 16949 certification would help organizations towards implementing best effective frameworks and/or practices towards embracing a continual improving culture to meet a desired level of quality.