Six Sigma is a methodology that can be implemented by all companies and business professionals. You don't have to be a math whiz or an operational genius to be able to implement Six Sigma tools and techniques into your management system processes. Quality is an essential characteristic of industries and organizations to observe, study, and understand. Process improvements frequently begin at an analysis of the level of quality in a system or organization. For organizations that deal with products and services to customers, a system within a company is a procedure that produces, maintains, or chains a product or facility.
The goal of Six Sigma and Lean Six Sigma is to eliminate waste and construct a more efficient system without negatively affecting the quality in the end product. However, lean six sigma methodology believes that the waste produced is created from certain redundant procedures in the process that do not add value to the finished product. Therefore, the main feature that lean six sigma ensures is to deliver value to customers.
An organization is most keen in using a business approach that enables them to satisfy their customers while providing more products or services with fewer resources. The lean approach helps the company understand what important attributes in their operations are key or necessary when producing a product or providing a service. The lean approach focuses on the processes within the operation that only add value and eliminates the processes that do not such as waste, inventory and defects.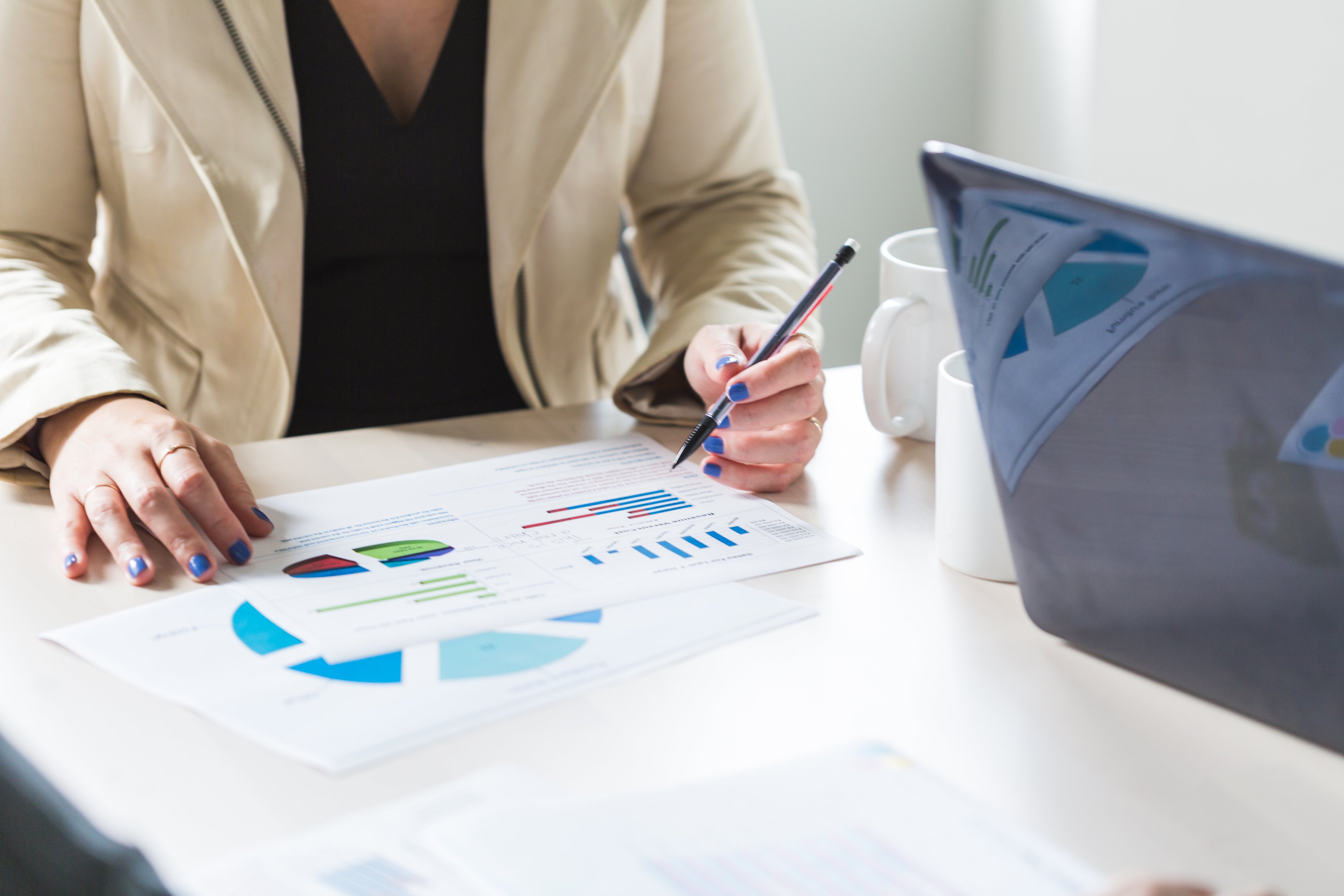 Once these unnecessary processes have been defined, then the resources can be allocated to other necessary processes within the operation leading to faster production and delivery, leaving you with a more satisfied customer. Waste is anything that customers don't want to pay for. Lean means that we want to cut out the fat of our processes.
Also, once you embed a lean culture within the company, it automatically leads you to further understand what attributes are required to add value to your finished product, which inevitably leads the organization to ask the question "what" is it that my customer wants and expect from my product or service. This mindset will then allow room for the answer to the problem to arise as to "what" will add value to my product and "why" it hasn't added-value until now.
The "why" is a very important question when applying lean six sigma to the processes because it will lead to understanding which redundant processes are being done but not adding value to the finished product. In other words, this proven approach provides you with a framework as to what our customer wants, leaving you with a satisfied customer. Once customer expectations of a product or service are met, then that customer is more than likely to become a loyal customer, and a retained customer is a benefit of Six Sigma.
Numbers matter!
According to Aberdeen Group Lean six sigma benchmark report, six sigma essentials produce 40% more savings than those with less rigorous programs, and produce 65% higher project savings. This study states that 95% of all time spent on a process is a waste, just 5% of the time you spend on a process is adding value for the customer. Including the time spent on essential tasks that do not add value, including compliance and regulatory requirements.
According to Villanova University, hospitals in the United States perform 48 surgeries each year nationally, smartphone producers sell 487,700,000 smartphones globally and internet cloud service on average operates 99.9% success with six sigma. In addition, Manufacturing Weekly conveys that 70% of companies that manufacture in the U.S. utilize Lean manufacturing practices. Shmula.com goes on saying that process improvement strategies like Lean saved Fortune 500 companies nearly 500 billion dollars in 2009.
Methodology of Six Sigma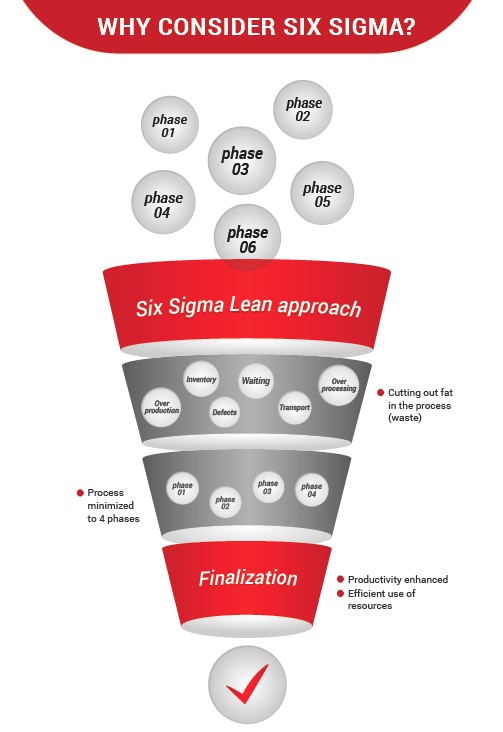 A proven method used by different sort of organization regarding the Six Sigma method is the DMAIC method.
Phase I. Definition – This really helps to interconnect with clientele, workers and shareholders, and other interested parties. The determination of this stage is to:
1.  take into account the best of the problematic understudy work,
2. determine the efforts, and yield and control numerous procedures,
3. responsibilities determination, and the steps of labor and objectives, and milestones for continuation,
4. select team gear,
5. understand the expected benefits of the project (the advantages of the project).
Phase II. Measurement – This stage includes measuring true facts that are dependable to help control the targets that have been formerly clear in the first stage.
Phase III. Analyze – Successful strategy analysis at this stage provides different sorts of statistical methods, and some of the gears that separate important info to clarify the prevailing defects in the services or required domain.
Phase IV. Improve – This stage shelters the design of Six Sigma from start to finish and services for Six Sigma. At this stage, a vital role is the effort to link the crack between the situation of the targeted operations and the current situation.
Phase V. Control – At this stage, it ensures a fruitful plan not to repeat the errors and defects through continuous surveillance, and to lay the fundamentals to confirm the effort by the unification of the new approach.
Six sigma essentials produce 40% more savings than those with less rigorous programs
65% higher project savings
95% of all time spent on a process is a waste
5% of the time you spend on a process is adding value for the customer
70% of companies that manufacture in the U.S. utilize
Lean manufacturing practices
Lean saved Fortune 500 companies nearly USD 500 billion in 2009
Benefits of Six Sigma Training & Implementation
Decrease cost/increase revenue
Detects processes of over-production leading to waste, inventory and defects.
Less rework meaning more time is used efficiently in other areas of the operation to enhance the quality of the end product.
I.e. increasing the features and benefits of a product or service with the remaining resources and time.
Effective employees and efficient time management
Employees develop efficient time management skills and understand all current operational process.
Use developed skills to identify waste within processes.
Employees working together to meet the mission and vision.
Sense of belonging brings employee motivation.
Retains customers
Allocate resources to other areas of the operation getting processes done faster, leading to faster delivery time and satisfied customers. Minimizing defects and attaining loyal customers
Develops Strategic planning
Systematic problem solving Detects optimization risks
Enhances supply chain management
Integrates suppliers into the continuous improvement process initiatives.
During the ongoing process, suppliers must reduce the waste and variation in their processes to eliminate any extra inventory to defects they may be bringing.
Competitive advantage.
Continuous improvement
Embedding a cultural commitment to continuous improvement.
Focusing on customer satisfying-not only for short-term but long-term customer focus through the optimization of evidence, material flow and processes.
Six Sigma Belts
Black Belt

Proves that your skills are advanced with team leader expert skills, analysis skills, and advanced project management skills.

Master Black Belt 

Proves that your skills are highly advanced and have been tested with the experience to be a leader in training and coaching.
White Belt
For beginners to understand the fundamentals, processes for improvements spoken, but not used in practice yet.
Yellow Belt
For advanced beginners who have contributed to the Lean Six Sigma projects and management.
Green Belt
Proves that you are a vital member of the Lean Six Sigma project team.
An organization using the Lean Six Sigma techniques have benefited in the long-run as mentioned above, however when acquiring yourself with a black belt reveals the capabilities you carry to be able to conduct projects and implement improvements for the organization. On that note no matter the project was undertaken, it needs organizational support to succeed to the fullest potential. With the right individuals, the project is ensured to succeed and add value to align the organization's mission and vision.
Here at PECB, we are highly focused on process improvement and pay high attention to six sigma methodologies to influence organizations and individuals reduce waste and increase revenue. PECB is a certification body for persons, management systems, and products for a wide range of international standards. As a global provider of training, examination, audit, and certification services, PECB offers its expertise in multiple fields, including Six Sigma training courses and other services.
ABOUT THE AUTHORS
Arta Limani is an Account Manager for Quality Management Systems at PECB. She is in charge of conducting market research while developing and providing information related to Quality Management Systems at PECB. If you have any questions, please do not hesitate to contact: marketing.qms@pecb.com.
Mohammad Youssef Khan is a PECB Certified Trainer and Executive Consultant & Trainer at Six Sigma Associates – SSA. He is an accomplished expert with over 10 years' experience in the field of project and program management, business process analysis and design, as well as operational and organizational excellence. If you have any questions, please do not hesitate to contact: 6sigmapk@gmail.com.