Myths can be the reason why some organizations hesitate to implement ISO/IEC 20000 and that's why it is important to highlight some myths that may prevent organizations from implementing the standard. The purpose of the article is to explain the misconceptions regarding ISO/IEC 20000; therefore, below are seven myths and truths about the ISO/IEC 20000 implementation.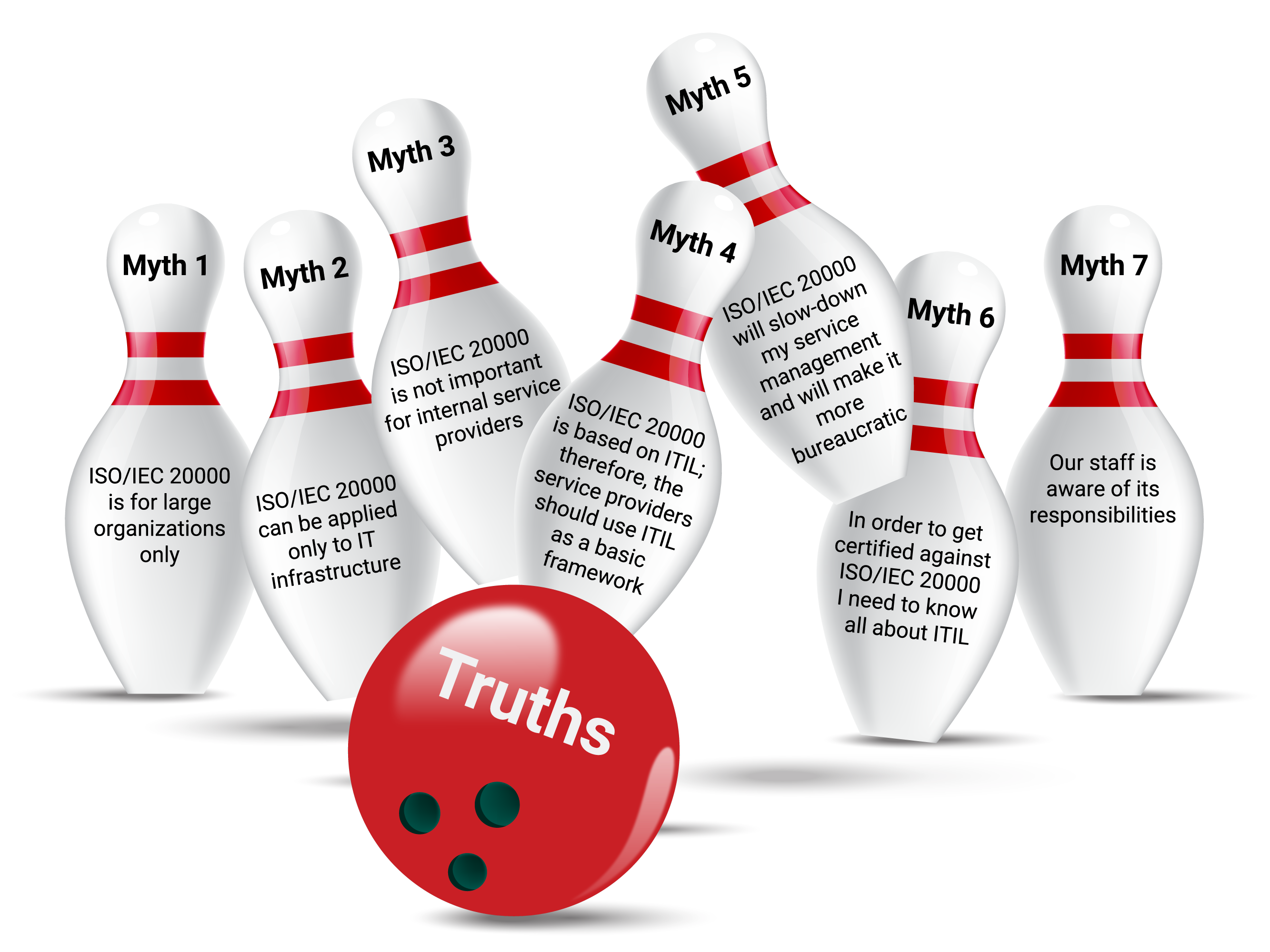 Myth 1: ISO/IEC 20000 is for large organizations only
Truth: Referring to the clause 1.2- "All requirements in this part of ISO/IEC 20000 are generic and are intended to be applicable to all service providers, regardless of type, size and the nature of the services delivered". Therefore, no matter if your organization is large, small, public, non-profit, or private; it can adapt management system standards. Ultimately, ISO/IEC 20000-1 guides organizations to define the objective that needs to be achieved and is applicable for organizations that want to gain its benefits.
Myth 2: ISO/IEC 20000 can be applied only to IT infrastructure
Truth: This standard defines the requirements for an information technology service management system. Beyond question, no matter your industry, type of business or business model; your IT services are required to be effectively designed, delivered and continuously improved in order to fulfill customer requirements.  In fact, ISO/IEC 20000 has been used in the different context of IT such as cloud services, telecommunications, media services, etc.
Myth 3: ISO/IEC 20000 is not important for internal service providers
Truth: On the contrary, several service providers who provide services have found benefits from being certified against ISO/IEC 20000. Literally, every move you make in IT services will be highly visible and affect your good performance and image. Therefore, all resources, alignments, business process and functions, have to be structured in a way that the roles, responsibilities, and course of actions are well-defined internally as much as externally. The standard adds its discipline to the management system through the Plan -Do -Check -Act cycle, guaranteeing continual improvement. Being certified by an accredited certification body proves that your IT service management is professional and recognized worldwide while increasing your productivity to help to deliver services when facing financial cuts.
Myth 4: ISO/IEC 20000 is based on ITIL; therefore, the service providers should use ITIL as a basic framework
Truth: There are some similarities and differences between ITIL and ISO 20000; ITIL is about IT infrastructure library, it is a library of the best practices and processes about IT services and IT infrastructure. ISO/IEC 20000, on the other hand, is a standard for IT service management and it is based on ITIL but to a certain level, ITIL has 26 processes and 6 functions in place, ISO 20000 has 14 processes in place, it is not a function-oriented standard. Another important thing in ISO 20000 is that you have to meet 256 mandatory requirements in order to comply with the standard requirements, there are no exceptions. In ITIL it is up to the organization how many processes or how many functions they want to implement.
Myth 5: ISO/IEC 20000 will slow down my service management and will make it more bureaucratic
Truth: If you make complexed procedures, it is possible that the service provider staff will not utilize them properly. The standard requires the service providers to use the documentation processes and procedures. However, ISO/IEC 20000-1 tells you what to do, but you decide how to do it and you can decide to make it more agile and productive.
Myth 6: In order to get certified against ISO/IEC 20000 I need to know all about ITIL
Truth: That is not true; you can get certified against ISO/IEC 20000 without knowing anything about ITIL, however, the more knowledge is better. When implementing ISO/IEC 20000 having the comprehensive knowledge about ITIL and its adaptation could provide a great range of benefits to your business, such as higher quality of IT services, increased productivity, lower costs, etc.
Myth 7: Our staff is aware of its responsibilities
Truth: Yes, that is true but you need to think about the other part, what about when someone leaves the organization? You will need to hire new staff, and possibly start from scratch. On the other hand, if you have a documented management system, processes, procedures, and related documents, then the new staff can easily be guided and integrated within the organization avoiding downtime, rework, confusion, and time is money.
So why should organizations implement ISO/IEC 20000?
ISO/IEC 20000 through its methodology and framework helps you to manage your ITSM and allows you to prove that your organization follows best practices.  If you meet the requirements of the standard you will achieve best practice, which will help you to improve your delivery of IT service. Bear in mind, by just simply developing ITSM processes and documentation will not solve your problems, but, integrating and implementing all the procedures as described in the documentation into your daily business, definitely will.
---
PECB
Any organization or individual that wants to get certified against the ISO/IEC 20000 can refer to PECB. By developing training and offering certification services we continually enhance this portfolio.