Those who were once excluded from education due to geography, life circumstances, or socioeconomic life, now have the opportunity to earn a degree by participating in online education. Perhaps, in the past it was hardly imagined that there would be a time when institutions create online courses and programs to serve a population that is dispersed and less likely to attend full-time education.
According to Allen & Seaman study, distance education enrollments have grown at a rate of 7% between fall 2012 and fall 2014, respectively 403,420 additional distance students over a two year period in the US (Online Report Card). However, even though there is an enormous and rapid growth of distance education and enrollments, there are small improvements in the perception of the relative quality of online education as compared to traditional education. Survey results show that 23% of academic leaders rate the learning outcomes of online education as inferior to those of face to face education.
Nevertheless, the growing presence of distance learning has changed the landscape of formal education. As online education providers are able and can afford to offer qualitative niche programs for a broader group of people, the virtual environment for pursuing education is becoming increasingly attractive. Online learning certainly has become an imperative format for delivering knowledge, and whether it becomes the norm in education is a matter that only time will resolve.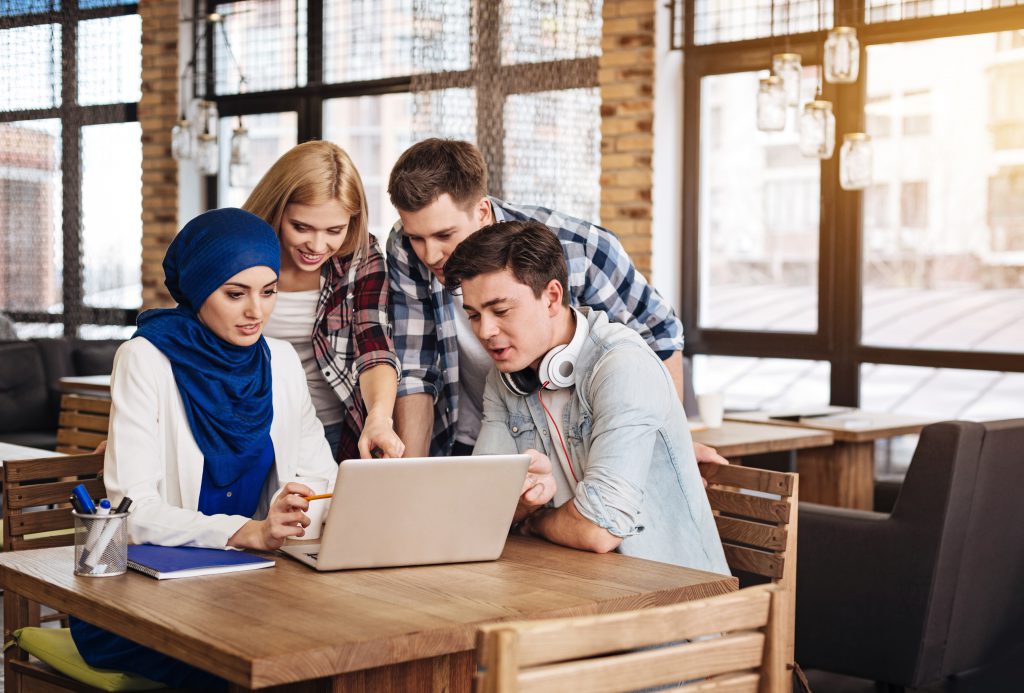 How Did We Get Here?
The necessity to respond to the changing demographics of learners, and to remove the geographic barriers to instruction, has encouraged people to find means of earning degrees, improving performance and acquiring knowledge through online environments.
The access to information used to be an issue for all students and individuals interested to master their knowledge on a particular field, as they had to wait in library lines with an ID card worried if they could find the information they were looking for. But, with the invention of computers, this issue now belongs to the past. Computers and internet were inventions that changed our lives forever by making the access to information, books, publications, music, movies, and documentaries easier than ever.
Now that technology is being used for instructional purposes, a full-time mother, a constructor, a 70-year-old man, or a full-time employee can advance their education by engaging in virtual classrooms and obtaining degrees. Not a bad idea, right?
Getting Inside the Mind of an Online Student
Students are choosing online programs over traditional education as they prefer the flexibility they offer, the opportunity to organize the study time on their own, and the comfort of studying at their own place.
Considering that leading universities accept only a specific number of students, or the tuition fees and living costs are financially unreachable for many, the challenges of pursuing a degree in these universities are increasing over time. In 2014, the New York Times reported that Elite Colleges turn away up to 95% of the brightest students. This was shocking to many, as a majority of qualified students are left with no hope for a decent job, leading to depression or anxiety. Online universities, on the other hand, are giving these students a chance to overcome potential constraints that make education difficult or impossible to pursue.
''What if a young boy, the next Bill Gates, from Liberia, wanted to attend the Duke University in the USA, but due to life circumstances couldn't? The world can miss out on so many talented individuals from all over the world only because there are not enough chairs or professors to accept all those who apply."
One of the key findings of a research on online college students conducted by a joint project of The Learning House, Inc. and Aslanian Market Research was that students were deliberately choosing online educations as their modality of choice. Half of the online college students say they definitely would not, probably would not, or are not sure if they would have attended their current program if it was not offered online. Quality and satisfaction remain high; 90% of those surveyed who had also taken on-ground classes, feel their experience in an online classroom is better or the same as their experience on campus. Upon graduating, 72% of online students feel it was worth their time, and 69% feel it was worth the investment of their money.
As Nelson Mandela said, "Education is the most powerful weapon which you can use to change the world." Online education has the potential to reduce educational inequality by providing access to learning opportunities, by not limiting students to choose from a few universities near their area, and by offering the chance to participate in virtual classrooms of students from Asia, Europe, Australia, America, Africa and other parts of the world to discuss various topics, thus contributing to the enrichment of students' experience and perception.