Many developments in technology promise to be a paradigm shift or world changing so much so that it can be difficult to distinguish the hype from the reality. One of these latest "hot terms" is Smart Cities but what exactly is a Smart City and how can a Smart City deliver a sustainable future? Firstly, it is worth saying that sustainability can mean many things but in general the aim is to ensure that going forward into the future people can lead a healthy, prosperous life without damaging the environment and compromising resources and opportunities for future generations. The United Nations (UN) Sustainable Development Goals give a good view into the wide spectrum of issues that sustainability can cover.
The following numbers from the UN give some ideas of the challenges ahead:
50% of today's world population lives in urban areas (3.5 Billion), and by 2030, 60% of the population is projected to be urban
60% in 2030 will be much greater than 60% today
By 2050, 75% of the world's population will live in cities
1 in 8 currently live in one of the world's 28 "Mega Cities"
By 2050 it is predicted that 64% of the developing world and 86% of the developed world will be "urbanized"
95% of Urban Growth by 2050 is expected to take place in developing countries
Cities account for more than 70% of global CO2 emissions
75% of urban settlements are at risk from climate change impacts
The challenges associated with these numbers include a greater demand for resources like water and energy, increased demand on services such as healthcare and education and an increasing pollution and impact on biodiversity. Equally increased demand on housing can lead to rises in crime and social problems. From an energy perspective, it is worth considering that cities take up 2% of Earth's land surface but account for 80% energy use and 75% carbon emissions (UN 2014). The idea of a Smart City is of one that tackles these real problems head-on in creative ways, not just by using technology but through new approaches, ideas and citizen engagement. It is quintessential to take a holistic approach when dealing with complex problems. A definition that further captures the dynamics of a Smart City development is the one adopted by the New Urban Informatics, a specialist in Smart City development.
''An urban ecosystem that uses information and data to anticipate problems and better utilize resources across multiple disciplines.'' And the applications of data and analytics across the domains of an urban setting led to the term "Smart Cities"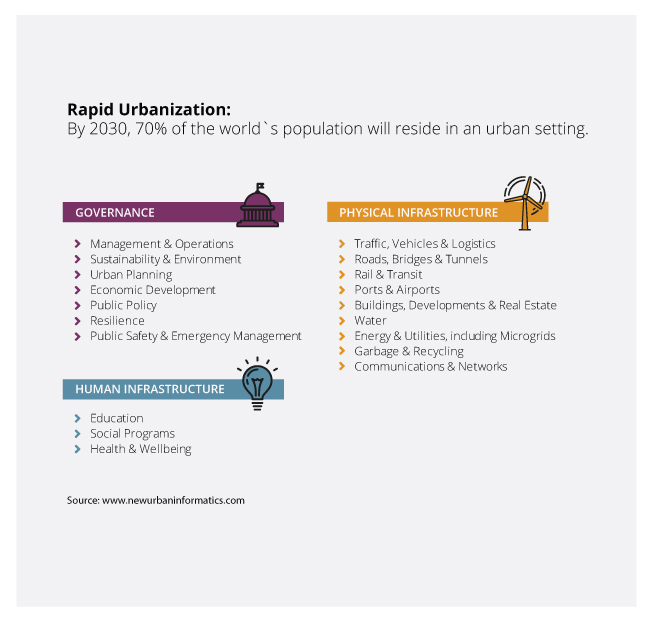 The simplest way to grasp the concept of sustainability in the context of a city is to overview two examples:
Stockholm Carbon Reduction Strategy – Congestion Charging
Whilst the concept of congestion charging is politically controversial, Stockholm demonstrated how such an approach can actually lead to improvements in air quality and a drop in airborne pollutants. The aim of the project was designed to reduce congestion, emissions and improve health and well-being. One of the major points about this plan was the fact that it was established via a political consensus. Ensuring citizen support and engagement for any smart city initiative is imperative for success. There are many cases where solutions implemented top-down by the government have been treated with suspicion or not even utilised due to a lack of awareness, and conformity. The solution included the implementation of the Automatic Number Plate Recognition (ANPR) technology to track vehicles traveling in and out of the designated central zone. Policies were adjusted to charge users based on vehicle type and exemptions for "green cars." This also stimulated the market for electric and hybrid vehicles. Since the implementation of the ANPR, Stockholm has experienced a 10-14% drop in the airborne pollutants and an 8.5% reduction for (NOx).
London Heygate Estate Redevelopment (Elephant Park)
The Heygate Estate in London was a well-known residential area due for re-development. In this case, the major project to regenerate a housing estate had sustainability at its heart with clear sustainable construction principles. The project included ensuring that all construction was formed from energy efficient materials, and the solar energy was utilized for power generation with LED efficient lighting. It also incorporated the development of green spaces with 283 new trees and communal "grow gardens" to encourage community building and provide access to fresh local food markets. The project was recognized by C40 cities as a climate positive development with the aim to be climate positive for 2020, meaning that the redevelopment will be carbon neutral by 2020.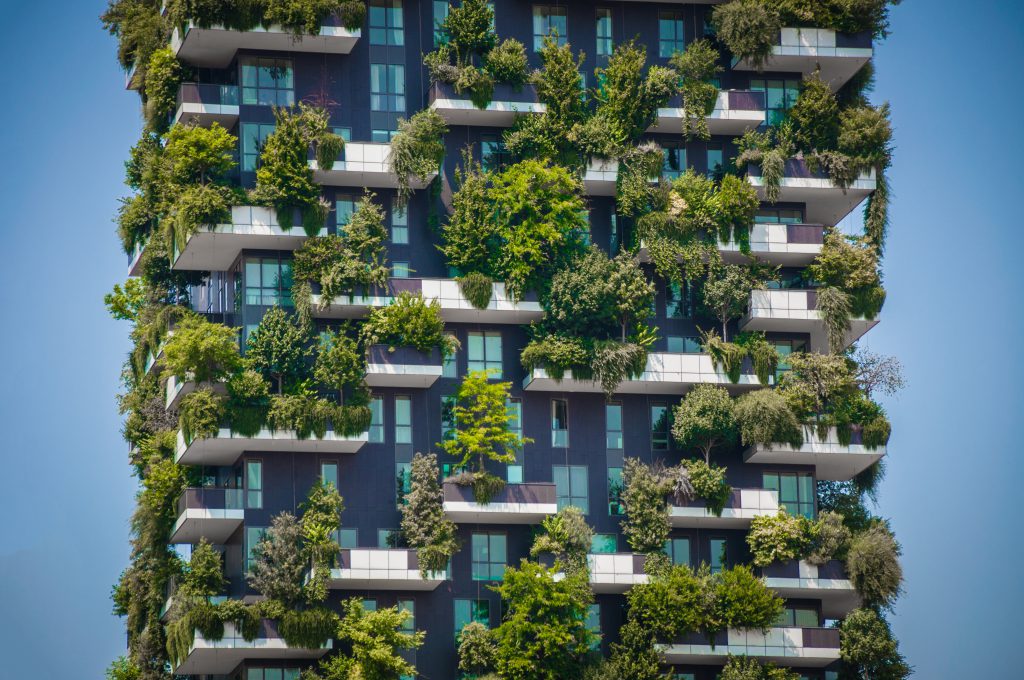 Potential Opportunities
The two examples above give a view of a smart city approach to sustainability but there are many others driven either by city authorities or governments, or citizens themselves. Ideas include:
Smarter public transportation and mass transit solutions
Provision of alternative vehicle technology to reduce or eliminate emissions
Use of sensor technology to measure real-world emissions allowing policy actions to be taken on factual data. This approach gives rise to the potential positive use of blockchain technology to accurately capture and measure such data and provide rewards for positive behavior e.g. Solar Coin
Improved urban planning and public policy ideas to move living and workspace closer together, while reducing movements as well as improving green spaces to provide more carbon sinks The development of urban agriculture such as vertical farming reducing the need for intensive farming and high food miles
Improved water management means more supply of potable water, less energy spent on production, less pollution, and damaging climate impacts. Additionally, better quality of water means less diseases (A significant percentage of all human diseases is connected to water)
Improving reuse policies (and by extension recycling) results in less landfill and consequently a reduction in Methane and other greenhouse gas emissions. Equally this policy leads to more reclaiming on basic raw materials (glass, metals) resulting in less energy being spent on extraction/mining
So, a Smart City is not simply a technology, its an approach aided by technology to tackling some of the major issues in cities, towns and municipalities which when adopted in the right way can increase efficiency, citizen engagement and quality of life and can help us directly tackle major challenges such as climate change and air pollution head-on.
This short article provides an introduction to these ideas. Our partner Pro Captum has developed a variety of training courses in these domains: https://www.procaptum.com/courses including standards-based training on Smart City standards such ISO 37101 Management System for Sustainable Development.