Every day we are witnessing a change in the role of technology as it impacts the environment, people, and society as a whole. People are becoming detached from the environment; thus they do not always see a need for environmental protection. Even institutions like universities and high schools can be significant polluters but with this life dynamism, being environmental friendly is not part of every student's agenda.
On that note, sustainability should be embedded within each educational institution's operation, because education is a crucial tool for reaching it. If sustainability is not managed to conform to the principal objectives of the institution, it can have a significant negative impact on the environment. Considering that, these organizations are massive consumers of resources and energy, and as environmental protection has become a key priority, obtaining an ISO 14001 Environmental Management System has become fundamental.
Based on ISO Certification Survey, a total of 319.324 ISO 14001 certificates were issued in 2015, including 947 of them issued on the 2015 version of the standard. Indicating, an 8% increase since last year, where a total of 296.736 certificates were issued. Yet, in the education industry, a total of 680 certificates were issued in 2015, compared to 781 certificates in 2014.
Indeed, each educational organization should make a Sustainability Strategy in which specific objectives and ambitions toward environmental protection must be stated. By setting specific objectives they will be aware of environmental impacts of their activities and subsequently reduce waste and insufficient usage of resources, while mitigating or eliminating the negative impacts that can be harmful to the environment, public, and the future generation.
To achieve environmental goals, organizations need to develop following policies and plans:
• Environmental Policy
• Energy and Water Policy
• Waste Management Policy
• Sustainable Food Policy
• Transport and Travel Plan
• Procurement Policy
• Teaching and learning
Environmental Policy
An ISO 14001 Environmental Management System in an educational institution is a framework which directs them toward better environmental performance in a way that is integrated into all their operations.
Energy and Water Policy
This policy focuses on reducing energy consumption through technology advancement and optimization by putting high-efficiency LED Lightning and by installing Passive Infrared Sensors, which will be activated only when the presence of people is detected.
Reduction of water consumption is reached through behavioral change and technology advancement, such as more intense monitoring and elimination of leakages, putting sensor taps with water consumption stickers showing liters of water wasted in one minute.
Waste Management Policy
The holy environmental trinity of three R's – Reduce, Reuse, and Recycle are guidance in creating and strengthening commitment toward sustainability. This can be done by using less paper, installing recycling bins, encouraging people to use both sides of the paper, avoiding color printing when possible, exchanging study notes among students, reducing the usage of plastic bags and minimizing bottled water use.
Sustainable Food Policy
Around 88 million tons of food is wasted annually in Europe, with associated costs estimated at 143 billion euros. Universities have a significant role in the food chain both as procurers and providers to a great number of students. Food waste is a serious concern for many educational institutions, and developing a sustainable food culture is necessary. This can be done by supporting local suppliers and purchasing organic good, offering a range of food choices to students, and calculating as closely as possible the right amount of food to provide.
Transport and Travel Plan
Moving toward sustainable travel options can be achieved by providing different incentives in order to increase the usage of bikes, such as providing free bikes to first-year students and monthly discounts on bus tickets for students.
Procurement Policy
Institutions should make sure that they are purchasing from environmentally responsible businesses and are supporting local suppliers, as they are big purchasers starting from paper and printers to IT equipment, sports equipment, food, and drinks, etc.
Teaching and learning
Each educational institution has an either positive or negative environmental impact. Offering differentiated programs, by including environmental education programs tailored to student needs, help them gain required skills and knowledge in order to identify and control environmental impacts and encourage them to pursue environmental or natural resources management careers.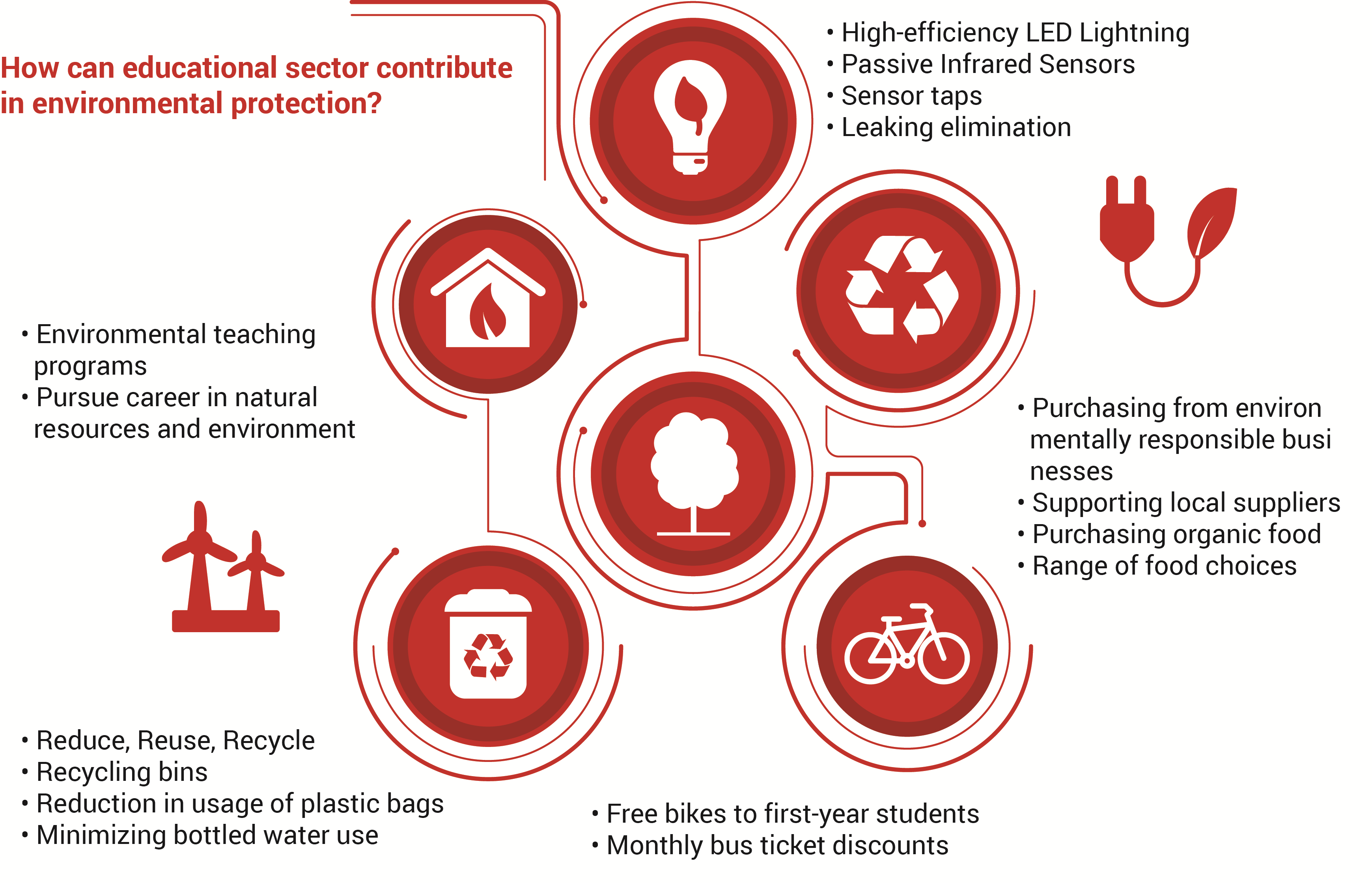 Certification helps to Improve Rankings
According to People & Planet University League 2015, Plymouth University leads the UK's most sustainable universities. They received the first ISO 14001 accreditation in 2009, followed by a re-accreditation in 2012 and again in 2015 for three more years.
With 25.897 students and 2.608 staff, envisioning a sustainable world seems difficult, but they have achieved this by focusing on environmentally sound practices. Some of these achievements include the following:
40% of waste recycled in 2014-15
12% reduction in waste since 2011
35.8% reduction in water consumption since 2005-06
15% reduction in carbon emissions since 2005
11.7% reduction in electricity since 2005
10% of procurement budget spent on local suppliers
28% of students use public transport to the university
31% of staff uses public transport to the university
50% of students walk to the university
With an appropriate strategy and well-managed implementation, the above-mentioned benefits have a high chance of being achieved. Nevertheless, this is an ambitious aim which requires the willingness of both staff and students in understanding the environmental impact of their everyday activities and working toward minimizing it. Obtaining ISO 14001 Certification demonstrates a positive engagement and improvement on being environmentally responsible.
---
PECB
PECB is constantly helping organizations to be competitive on both national and global basis, by offering different Training and Certification services related to Health, Safety & Environment. It offers ISO 14001 – Environmental Management System (EMS) which enables organizations to develop and implement a policy which commits to effective environmental management. With this certification, you will gain continual environmental improvement, improvement of image and credibility, as well as efficiency advancement by reduction of cost, pollution, energy, water and waste.