Much has been written about the value of training and certification. Associations tout certification as a means for an individual to demonstrate their knowledge, confirmed by an objective 3rd party, while training organizations boast at their ability in teaching individuals on how to pass certification exams. Undoubtedly, this is partially the case for both, but there is much more to it than a piece of paper and increasing one's probability of getting that paper.
Furthermore, organizations are continuously emphasizing upon knowledge acquisition and attraction of talent. This is merely happening due to the increasing level of complexity in terms of organizational structure and complexity of operations. However, witnessing such knowledge and technical abilities to perform complex tasks competently, is bound to witnessing these specific tasks through training and certification. Also, training and certification are showing to have an effect on increasing the productivity and efficiency of individuals when performing their jobs.
The value of training and certification is also increased, as it is nowadays a requirement for a variety of technically skilled professions. With that being said, certification is giving employees a competitive edge on the competitive global market of professionals. While having more competencies on paper, employees are increasing their credibility to perform tasks. Besides, they are raising the organization's level of competence to provide services or products that are developed by knowledgeable staff. Another reason for taking advantage of certification and knowledge gained through it is not just self-development but is also linked closely to finding employment. Employers, on the other hand, do take seriously certification when it comes to employment as it presents a substantial effort to take one step further on developing their abilities to perform tasks more effectively and knowledgeably.
According to the US Bureau of Labor Statistics, the US unemployment rate has been in a slow steady decline since hitting a peak in October 2009 at 10% and currently resting at 4.9%. In the UK, the rate has declined to 5.4% from its October 2011 peak from 8.4% while the EU has declined to 9.6% from 10.9% peak in Q2 2013 (source: Eurostat).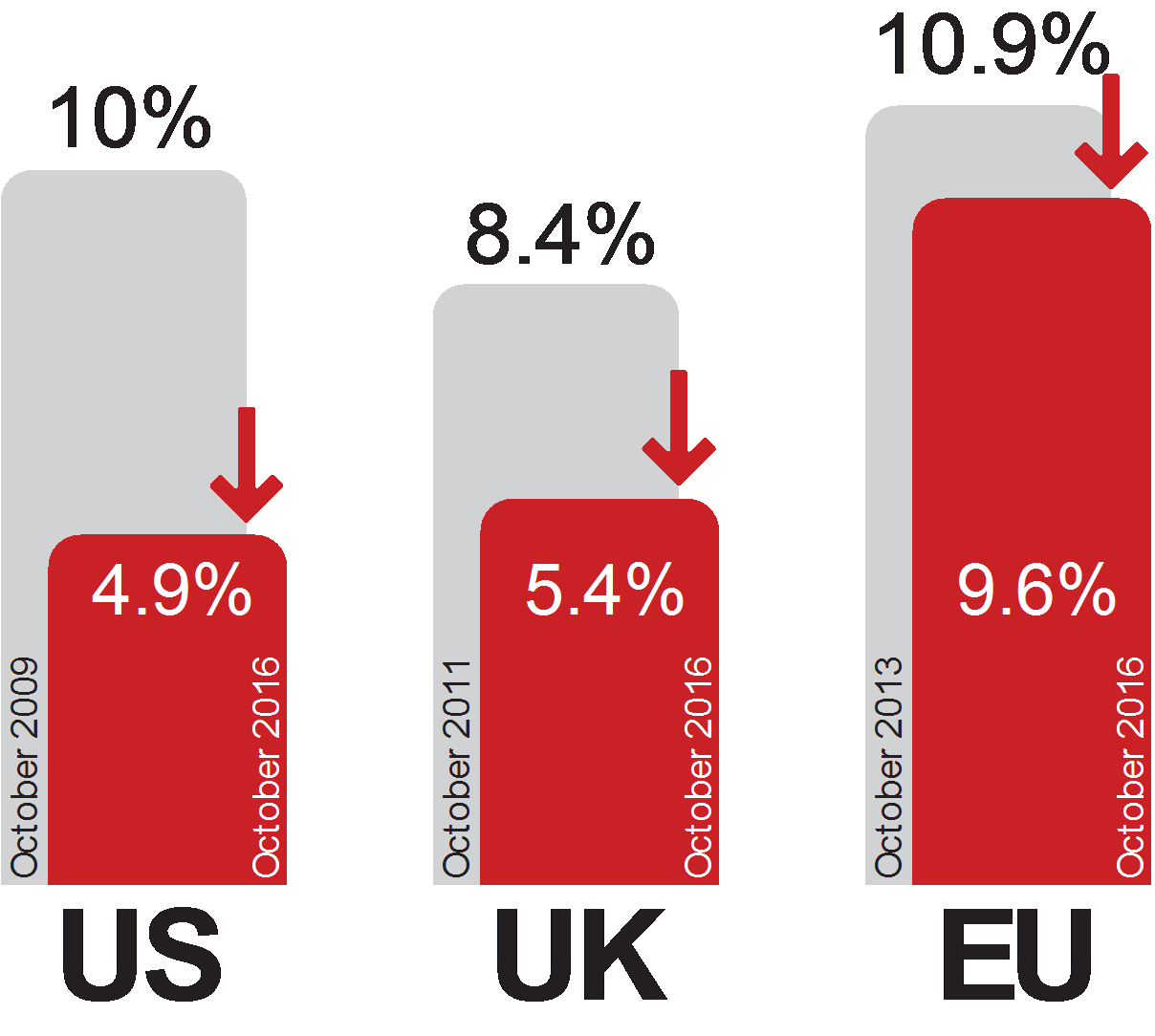 So what does this mean for those who are either currently employed, seeking employment or even are employers as well? Undoubtedly, competition for limited available positions in the market is extremely intense, where years of experience, coupled with strong best practice knowledge are highly sought out by employers. For the experienced professional, employers must ensure to stay relevant and up-to-date with the latest practices, techniques, and technologies. For those lacking the experience, it is critical to building on a solid theoretical foundation that incorporates realistic scenarios to be applied to their day-to-day activities while minimizing errors and accelerating their professional growth.
In a recent HireRight survey, 65% of businesses are making investments to improve their ability to find quality job candidates, while 53% find retaining top talent is a challenge. Furthermore, employers continue to demand more from their employees while changing market conditions demand that employees remain abreast with the latest skills, techniques, and knowledge. This can be achieved through the appropriate training and mentorship.
Bottom line, employees must keep their skill levels current and adaptable to remain competitive and to ensure the employers have the highest quality staff; must develop competitive retention strategies which include keeping employee skill levels not only up-to-date but with an eye to the future ensuring the employee has greater job satisfaction, and the employer a higher level of key personnel retention.
---
PECB
Underlining the value of training and certification, PECB offers training in a wide range of international standards. PECB's expertise includes Information Security, IT, Business Continuity, Service Management, Quality Management Systems, Risk & Management, Health, Safety, and Environment. Showing commitment and competence while elevating organizational performance, PECB ensures to provide you with effective training and globally recognized certification to the benefit of your organization. In addition, this will certainly contribute to the overall unemployment decrease.