Conducting Corporate Social Responsibility (CSR) audits in Pakistan & Italy on various standards (SA8000, BSCI, ETI based Sedex) and Code of Conduct (COC) of various buyers around the world it can be stated that; CSR is one platform where the whole organization can manage various standards at the same time or effectively integrate standards along with the complete package of human resource management and wages.
Corporate Social Responsibility originates and is created from the developed premier social compliance standard- SA8000 and other standards are developed based on this standard to ensure the basic human rights of workers with additionally focusing on the industry applied, objectives desired to be reached, required and/or marked areas. Even though, wordings and clauses might be different from one standard/COC to another the requirements remain the same. Essentially, organizations have to develop their system and structure according to the requirements from multiple standards in order to fully fulfill their CSR requirements and develop one system to implement accordingly.
When implementing CSR requirements with other standards the organization should focus on the following components described below to comply with the CSR framework and shine as an organization that is committed to protect and benefit society as a whole.
Child Labor
Helping children who want to study but are unable to do so because of their financial limitations is characterized as a humane act from the organizations' side of contributing to their surrounding society. Various organizations can play a major role to assist children facing financial difficulties with attaining the most basic right; education. In return, these children are working for a few hours after school with the purpose of getting some experience while contributing to the funding organization.
Forced or Compulsory Labor
The principle of every organization, regardless of its size, should create a secure atmosphere in which workers will not engage in or support any forced or compulsory labor, as well as allow the withhold of any part of the personnel's salary, benefits, property or documents. Employees must have the right to leave the workplace premises after completing their duration of work without any objections unless they have been offered Over Time. Equally, organizations should not involve in any form of slavery type of contracts with their employees nor support human trafficking.
Health & Safety and Environment
Some CSR policies include the application of numerous environmental systems (i.e. EMS), supporting an organization to guide their own control limits of harming the environment. Environmental aspects are normally covered while preparing/managing Health and Safety activities and are considered as the main element of HSE.
Providing a safe and healthy workplace environment to all workers by assessing all the workplace risks is another principle of maintaining CSR effectively. Definitely, by conducting formal and periodic occupational health and safety risk assessments we can identify as well as address potential Health and Safety and environment hazards.
Assessing the entirety of the organization's risks will support the evaluation of taking advanced steps in preventing the risks. Some hazards, though, still remain after effective minimization of the causes of all hazards in the workplace environment. However, in cases where these hazards do occur organizations must have the resources, process, and procedures in place to provide first aid and assist the worker in obtaining follow-up medical treatment.
Organizations are also advised to pay more attention to and consider the mothers that are expecting and nursing by providing less hectic tasks during that period and allowing additional breaks if needed; as well as setting up separate rooms for nursing mothers is highly advised.
Upon developing risk assessment methods, organizations need to conduct training on lowering the staff doubts and concerns, increase awareness, and should involve all staff in evacuation drills so they can remove themselves from imminent danger without seeking permission from the organization.
Teams developed by the organization should be trained in Fire Fighting, First Aid and other required training identified by the organization.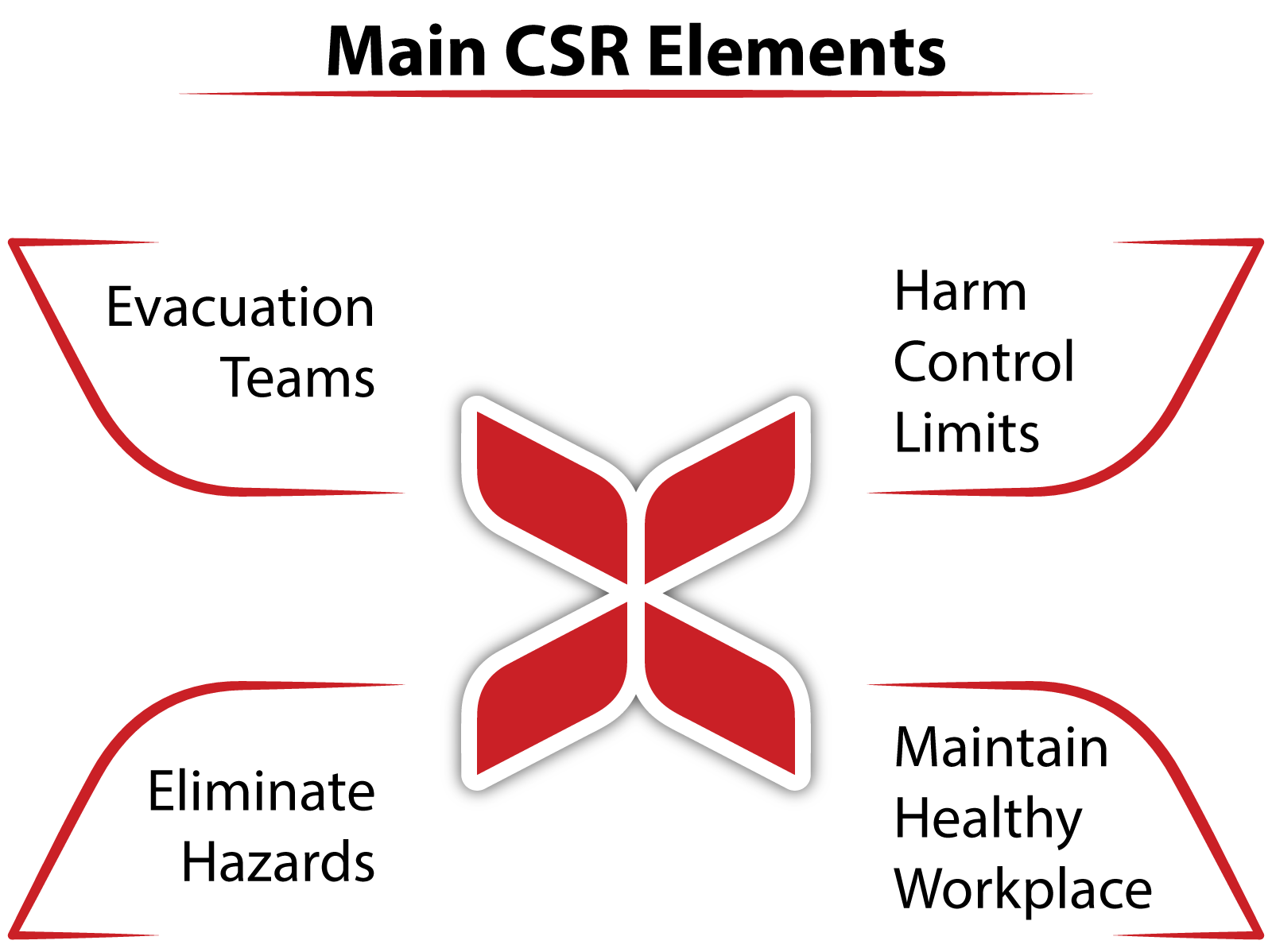 Facility's hygiene is also covered within HSE activities; including free access to clean toilet facilities, potable water, suitable spaces for meal breaks, and where applicable, sanitary facilities for food storage. Correspondingly, ensuring that any dormitory facility provided for personnel are clean, safe and meet their basic needs, whether they own, lease, or contract the dormitories from a service provider.
Freedom of Association & Right to Collective Bargaining
The freedom of employees to join and organize labor union(s) of their choice and to bargain collectively on their behalf with the organization should be provided. Another mandatory requirement is to allow workers to freely elect their representatives; some of the organizations also engage their own representatives, usually experts from their own industrial area to help with specific discussing matters.
Representatives(s) discuss mostly matters related discrimination, harassment, intimidation or retaliation and collectively identified issue with the management of the organization(s).
Discrimination
In this section Human Resources (HR) must have developed strategies and policies on preventing any engagement in or support of discrimination in hiring, remuneration, access to training, promotion, termination or retirement based on race, national or territorial or social origin, caste, birth, religion, disability, gender, sexual orientation, family responsibilities, marital status, union membership, political opinions, age or any other condition that could give rise to discrimination. Further, hiring a woman shouldn't subject to pregnancy or virginity tests under any circumstances.
Organizational policies must include personnel's rights, practices, and prevent discrimination in terms of race, national or social origin, religion, disability, gender, sexual orientation, family responsibilities, union membership, political opinions or any other condition that could give rise to discrimination. The organization shouldn't allow any behavior that is threatening, abusive, exploitative or sexually coercive, including gestures, language, and physical contact, in the workplace and in all residences or property governed by the organization. If at any point such events occur the acting individuals must be taken to the Disciplinary Committee, after an investigation.
Disciplinary Practices
It has not been witnessed that organizations have incorporated in their policies some sort of corporal punishment, mental or physical coercion, or even verbal abuse of personnel. However, the violation of already developed policies by the organization punishes their members with a deduction in wage.
Working Hours
Country's Law is the primary source used when preparing the working hours' and regulations along with the obligatory (Tea, Lunch & Prayers) breaks. Employees in Pakistan work for 48 hours a week, six consecutive days with an additional 12 hours of overtime weekly limit whereby their seventh day will be off. Temporarily, piece rate and home workers are being observed to help decide when to provide jobs, based on their working hours and skills, this decision will be made. Due to fog work does not start till the air is clear.
Remuneration
Every country has made their minimum wage's amount according to the food basket with a minimum number of family members, as announced by national law.
Most of the organizations are providing pay-slip to the staff with complete information on their duration, leaves, overtime, loans and deductions (if any). Many organizations have their attendance system incorporated with the organization's policies and practices, used for calculating staff's salary. Temporary staff also gets the same treatment in calculating their wages.
Management System
Company policy statement must be available to all staff in the local language and also available in English for international customers', suppliers, sub-contractors, and sub-suppliers. The company policy is usually followed according to the targeted standard and/or COC, and organizations are fulfilling the requirements accordingly. Other Policies & Procedures are required to be developed which assist in the proper implementation of the system.
Top management and other monitoring (worker / Unions) representatives are conducting regularly management reviews and audits of their policy statements and procedures, implementing the Standard and performance results, in order to continually improve.
A major element of the system is Internal Auditing (IA), having the ability to enhance any management system of the organization. The generated information and data will assist in developing a better system of the organization. Furthermore, this will help in their announced and unannounced audits for certification or from the client's end, verifying compliance in shape of COC audits. Certification & COC audits are based on upcoming contracts and/or orders.
Corrective and Preventive Actions criteria, procedures take place for any arising discrepancy. Concerned employees need to ensure that these actions are implemented and effectively; according to the requirements.
Moreover, training to all working personnel at facilities needs to be conducted regardless of the contract type. Those organizations are periodically measuring the effectiveness of training and recording their nature and frequency.
The various types of Suppliers & Contractors, from what has been personally witnessed, are employment agencies, raw material providers, and strategic partners and logistics providers. All of these service providers need to evaluate and communicate their policies & procedures when they are providing their services. Likewise, once organizations approve them, they must include in all communications and training programs information about their organization and their strategies to service providers. Also, yearly evaluation should be done, based on the performance of the supplier(s) and organizations need to decide to continue or discontinue agreements.
---
PECB
A substantial number of organizations disregard Corporate Social Responsibility's effect in the organization; when in contrary, CSR has continuously witnessed to improve business operations. Additionally, its seriousness has begun ascendance due to societal awareness in terms of Health, Safety, and Environment. Accordingly, PECB's willingness to contribute to your organization while providing certification against ISO 26000 will uplift recognition as much as assurance with respect to social responsibility in not only establishing a healthy working space but also protecting the environment.