INTERVIEW WITH CRISTIAN FRACASSI, CEO AT ISINNOVA
As the globe remains gripped by the devastating impact of COVID-19, noble acts of selflessness have never been more manifested and have given us strength to cope with the consequences of the pandemic.
It has been only a few weeks since the world was full of admiration hearing the news on the life-saving efforts of the Issinova team, Cristian Fracassi and Alessandro Romaioli, who designed and created unofficial copies of respirator valves in just 24 hours for an Italian hospital that was short in supply. For more, they also created the so-called Charlotte valve — an adapter to turn a snorkeling mas into a non-invasive ventilator for COVID-19 patients. This seemingly small yet grand and human act has not only been beneficiary to Italy's region that has been hit hard by the pandemic, but also to other hospitals and manufacturing companies who have decided to follow this path.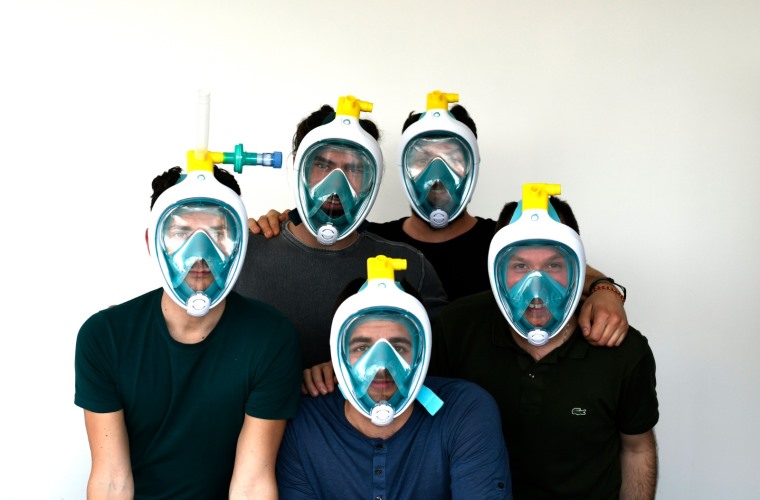 With this news, the assumption that 3D printing, or additive manufacturing, was ushering in a new era has definitely proven to be right. This technology, producing objects of any shape, on the spot and as required, has been rapidly spreading and advancing over the past years. As such, meeting individuals' needs has come to the fore, as there is a software that takes instructions and applies them accordingly.
However, the idea that almost every product would be produced locally, and that the need for supply chain management would be eliminated, seems to be too futuristic. While the best is yet to come, the world has benefited from what has happened today: technology and creativity equaled innovation.
The Isinnova team's achievement has been praised and acknowledged by everyone, and we had the honor to interview Mr. Cristian Fracassi, the founder and CEO of Isinnova, who provided us with information regarding the company and the creation of the respiratory valves and snorkeling masks:
"Isinnova is a reality formed by a heterogeneous team of engineers, designers, and communication experts that collects ideas from all types and sectors and transforms them into concrete objects. We address companies and individuals who have an innovative idea and wish to transform it into a finished product."
From innovative projects, business consulting and research to development services, Isinnova also offers advice from technical feasibility to marketing. "Usually we start from a problem that the company has to solve, for example, on a machinery or on a productive process." Although it seems to be customary for the company to have problem-solving a crucial factor of their work, they were initially contacted by the physicist Massimo Temporelli, founder of FabLab.
When asked about how they came up with this innovative idea that would result in saving the lives of so many people, Mr. Fracassi explains:
"It all happened very quickly. The director of the hospital of Chiari (Brescia) contacted the Giornale di Brescia to ask if they knew anyone who could print the valves in 3D because they were finished, and there they mentioned our name. So we decided to make ourselves available immediately."
In such chaotic yet crucial situation, not only they made themselves available, but they offered this service free of charge.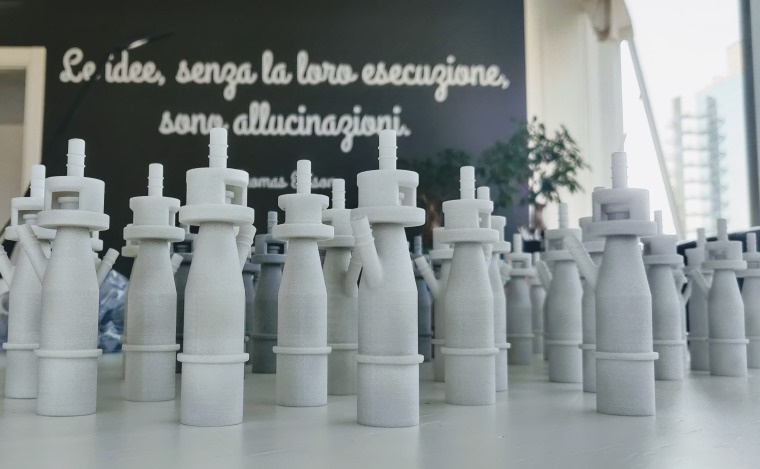 "In a single day a hundred Venturi valves were printed, immediately used. The prototype was made of polylactic acid with a filament technique that allowed it to be ready in just a couple of hours, although not with great precision. Successfully tested on a patient, the other valves were printed in 3D, this time with two different techniques: one with a light-sensitive resin, and the other with aluminium-filled Polyamide12 powder, which allows very high precision, but requires a longer time, 24 hours." – he adds.
However, he makes it clear, that as is the case with all things new, they faced difficulties at the beginning: "Being a medical device it has to fit perfectly in order to work, so we had to use more than one 3D printer to make several tests. The advantage of our 3D printers is that they are fast, so we completed the first tests very quickly and during the first day we printed 100 valves."
Seeing the success of the first valve created, they went on to create the so called Charlotte and Dave valves: "Yes, we created and printed two valves: the Charlotte valve and the Dave valve. The intuition came to Dr. Favero, a retired doctor. He thought he could use diving masks as breathing masks, which were missing in intensive care in hospitals. So we set to work so that we could adapt the Decathlon masks to the respirators. And so we created the two valves."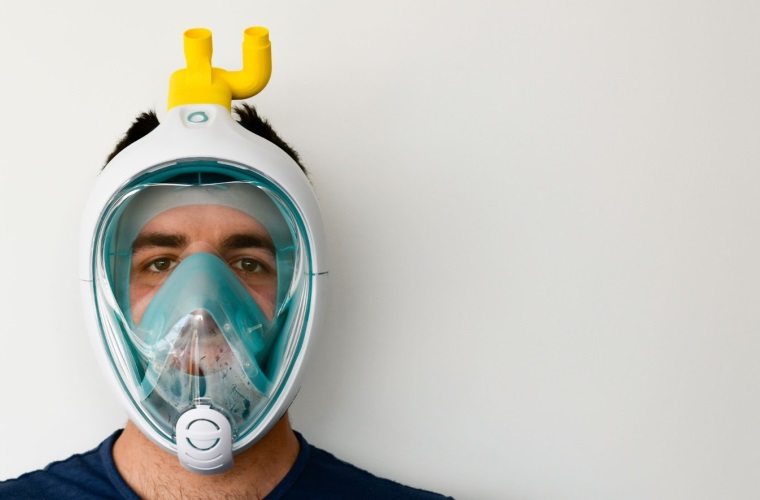 After the effective functioning of the masks, Isinnova has shared a detailed file for the realization of the link in 3D printing on their website, allowing for others, be that a company or hospital, to adapt and use them around the world: "Of course, our everyday work is to help people find a solution to their problems. Even more in this critical situation for the whole world, we are convinced that unity is strength. We decided to make the files available because so many people were asking us about the valves or how to help us. Lots of people made the difference in their own house and helped the world."
Mr. Fracassi tells us that they are beyond happy to help people, and at the same time they find themselves caught in the moment, and still do not realize what is going on: "It all happened so quickly, we are working a lot, but we are happy to help people."
In light of these events, the ways and the extent to which 3D printing will change the economy, industry, and culture in the years to come, has been rethought and has made everyone think about the future of 3D printing. Mr. Fracassi agreed that the 3D printing machines will be revolutionary in the near future: "Certainly this project has increased awareness of the potential of 3D printing in many contexts beyond the industrial one."
Medical applications for 3D printing are expanding and are expected to revolutionize health care. From prosthetics, to medications and surgery, many medical and tech experts believe that by 2025, 3D printed human organs will be in use for surgery to replace human organ transplants.
Additionally, through the usage of 3D printing in medicine, medical products, drugs, and equipment would be better customized and personalized, producing a cheaper version of surgical tools, thus improving the lives of those reliant on prosthetic limbs. From what it is expected to happen in the future to what has already become a reality, the 3D printing's potential to revolutionize our society is yet to be seen.