Imagine being able to rehearse surgical procedures ahead of time or interact with a simulated manufacturing plant in 3D. Imagine being able to walk through a virtual art gallery or attend a concert by your favourite artist from the comfort of your home. These are just some of the potential metaverse applications that we could see in our near future.
The metaverse is positioned to become the next big milestone in the evolution of the internet. In a nutshell, it is a 3D online experience that you can walk through via connected headsets and glasses. The virtual metaverse will be built on the same technology stack that is used to build Web 3.0, including blockchain, cryptocurrencies, and non-fungible tokens. Understanding the metaverse may seem complicated, especially as the technology is still in its infancy, but this has not prevented it from attracting considerable public attention. Bloomberg analysts have estimated that the total market value of the metaverse could reach US $800 billion by 2024.
It is unclear whether there will be one metaverse or many, but it will be an immersive next-generation version of the internet, likely rendered by virtual or augmented reality technology. The metaverse has been described as a successor state to the mobile internet, and a platform for leisure, labour, and existence at large. One thing that is clear in this journey to the future is that AI and data science will play a critical role in its success.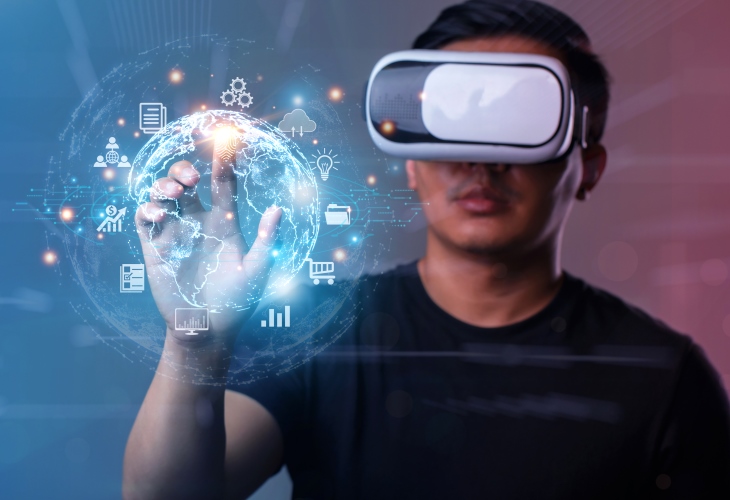 How Can AI Enhance the Metaverse?
Whilst it is exciting to see such interest in the potential of the metaverse, organisations taking their first virtual steps into the world must also consider how they can guarantee safety and privacy for their users.
The power of many technologies, including artificial intelligence, will play a key role in safeguarding this deeply immersive new world.
The use of deep learning-based software and natural language processing will aid in driving interactions, whilst artificial intelligence will be implemented to translate images, video, and text. Artificial intelligence will also play a huge part in automating virtual transactions to allow the metaverse to run smoothly for both business and leisure use. The challenge lies in living up to the promises of these immersive virtual spaces whilst keeping critical data safe.
As with any new technology, when deployed to large audiences it will likely face numerous attempted cyberattacks which may dissuade users from utilizing the platform.
The proliferation of data generated by the metaverse amplifies these risks. Protecting virtual identities and intellectual property rights, therefore, must be prioritized in addition to robust cybersecurity measures for digital and physical attack surfaces.
Data Breaches
As the metaverse expands and more data and devices appear online, the risk of data breaches only grows. Augmented reality devices will hold large amounts of user data, including biometrics, which are a valuable target for cyber-attacks. Strict laws must be developed to protect user data to avoid the information being exploited in the space.
The metaverse universe creates a large attack surface for cyber hackers. Combining traditional hacking methods with artificial intelligence and machine learning could very easily disrupt metaverse interactions if organizations do not employ their own sophisticated cybersecurity protocols.
One major drawback of new technologies is that they do not come equipped with cybersecurity solutions. With the metaverse, in particular, the precise cyber threats are still relatively unknown, and it may take years to identify all of the risks. Metaverse platforms have a duty to protect their user data, but participants should also be extremely careful about the information they are sharing. The task of protecting such a large amount of data should be shared amongst key players building the metaverse, including companies, government bodies, and users, to introduce a system of regulation and governance on data flow.
Privacy and Security Concerns
Identity theft, fraud, and impersonation are clear potential security risks in the metaverse. Cybercriminals will be drawn to the metaverse due to the volume of e-commerce transactions set to occur in the space. Whilst the metaverse is still in the development stage, it has already experienced various types of fraud. It is estimated that over US $14 billion in cryptocurrency assets were lost to fraudsters in 2021. NFTs will be at the heart of this metaverse economy and phishing schemes will continue to pose a threat leaving sensitive information exposed, and enabling access to cryptocurrency wallets and blockchain scams.
Both defenders and attackers will use artificial intelligence to fight against each other in a world where the best algorithm will win. These algorithms powering the metaverse are constantly learning, which creates a new layer of complexity that will need to be monitored and protected.
We will likely see computer security algorithms being created and developed to take on potential privacy and security threats. Artificial Intelligence and machine learning can be leveraged to continuously monitor user behaviour and find abnormal behaviour patterns. However, this technology will still require some level of human intervention.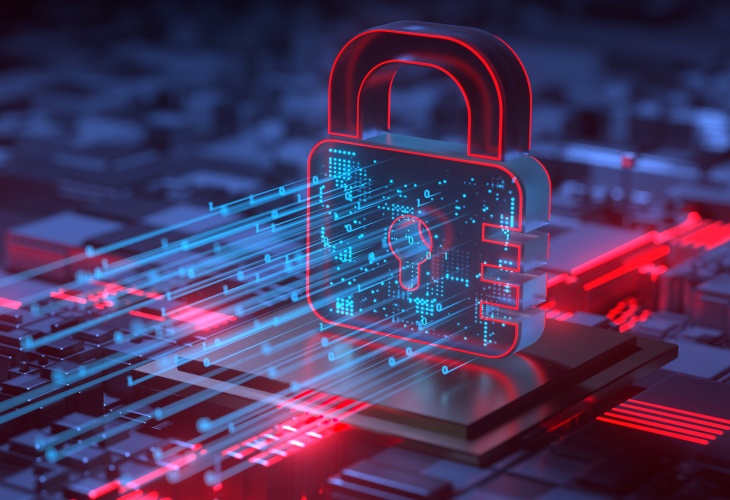 Authenticity, Identity Verification, and Protection
Authentication and verification should be at the core of all activity occurring within the metaverse. Theft of user credentials and avatars is likely to be high on the list of attempted cybercrimes in this virtual world. Metaverse users can opt to use their real name or an avatar in the virtual world, but in both scenarios, cyber criminals can attempt to gain access to their credentials and impersonate them. This can be especially dangerous when business interactions, social interactions, or financial transactions are being made, or if sensitive data is at risk of being exposed and held at ransom.
Authentication of user information, location, and third-party data also play a key role in a business's data reliability and accuracy. Vulnerable networks can, not only result in users losing virtual assets, but also risks the loss of reputation for businesses. Therefore, secure authentication tools will be especially important to validate data in the metaverse. Businesses operating in the metaverse should operate strict control over company-wide policies, operations, and implement advanced multi-factor authentication and dynamic data masking to protect against such threats.
Dynamic data masking allows data to be hidden and replaced with other data directory decoys to protect users in the metaverse from cyber-attackers. Whilst multi-factor authentication allows companies to simultaneously check multiple parameters when users attempt to gain access to the metaverse infrastructure. One-time codes, locationbased data, and biometric data integrated into the augmented and virtual reality hardware are an example of components that will aid in validating multi-factor authentication logins.
Educating Employees
Emerging technologies come with a huge learning curve and organizations must prepare to make sense of this new virtual world. To ensure that employees are equipped with the ability to identify and act on potential security threats, organizations building and conducting interactions in the metaverse must train their staff as the first line of defense. This includes upskilling the current workforce and consulting with cybersecurity and AI experts on best practises.
Whilst the metaverse is a cutting-edge new technology, it relies on user trust to enable growth, expansion, and ultimately success. Implementing an educational approach to cybersecurity within the organization at the very beginning of the metaverse journey, including training on the artificial intelligence tools that provide extra layers of security, will assist in ensuring safety and the prevention of data exposure and leaks.
Preparing the workforce in advance to combat cyberattacks will also help guarantee their security systems are secure, safe, and free of vulnerabilities.
Businesses should clarify the responsibilities of both the organization and its employees, including information on conducting communication in the metaverse and what data will and will not be collected.
Final Thoughts
As the rate of innovation continues to outpace regulation, collaborating with those who have the expertise and tools on cyber threats and artificial intelligence will ease the journey towards creating a metaverse that facilitates immersive global interactions from the comfort of your home.
The metaverse is multidisciplinary and will impact a vast range of industries. Such technologies will carry certain risks but with a cautious and informed approach, players in the metaverse can create incredible, immersive experiences that may shape the future of work and play.
Opportunities and threats are evolving quickly and though many of these are still unknown, businesses must be adaptable and dynamic in their cybersecurity strategies.
Secure lines of defence with added artificial intelligence tools and cross-industry information sharing will be vital in this space to create a safe, secure, and inclusive platform for everyone.