BY JETË SPAHIU HOXHA AND LUNDRIM SADIKU, PECB
What does the future of the eLearning industry look like?
The global eLearning market capital reached more than USD 200 billion last year, and this figure is expected to grow to almost USD 400 billion by 2026. This value has seen constant growth in all regions of the world, with North America and Europe being in the lead.
A study shows that the most widely distributed online courses belong to the category of "business and management" with more than 16% of the market share (the highest figure of all categories). Furthermore, the same study suggests that a growing number of companies aim at covering the cost of completing certified courses in an effort to improve productivity and performance, apply knowledge and skills into practical results, and educate employees.
With more than 60% of the training budget allocated for travel costs, it makes a lot of sense in terms of financial resources that companies are trying to find other ways to reduce the costs and increase the benefits of their training programs.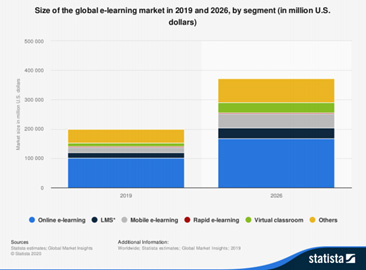 Taking into account the figures and trends mentioned above, it is not surprising that PECB seeks to expand the means of offering more eLearning training courses in addition to the traditional in-class training courses.
Is there a silver lining of the lockdown?
The year 2020 taught us one extremely valuable lesson. The things that we often take for granted, especially physical mobility, are in fact quite fragile. Even though the eLearning project at PECB started long before the lockdown, the new circumstances have only accelerated the pace of the project. Now, more than ever, PECB is seeking ways that can modernize how we provide our services.
What are the benefits of taking a PECB eLearning training course?
For our candidates, the benefits are numerous! You were not paying attention to a certain section? No problem, just replay the video. You do not feel like listening to the trainers and reading the training course materials helps you learn best? No problem, just access the training course materials via PECB KATE.
Ultimately, the best thing about an eLearning training course is the unlimited accessibility. It really does not matter if you are in your office or in your bedroom for as long as you have internet access. You do not have to worry about traveling to the place where the training course session is being held or about canceling plans because schedules overlap.
What is even better is the fact that you can take control of your own time and manage your own schedule. You can return to the eLearning training course any time you want.
On the other hand, for companies themselves, eLearning reduces training costs significantly. It also enhances the knowledge retention for the employees and it provides them with crucial information sources for strategic challenges (e.g., designing and implementing an Information Security Management System (ISMS) within an organization).
Updated training courses, furthermore, are a source of cutting edge information for various fields. In a nutshell, eLearning offers flexibility of time and place, as well as a personalized pace for your study; it reduces costs and provides solutions to strategic challenges.
How are the eLearning training courses designed?
Our eLearning training courses have been designed to meet the needs of those who have limited time and resources to attend a training course session.
Each eLearning training course that is published on PECB KATE is divided into several video sections and subsections. Videos last no longer than 20 minutes and contain animations to support what the trainer is lecturing — the animations correspond to the sections provided in Microsoft PowerPoint in the traditional mode of training. To keep our candidates engaged, we have incorporated quizzes into our eLearning training courses.
PECB has invested a great deal of capital, time, and effort in its online platforms (i.e., PECB eLearning, PECB KATE, PECB Exams) so as to offer digitalized services to our clients. Now, you can access our training courses via PECB KATE, take the exams, proctored online by PECB, and obtain our certificates FROM ANYWHERE, AT ANY TIME!
What PECB eLearning training courses are already available?
The eLearning training courses already available on PECB KATE are:
ISO/IEC 27001 Foundation in French
ISO/IEC 27001 Lead Implementer in French
For the success of these eLearning training courses, we collaborated with our trainers who presented not only the training courses provided by PECB, but also information from their expertise in their specific fields.
What PECB eLearning training courses to expect?
Right now, the eLearning team is working on expanding the offer. The following eLearning training courses are under way:
ISO/IEC 27001 Lead Auditor in French
ISO/IEC 27001 Lead Implementer in English
ISO/IEC 27001 Foundation in English
ISO/IEC 27001 Lead Auditor in English
Has your local government imposed lockdown measures to contain the spread of COVID-19? Not sure if the lockdown will be lifted anytime soon? Yet, you want to continue to learn and grow professionally… You now have a choice!