Transforming a company requires the presence of a partner that can accompany it by consistently reinforcing the capacities of its employees and providing high-added-value expertise. Oo2 Group is an organization for continuous professional development, Oo2 Formations, and consulting, Oo2 Consulting, found in Europe and the French-speaking part of Africa. Created just over 12 years ago, Oo2 has trained more than 20,000 individuals since then, forming a network of over 180 consultant trainers and having accompanied nearly thirty organizations in their transformation projects.
Did you say Oo2?
Oo2 is first and foremost, a beautiful story that began about ten years ago with Monique and Patrick, the founders of this success story. Both trainers are French citizens born in Senegal. They quickly noticed the huge gap left by the world of entrepreneurship in the continuous professional development market in French-speaking African countries. After a few training sessions conducted for third-party organizations in the continent, they took the decisive step, and in 2011, they created the company. They chose the name, Oo2, which refers to the infinity symbol (∞). Representing eternity and balance, the infinity symbol will be the expression of universalism that its founders have always valued in life and that they wished to incorporate into the management of their business.
Thanks to its first successes in its native land, Oo2 Formations quickly took off, and it was quite logical that the Oo2 adventure extended to Ivory Coast in 2015, to Burkina Faso in 2017, to Benin in 2020, and simultaneously working in France since 2011.
In order to support its customers in their transformation projects, in 2019, Oo2 created its consulting subsidiary: Oo2 Consulting, and in 2021, Oo2 Formations got the Qualiopi certification.
Today, Oo2 is an international group, a leader in continuous professional development in African French-speaking countries, offering the most complete range of training courses, both in class and through e-learning.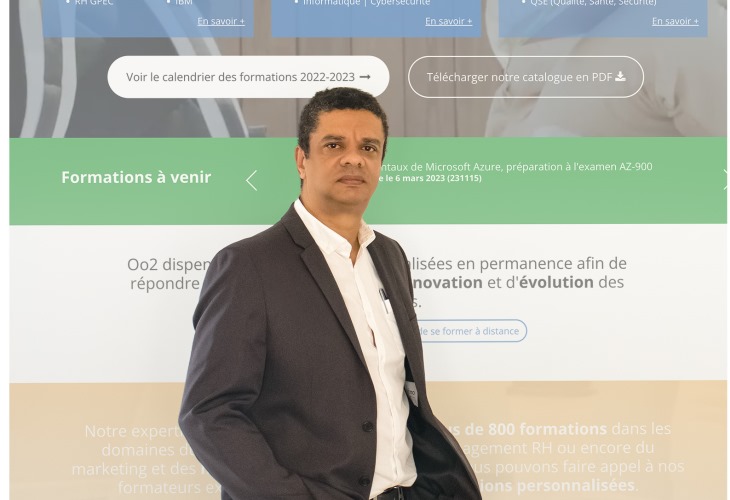 1. Oo2 Formations: Building skills, efficiency, and capacities of employees at work
The major transformations of our world, the acceleration of technological innovations and scientific progress, as well as the means of communication and transportation, require that each stakeholder adapt himself and constantly upgrade his skills. Knowledge is a challenge for today and tomorrow, and having a skill is a major asset in a world shaped by competition and the need to succeed.
Professional training is becoming an essential competitive driver for organizations, otherwise, it will slowly disappear. It allows individuals to acquire the necessary skills not only to respond to and cope with the changes of this world, but also to offer them the ability and freedom to control their professional careers.
The COVID-19 crisis, which for a while was thought to challenge the foundations of our societal models, has only accelerated our necessary adaptation to change. The Oo2 group, and more generally, the entire knowledge economy, have been greatly impacted by the lockdowns and have had to rapidly adapt by integrating training digitalization via new pedagogical learning methods such as e-learning and virtual classroom.
Based on the daily commitment of its teams to meet the pedagogical and didactic expectations of its trainees, Oo2 has made its quality approach the cornerstone of its mission as a training organization, which is the transmission of knowledge and the development of expertise.
1.1. Oo2 Formations meets 90% of organizations' and enterprises' training needs
In constant interaction with its economic environment and attentive to the current challenges of organizations, Oo2 Formations is constantly expanding its training offer to meet training needs as closely as possible. As a multidisciplinary organization, Oo2 Formations offers a diversified range of about 800 training courses that are constantly updated and can be offered on an Inter or Intra basis, in some thirty areas:
Information Technology,
Project Management,
Business Lines,
Marketing,
Communication,
Operational Excellence
ISO Standards,
Management,
Personal Development, etc.
Benefiting from the richness of its twelve years of experience and professionalism in a fast-growing market, Oo2 has become a leader in continuing professional development in French-speaking Africa and is consolidating its status as a major stakeholder in that domain every year.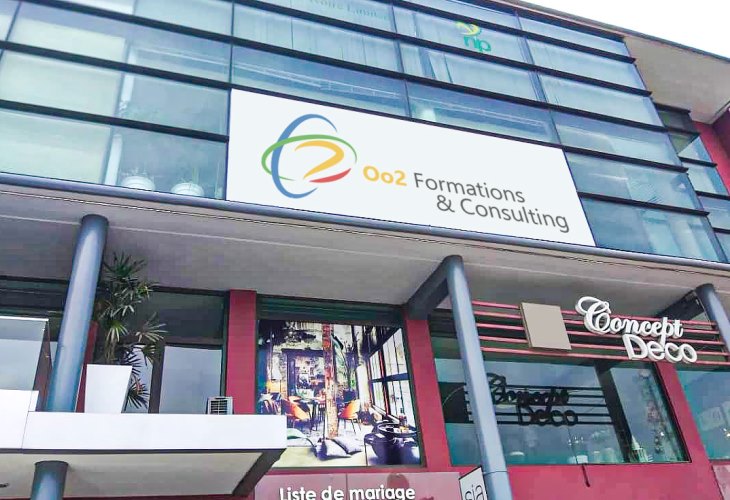 1.2. Nearly 150 training courses preparing for international certification
Certifications attest to a certain level of knowledge and operational skills in a given field. Certifications, therefore, play a decisive role in a career plan. Generally speaking, they improve the work and working conditions of the holder. Better recognized, they lead to better pay and easy career advancement for the holder.
Oo2 Formations is accredited by 18 of the world's largest training editors and service providers with official courses and international certifications. Oo2 offers its clients about 150 training courses for one of these professional certifications: ISO standards with PECB, PMP, and CAPM with PMI, Prince 2, ITIL with PeopleCert/Axelos, COBIT with PeopleCert/ISACA, CISSP with ISC2, MSCA with Microsoft, CompTIA, VMWARE, LINUX INSTITUTE, etc.
Therefore, be it in Paris, Geneva, Brussels, Dakar, Abidjan, Douala, or Kinshasa, the training provided by Oo2 is the same, and the certifications offered are recognized worldwide.
1.3. A network of international experts
Oo2 Formations is a network of about 180 consultanttrainers from Europe, Africa, and America selected not only for their business expertise but also for their experience in the field and their mastery of the knowledge and knowhow transfer pedagogy.
Whenever possible, Oo2 Formations prioritize local expertise rather than foreign expertise for its client. In accordance with the principles and values of its CSR commitment, Oo2 Formations wishes to promote local recruitment and actively participate in the economic development of the country, territories, and for the strict benefit of its population.
1.4. Increasingly innovative learning methods
Due to the COVID-19 pandemic, the virtual classroom made its grand entry in 2020 at Oo2 and has become the most widespread learning method today. It not only provides pedagogical continuity, but also new training offers that are more agile and flexible than the 100% classroom model.
In both inter- and intra-company sessions, a customer can choose between several learning formats or decide to receive customized training at their request. And to achieve its pedagogical objective of converting the knowledge received by the trainee into direct operational skills, Oo2 has set up innovative animation methods, which aim at involving the key players in an interactive, dynamic, and participative way.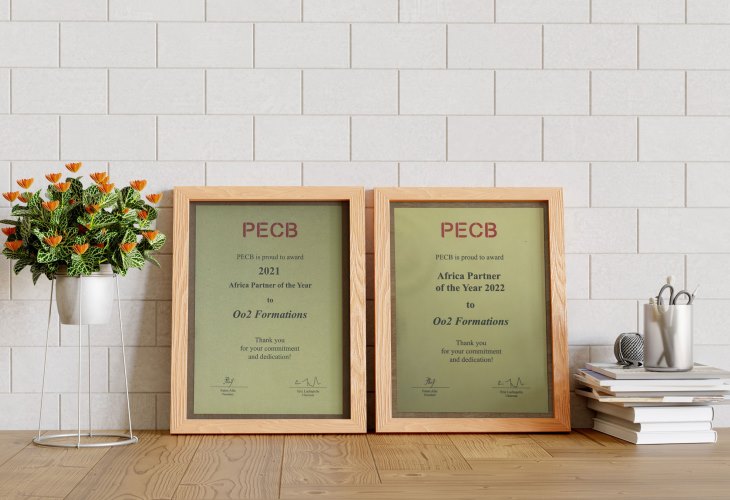 2. Oo2 Formations receives the PECB Africa Partner of the Year 2022 award for the second consecutive year
Oo2 has a long-standing business partnership of more than ten years with PECB, a well-known and world-class provider of training, examination, and certification service in over 150 countries around the world.
As PECB is accredited by the International Accreditation Service (IAS), this partnership enables Oo2 to provide its clients in Europe and French-speaking Africa with training that inspires confidence and guarantees access to an individual professional certification that validates a level of knowledge recognized by the international community.
This mutually beneficial collaboration has enabled Oo2 Group to offer the quality of PECB's training materials to several thousand learners and to further establish its reputation as a main continuing professional development organization in its geographical area of activity.
A fruitful collaboration awarded Oo2 the status of PECB Titanium partner (the highest level that a PECB partner can obtain) and the PECB title of "Africa Partner of the Year" in 2021 and 2022, thus ranking the group as the best reseller of PECB training in Africa and one of the best resellers in the world. This double award reflects the level of expertise of its trainers, its sales force, its professionalism, and the commitment of all its teams.
3. Oo2 Consulting, to support organizations in their transformation projects
Oo2 Consulting was created in January 2019 with the objective of putting its network of about 180 experts at the service of organizations.
Oo2 Consulting supports its clients (SMEs, ETIs, large international groups, administrations, and NGOs) by offering customized consulting or coaching missions to enable them to achieve their growth and performance objectives more rapidly.
Oo2 Consulting can work alongside managers in many fields thanks to the diversity of its network of experts. More specifically, and in view of the recurrent requests from its clients, Oo2 Consulting offers its expertise and support in the following four areas:
3.1. ISO Certification Approach
Whether it is at the request of a client who wants the organization to be certified or to gain access to new markets, stand out from the competition, improve its organization, or be internationally recognized, Oo2 Consulting assists managers who wish to implement an ISO management system: throughout the AMOA process or on an ad hoc basis to carry out a diagnosis, an internal audit or a mock audit on their behalf within the framework of an initial certification audit or a renewal audit for example. The firm also offers its expertise and experience to outsource the management of its ISO (integrated) management system.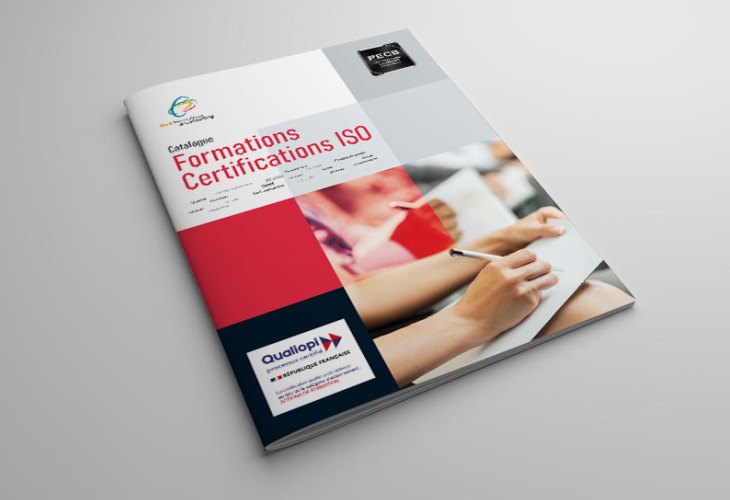 3.2. Improving competitiveness and profitability targeting operational excellence
Oo2 Consulting helps companies in all sectors to achieve operational excellence, intending to increase the performance of their systems and organizations and lead them to a sustainable competitive advantage, whether to implement a Lean approach (Lean Management, Lean 6 Sigma, Lean Manufacturing, Lean Innovation, Lean Supply Chain, etc.), a BPM approach (Business Process Management), to ensure their digital transformation or to improve their financial performance or their strategy (procurement, sales, etc.).
3.3. Improving performance at work
Depending on the issue, Oo2 Consulting assists organizations in improving their management and work efficiency by intervening at all levels (general management, human resource management, management, and employees). Through consulting, support, audits, coaching (individual or team), and training, Oo2 Consulting's missions focus on three major human issues: improving professional efficiency, leading and supporting change, and finally, preventing risks and promoting quality of life at work.
3.4. Project management
Finally, thanks to the scope of its portfolio of consultantstrainers, Oo2 consulting is able to assist organizations on many transformation projects that do not fit into the three categories mentioned above, in particular, the realization of an IT security audit, the urbanization of its information system and the implementation of real and operational solutions to improve performance such as a CRM, an ERP or an HRIS and the creation of any other solution aimed at improving the performance of the organization.
Since its creation, Oo2 Group has made customer satisfaction its priority and… its success.
Because there is no success by chance.
There is no success by chance in a constantly changing and ultra-competitive world,
There is no success by chance without the ability to meet the many new challenges of tomorrow, There is no success by chance without creating a customer-oriented quality approach,
There is no success by chance without the ability to offer visible and tangible results to its customers,
There is no success by chance without the ability to anticipate, adapt and organize,
There is no success by chance without creativity and innovation,
There is no success by chance without respect for each other and the will to do your best.
Oo2 Formations & Consulting is all this at the same time a success story immersed in the heart of the performance of YOUR organization.