In recent months the world economy is consistent with the exposure of preliminary data showing that global growth during the second half of 2015 is 2.8 percent weaker than previously forecasted. This drop was noticed especially in the United States, Japan, and other advanced Asian economies.
On the other hand, the picture of emerging countries such as India, China, Nigeria, Colombia proves that companies that are in tune with consumer trends in these markets and are best positioned. In the past twenty years, total consumption was marked near $33 trillion, with 26 % of emerging market consumption. However, in the decades to come, consumer spending in emerging markets is likely to grow by trillions of dollars. In fact, forecast data shows this growth will go up to $62 trillion. This rapid growth is transforming the lives of hundreds of millions of people, and at the same time increasing the money they spend and changing what they buy.

When it comes to food, consumers are more conscious about healthy food, due to increased labeling, access to different foods and nutritional information. Of course, there are times when they feel confused and overwhelmed by numerous and conflicting claims on packaging. By far, this is why they rely on the worldwide brands to deliver safe products to their tables.
Unfortunately, there is no data, that gives insights on the comparison if the food today is safer or hazardous than it was in the past, but one thing is for sure, that the system is different. The problems that were once local are now increasing globally. Today, consumers recognize the challenges a company faces when manufacturing minimally processed ready-to-eat foods and delivering it to markets through a global supply chain while making sure that the consumer is pleased with the product they receive.
In the emerging consumer countries of Asia Pacific region, low – and middle –income families spent an enormous amount of money on food. Their menus change and their eating habits are changing. In China, meat consumption has increased in a short period of time. While dairy consumption is beginning to grow rapidly in India and in parts of Africa, China, and India. Also, eating out in fancy restaurants is becoming increasingly popular too. Although, middle-income people tend to visit more often than low-income people, still once or twice a month is an average treat to eat in restaurants.
Therefore, with all these numbers and facts presenting themselves and the myth that low-income consumers want cheap goods has been debunked, organizations involved in the food industry should see a potential to enhance their business; by implementing coordinated standards and inspection protocols through the supply chain.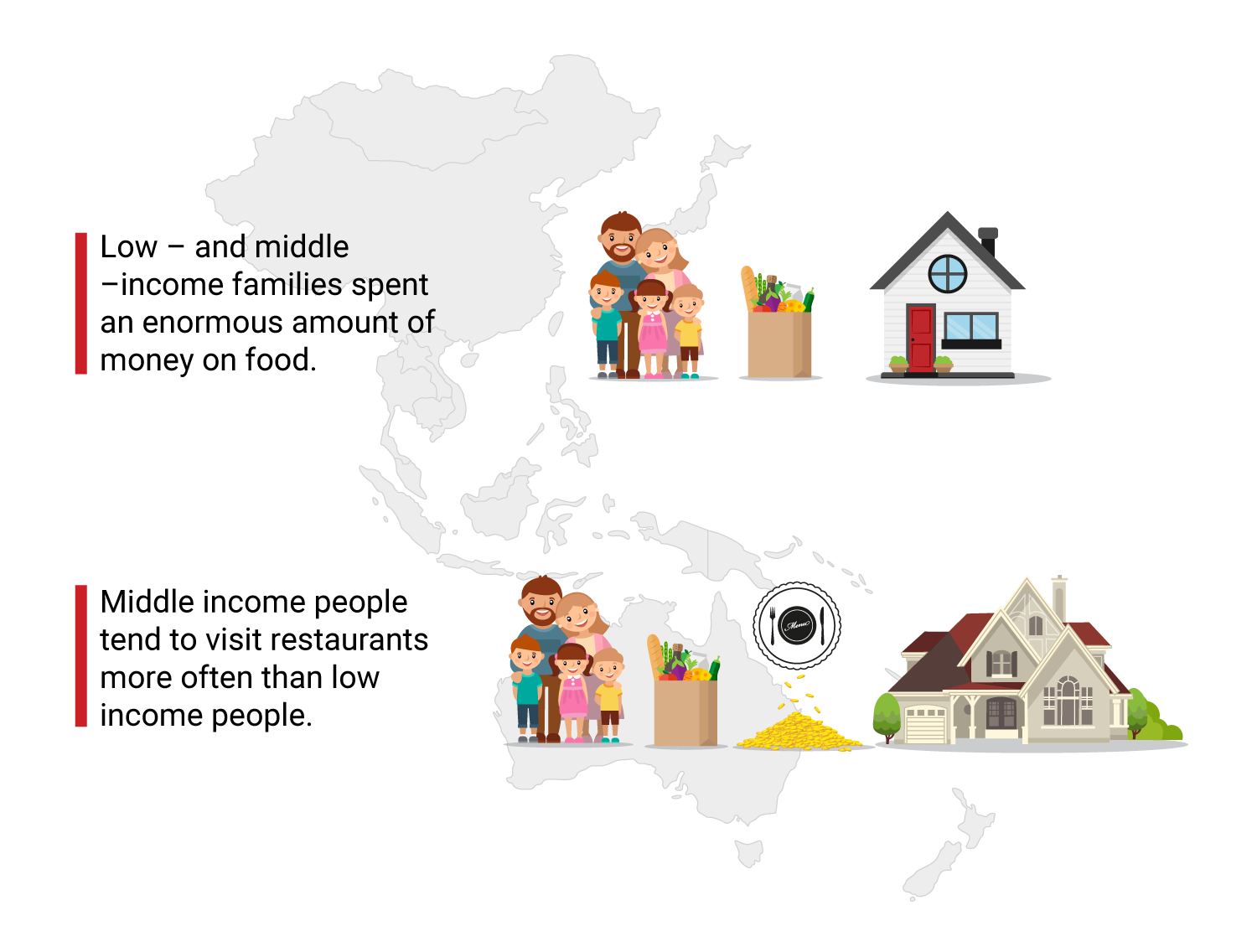 Penetrating the Global market with ISO 22000
Europe is dominating the global food certification market. This market is determined by the regulations and standards in various food application sections. However, economies of the emerging countries are growing due to progression in certification processes and increasing demand for food and beverage products. In fact, in 2013, the food certification market was valued at $10.7 Billion and it's expected to reach $14.5 Billion by 2019.
"You are only as strong as your weakest link and this is why any food supplier, manufacturer or distributor who has data-driven insights are actually prudent business insurance."
There is no specific formula for establishing a strict and controlled system across the global food supply chain, there is clear evidence that ISO 22000 makes significant impact industrywide. ISO 22000 "Food Safety Management System – Requirements for any organization in the supply chain" is therefore designed to allow all types of organizations within the food chain to implement a food safety management system. These range from feed producers, primary producers, food manufacturers, transport and storage operators and subcontractors to retail and food service outlets – together with related organizations such as producers of equipment, packaging material, cleaning agents, additives, and ingredients.
Another important thing to mention is that companies that are already ISO 9001 Certified can easily implement ISO 22000 due to compatibility these two standards have. With the implementation of international standards, inspection protocols and compliance throughout the food supply chain, consumers will be ensured that the food they buy is safe to eat and bring many benefits to organizations operating in the food industry.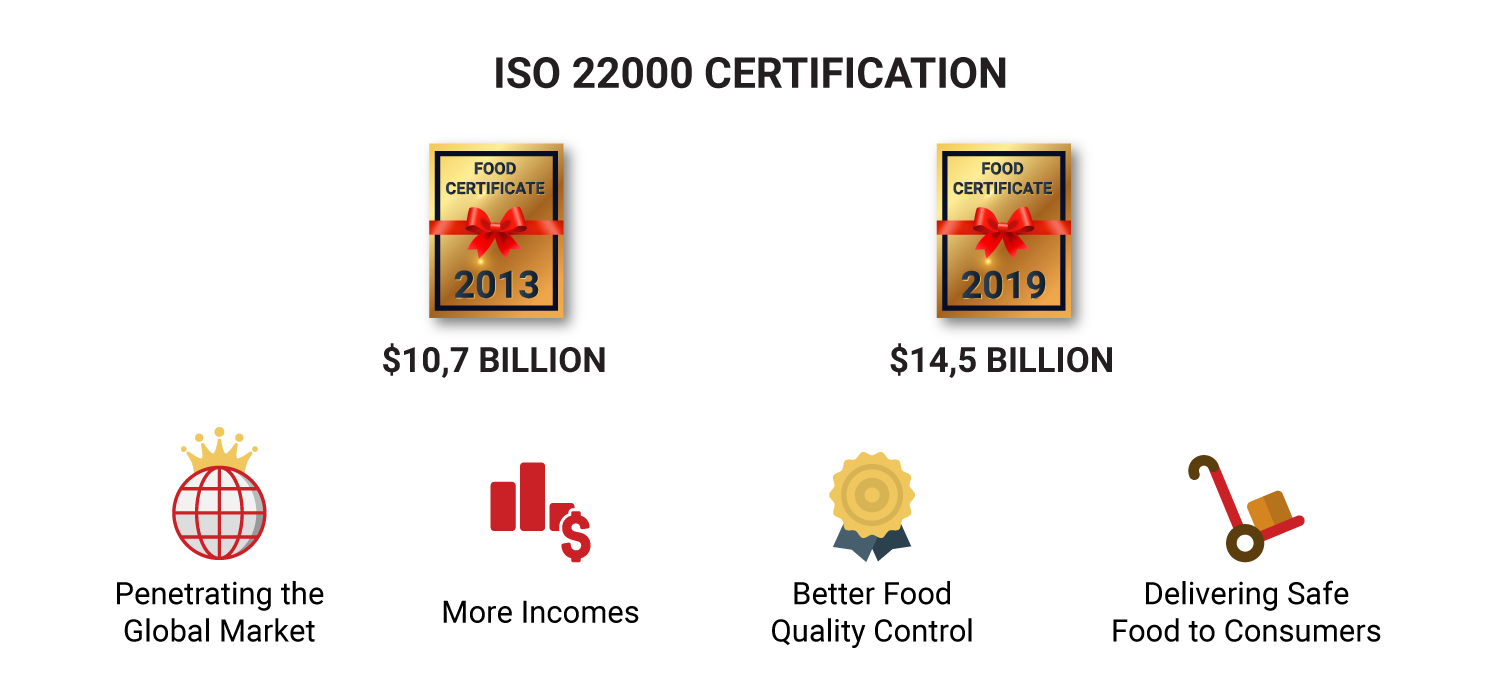 Benefits of ISO 22000 Certification
Penetrating the global market
Getting more revenue and business from new customers
Ensuring customers and other stakeholders ISO 22000 certification proves the ability to control food safety risks and deliver safe products
Providing continual improvement that ensures that the food safety management system is reviewed and updated
Ensuring adequate control at all stages of the food supply chain to prevent any hazards
---
PECB
We are continuously helping organizations and professionals worldwide and society in general, to achieve the best results while offering their services. ISO 22000 training and certification is evidence that you care about your customers and the insurances of the safety of the global food supply chain. A PECB certificate will demonstrate your dedication in implementing and managing these processes and frameworks, and most importantly you will be recognized worldwide.