Historically, risk generally is deemed to be a red flag. It is a trigger for caution and calls for necessary actions to be taken. An organization's approach to risk defines its risk management strategy and implementation strategy.
Risks can be catastrophic, have serious consequences, or be minor with little impact.
As risk can be difficult to see, its impact can be difficult to quantify and respond to, so having a well-defined risk management strategy cannot be overemphasized.
We will discuss risk management, information security, the benefits of having each of them in an organization, and then identify the relationship they may have, if any.
What is Risk Management?
Risk management has been defined as the process of identifying, analyzing, accepting, or mitigating risks.
Risks can stem from different areas of business, financial, technological, legal, management operations, and natural causes. As there is no singular area that risk can come from, there is a need to design a robust risk management strategy that is strategic, innovative, and growth-enabling.
The International Organization for Standardization also known as ISO, developed a Risk Management Guideline ISO 31000 standard, with a five-step risk management process that includes identifying, analyzing, prioritizing, managing, and monitoring risks.
Benefits of Risk Management
A robust risk management strategy will guide the organization by identifying the various risks it is posed to have and their impact on the organization's operations and sustainability. The overall goal is for the risk management plan to protect the organization, reduce costs, and increase overall success.
As there are different risk management standards that will suit different organizations' objectives, adopting a framework to build the organization's risk management strategy requires an alignment between the organization's goals, strategies, and its risk appetite. In protecting an organization and identifying its risks, some of the questions that come to mind are:
1. What are we trying to protect?
What are the valuable resources that this organization has that if exposed could lead to a threat, breach, financial and reputational damage, or competitive advantage that could impact business operations?
2. What are failing to identify?
This thought pattern leads to the next questions.
What are our assets?
Identifying what an organization's assets are, as simple as it sounds, is a complex task. It involves identifying everything that defines the organization, the push behind each tick, the environment it operates in, resources that enable it, and the impact of each tick.
This involves its employees, intellectual property, financial assets, operations, processes, competitive advantage, business model, technology, data, and several other assets. In building a robust risk management strategy or process, the risk behind each process step must be identified, the likelihood of the risk, which would involve prioritizing the risk, its source, impact, actions to be taken to prevent the risk, how to manage the risk should it arise, and monitoring it.
The recommended perspective of viewing risk should be such that each risk is viewed as an opportunity to grow, expand, or diversify. Imbibing this perspective in the overall organization goal and strategy is key to ensure that growth is enabled and not stifled.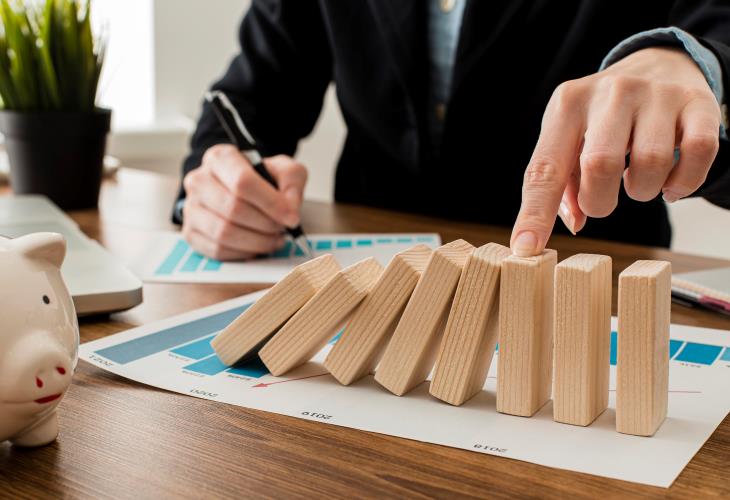 3. What is a data breach?
A data breach is when there is unauthorized access to sensitive information.
Data breaches can be targeted, they can occur by accident or bypass of the network security. As such, data breaches can be categorized as a form of technological risk.
Having provided an overview of risk management and its benefits, let us talk about Information Security.
What is Information Security?
Information security, also called InfoSec, involves the set of tools, processes, and security set in place to protect sensitive enterprise information. These processes and tools are put in place to prevent unauthorized access, modification, destruction, and disruption. InfoSec has different types of technology that ensure that an organization's information is secure across all devices and storage locations.
What is an Information Security Management System?
Information Security Management is a set of processes with policies that help to manage an organization's sensitive data, including protecting an organization from data breaches, and guidelines on how to identify, assess, and mitigate risks. An information Management System also provides the roles and responsibilities of the people that will be involved in managing information security. It also helps companies to reduce the risks that could occur from a data breach.
There are different types of information security measures and they include:
Application security: Involves processes, tools, and practices protecting threats throughout an entire application lifecycle.
Cloud security: Involves technologies, policies, controls, and services protecting cloud data application and infrastructure from threats.
Cryptography: Involves processes of hiding or coding information to prevent unauthorized third parties' access.
Infrastructure security: Involves processes to protect hardware and software from malicious attacks.
Incident response: This involves the steps taken to detect, contain, and recover from a breach attack.
Vulnerability management: This is the process of regularly identifying, assessing, providing reports on, managing, and remediating cyber vulnerabilities across endpoints.
With a lot of companies reporting data breaches and attacks on their cybersecurity, the need for an information security risk management system is critical for every organization.
With this also comes its challenges as there are rising challenges in modern IT security as several companies have migrated to cloud and hybrid computing. Therefore, the need to identify ways to protect these environments is growing.
Is There a Difference or a Relationship?
There is a relationship between risk management and information security, as information security is a tool used in managing technology risks and data breaches, as an example of technological risk. Information security protects the organization by providing a security system that protects the organization from threats and attacks on its technology and infrastructure containing consumer data and intellectual property.
IBM in its cost of data breach report spanning 17 countries and regions and 17 industries reports that the cost of a data breach averaged USD $4.35 million in 2022, a 2.6% increase from 2021. 83% of organizations reported having a data breach and the average cost was USD $4.24 million which was 12.7% from USD $3.86 million in the 2020 report.
A robust information security risk management imbibed in the overall organization's risk management and with an effective implementation will eliminate, reduce, and help mitigate the risk an organization experiences.
Data breaches can have severe consequences on an organization by causing financial losses, reputational damage, loss of consumer loyalty, and declining sales. Quantifying the risk of a data breach can be relative, depending on the nature of the breach, exposure, fines, and judgements.