AMINA DEJI-LOGUNLEKO'S SUCCESS STORY
I am Amina Deji-Logunleko, wife to Deji, mother to Maryam and Abdulbarr, Independent Consultant and CEO/Principal Consultant at Auphysh Services Limited. I studied Industrial Chemistry at both undergraduate and master's degree levels at the University of Ilorin, Kwara State and the University of Ibadan, Oyo State in 1998 and 2003 respectively, while I earned a second master's degree in Oil and Gas Engineering from the Robert Gordon University, Aberdeen in 2008.
My journey into quality assurance and standardization, and subsequently my career, started upon getting employed as a Standards Officer by the Standards Organization of Nigeria (the National Standards Body of my country) in January 2003. The best thing that happened to me was being gainfully employed by the National Standards body in 2003 as I got the opportunity to attend loads of trainings, develop standards, as well as participate in a lot of activities that have greatly enhanced the much needed skills required to survive in the industry.
Becoming a certified ISO 9001:2000 Auditor in 2003 exposed me to the world of ISO Standards — a journey I have continued till date. I also earned certifications in a couple of other ISO standards, thanks to my former employer, the Standards Organization of Nigeria. My years at the Standards Organization of Nigeria as well as my position as the Technical Secretary for THC 05 with the African Organization for Standardization had further exposed me to the world of ISO standards where I honed technical as well as auditing skills from among the best in the industry.
Participating in a number of trainings and meetings in different parts of the world further helped to enhance my knowledge and skills. These provided me the opportunity to learn from the best in the industry as well as maintain an enviable network. I had unconsciously sponsored myself to attend trainings within and outside Nigeria without knowing I was preparing myself for the task ahead. Auphysh was registered in November 2015, and its operations fully commenced in January 2017, two months after I had resigned from the Standards Organisation of Nigeria.
Taking the decision to resign from a paid job after about fourteen years where I had a lot of potential for growth, was a very difficult one.
I had discussed with my spouse, my siblings, a couple of close associates, a very close elderly friend (who is instrumental to a greater part of who I am today), and an immediate former boss. I intentionally did not discuss it with a number of my other former bosses because I wanted to take a decision solely based on my convictions and did not want a situation where anyone of them would make me change my mind.
Taking this step was made easier as I was exposed to a number of opportunities by being a PECB Certified Trainer. I had always desired to be a renowned businesswoman and fathomed that remaining in paid employment would not make it an easy feat. At some point, I had to take a decision to quit my job without knowing what laid ahead of me.
I was convinced that leaving a paid job to venture into the unknown could only bring either success or failure. Staying back would never make me know what the outcome would be.
It took me about a year of praying and fasting (February — September 2016) to ensure I was headed towards the right direction with the challenges I knew I was bound to encounter. It was not a year of preparing myself for the business world neither was it to acquire any business knowledge and skills. All I knew was that I needed the conviction that I was headed in the right direction and all other bits would fall in as time went on, or so I thought.
I attended the PECB Certified Advanced Audit Techniques training course in Stockholm, Sweden, in June 2016 and became more convinced that my decision to leave paid employment was for a greater good.
PECB was offering two things in one — the opportunity for me to become an independent auditor as well as the opportunity for me to run my own business.
The first had already been achieved and when the chance for the second opportunity came, I had to wait until after I had left paid employment before taking it. The early years were tough, as in tough with capital letters. I had to learn almost everything related to the business industry on the move while ensuring I maintained the home front.
My family had supported my dream and I had to ensure I did not let them down as well as had to make the time to be with them. I had to give up trips that required attending training sessions in person. I needed to do all I could as well as develop grit. There were late nights of voracious reading. There were eureka moments when I had to write down solutions, draw up plans, permutate and combine a lot of numbers and times when I had to draw up a To-Do list for each day hence the need to have books at the bed side as well as writing materials. There were times when I unconsciously worked while sleeping, while other times when I would meditate and map out my strategy to achieving unprecedented success.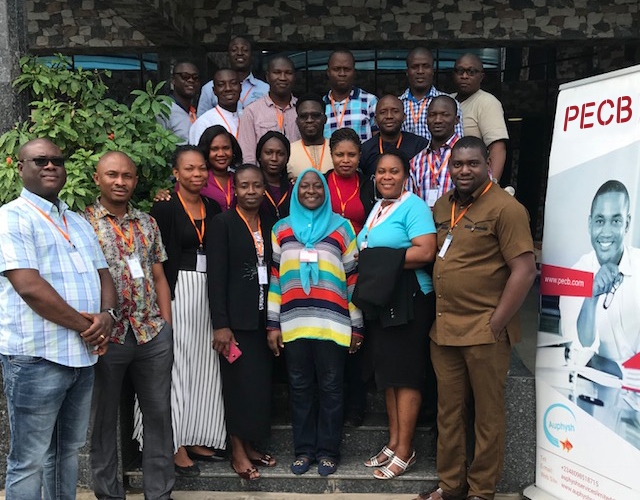 I had encountered a couple of challenging times during my career. The first was shortly after I resigned and I had advertised for a training course which was scheduled to run in December 2016. I had not considered the season neither had I mastered consumer patterns. I used social media and traditional media to seek attendees but I was not able to get the required class size. Eventually, I had to cancel the class. There were times when I ran some training courses with a few candidates. For those times, I was unable to receive the Trainer Fee because all I was after was to break even. Another time was when candidates canceled at the last minute or they had made the installment payments and did not abide by the terms and I had to monitor the debtors list. Another challenging time for me was when the foreign exchange rate soared and I was at my wits end. I was forced to deep my hands into personal savings in order to run a few training courses as it was increasingly difficult to manage with the earnings from course fees.
The most challenging time was when sales were extremely low and all of a sudden I seriously considered heading for a paid job. I was not sure why all the pieces were not adding up and it seemed that my qualifications, certifications, and experiences were not making it happen. At this point, getting a job was not even forthcoming and I decided to face the problem head on and restrategize. I met with a couple of mentors who explained that the curve was normal and all I need to do was to hang on, go back to the drawing board, and seek new ways in which to create and launch new products.
One thing I knew was that ISO standards were in my DNA (Auphysh tag line) and I had to muster the courage not to give up as well as hone the business skills I required while the business was in a trough.
The bottom line became extremely important, business knowledge was critical, and increasing my client database was a key objective. SWOT analysis taught me what I needed to work on with respect to weaknesses and threats that were glaring at me, internal and external issues such as capability and competition respectively, coupled with interested party requirements that had to be considered during risk analysis in order to come up with controls.
Above all, I knew I could not give up. Determination was the rule of the game and I was not about to lose out.
I had to attend classes both physically and online, read more, hone skills from the Zimba Women and Cherie Blair Foundation program mentors as well as mentors from the industry in order to bridge the business gaps. I also had to bring a uniqueness to my way of delivering training and consulting projects, which is a non-one size fits all approach, as well as by way of implementing the PDCA cycle for all projects.
Albeit my next to zero business skills, PECB provided me with the platform to grow amid a tough business environment as well as expand my offerings to clients and intending clients and provided so much back end support. They offered webinars to improve my technical skills, supporting marketing tools such as flyers, and published Auphysh training events on social media to improve sales. I also had access to a pool of Trainers and Consultants, and resources which I could use to expand my knowledge, improve training experiences as well as give real life examples to clients.
With the gathering of business knowledge and skills and a strengthened strategic plan, I drew up a number of plans to improve our sales trajectory and periodically monitored the entire process to ensure my team and I were in alignment with the strategy.
The visibility made possible by PECB was a major life saver. I was able to showcase my skills and people were able to see what I had to offer.
This opened many doors inclusive of opportunities of handling projects for multinational companies. Auphysh, in about three years, had become a brand to reckon with.
I have been able to maintain an enviable profile, thanks to access to a multitude of online training courses offered by PECB, which has opened a number of unexpected opportunities. About three years down the line, I cannot help but give thanks to God almighty for all I have achieved so far. As the dreams I had so far have become true, I never rest on my oars and strive to always be the best in all I do and hope someday to consult or be a part of the consulting team for the fortune 500 companies. I most definitely will leave my footprints in the sands of time.
I cannot say that my success story has ended because I am Auphysh. I believe more wins lie ahead of Auphysh and I, because "a goldfish has no hiding place."