Consider a management philosophy relentlessly committed to perfection, focused on enhancing business performance by eliminating imperfections. That is the essence of Six Sigma, a concept originally introduced by Motorola engineers in the 1980s, which has since evolved into a fundamental principle for countless organizations all around the globe.
The Six Sigma Methodology: A Blueprint for Success
Six Sigma is a methodology for process improvement that tends to make organizations effective and efficient by keeping customers and employees satisfied. This methodology uses the DMAIC (Define, Measure, Analyze, Improve, and Control) approach as a roadmap for problem-solving and process enhancement. The journey through these phases usually follows a linear path, but in some cases, modifications may be necessary after the collected data have been analyzed. The "Improve" and "Control" phases are reached once the project's scope is definitively established.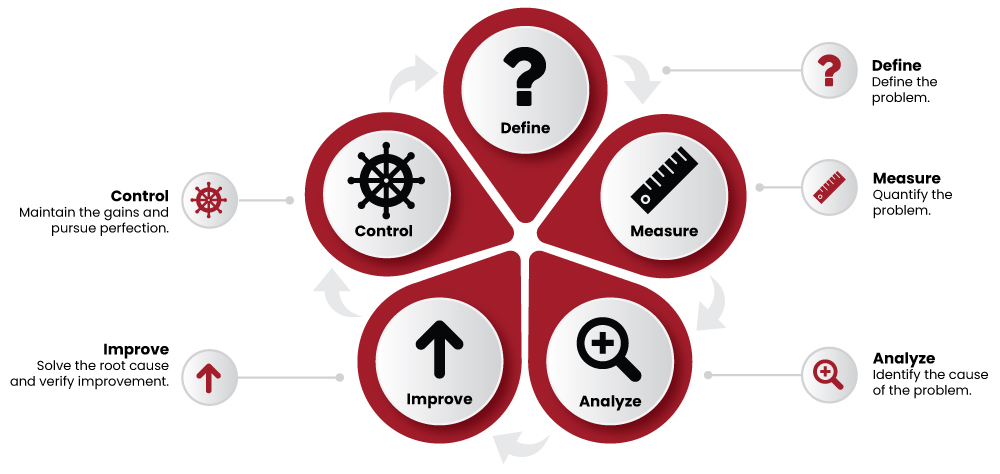 Data-based decision-making is one of the most important elements of the Six Sigma methodology. While apprehension toward statistics can sometimes deter organizations, statistics are merely tools for describing, comparing, and interpreting data. Learning these statistical concepts becomes more manageable when their relationships are understood and when the focus is directed toward advanced statistical methods.
The Power of Six Sigma
Sigma performance is a key metric for assessing the efficiency of various processes. What makes Six Sigma the ultimate methodology is the fact that achieving a Six Sigma performance means having only 3.4 defects per million opportunities (products or services produced), which is close to perfection.
Remarkably, the aviation industry surpasses this benchmark, experiencing fewer than 0.39 crashes per million flights, making it one of the safest modes of transportation. On the other hand, the luggage handling process has a low Sigma rating. This means that out of a million pieces of luggage, the airplane is expected to lose, misplace, misdirect, mishandle, or cause delays for more than sixty thousand pieces.
Six Sigma Implementation
There have been times when uncertainty has surrounded the prominence of Six Sigma. Some executives tend to undertake alternative initiatives with the excuse that many companies have failed with Six Sigma. What they fail to realize is that Six Sigma, like any other initiative, can be implemented incorrectly.
There are many factors affecting the success of the project, including:
Senior Management Involvement – is crucial for the success of a Six Sigma project as that is the only way for the executives to see where the problems derive from. Executives can select projects and teams, approve improvement ideas, resolve conflicts, provide resources, and review the project.
Six Sigma Infrastructure Creation – makes resource allocation for process improvement efficient. Research shows that failure to create a suitable organizational infrastructure can lead to project failure.
Education and Training – are key factors for the successful implementation of Six Sigma. Training the team members will reduce the chance of project failure. Ideally, all employees should receive some form of awareness training to ensure their readiness to engage in projects when required.
Effective Use of Six Sigma Tools – will allow the Six Sigma team to correctly implement the project. It is important that employees undertaking the training are those with the strongest technical and social skills.
Project Management Skills – are highly important when implementing a Six Sigma project. The project team should be able to overcome the obstacles and achieve the project objectives within the designated time and budget.
Communication – in Six Sigma projects is a substantial factor in facilitating the change without much resistance.
The Benefits of Six Sigma
"Measurement is the first step that leads to control and eventually improvement. If you can't measure something, you can't understand it. If you can't understand it, you can't control it, you can't improve it." – H. James Harrington.
The continued success of Six Sigma is attributed to several benefits, including:
Cost Reduction: Organizations enjoy bottom-line savings as a result of Six Sigma implementation.
Customer and Employee Satisfaction: Six Sigma leads to improved satisfaction among customers and employees.
Quality Enhancement: Products and services achieve a higher level of quality.
Process Improvement: A shared language of improvement is established across the organization.
Reputable organizations like Motorola, General Electric, Dell, Amazon, Boeing, Ford Motor Company, and so on, have benefited from Six Sigma implementation. Motorola, for instance, saved a remarkable $17 billion, while General Electric secured more than $700 million in savings by integrating Six Sigma as their quality culture.
In an ever-competitive world, Six Sigma remains one of the most crucial methodologies for achieving operational excellence. Even though new initiatives and uncertainties may arise, the key to success with Six Sigma lies in proper implementation, demanding an active involvement of senior management, a robust infrastructure, training, effective use of tools, project management skills, and clear communication. In a world that demands nothing less than near-perfection, Six Sigma continues to be a guiding light toward operational excellence.
PECB and Six Sigma Certification
PECB plays a pivotal role in unlocking the benefits of Six Sigma certification through its comprehensive training courses, including:
Six Sigma Yellow Belt Certification – a credential that recognizes an individual's basic level of proficiency in Six Sigma methodology, its concepts, tools, and techniques, including the DMAIC approach.
Six Sigma Green Belt Certification – a training course that improves the ability to confidently tackle rather complex subjects, effectively solve problems, and provide useful recommendations.
These courses provide a deep understanding of Six Sigma methodologies and practical skills that can be applied to real-world scenarios. PECB certifications serve as a testament to your expertise, showcasing your commitment to quality and process improvement.