When I was asked to contribute to the Success Story portion in this edition of PECB's Insights Magazine, I wondered what I would be talking about. First of all, what is success and have we really experienced a success story?
This gave me an opportunity to meet with the Abilene Academy team to do a retrospective on where we started and where we are today. We could have opted for enumerating facts and figures on how well we do and how "smart" we are. But we concluded that success is not ours alone; we share it with our customers, our partners, trainers, and we also share it with PECB.
So let us analyze the factors that led to this success.
We talk the talk because we walk the walk
Firstly, what is Abilene Academy? The training services division of Abilene Advisors. Our initial intention when creating Abilene Advisors in 2015, was to gather our skills, expertise, and competencies to help our customers implement management systems and comply with normative and regulatory frameworks. We consider education and training to be some of the main drivers of a successful management system implementation.
All our trainers are experienced advisors, and all our advisors must spend time delivering training courses.
This is a fundamental cornerstone: the main principle when delivering a course is to make sure that we tell "reallife" stories. We are convinced that the participants who chose Abilene Academy do not want to spend four days listening to a person reading the course slides, nor do they need someone to explain what is on the slides. PECB's excellent training material is self-sufficient for that. The added value of our course delivery is nothing less than our own experience. Hence our motto at Abilene Academy is: Experience matters!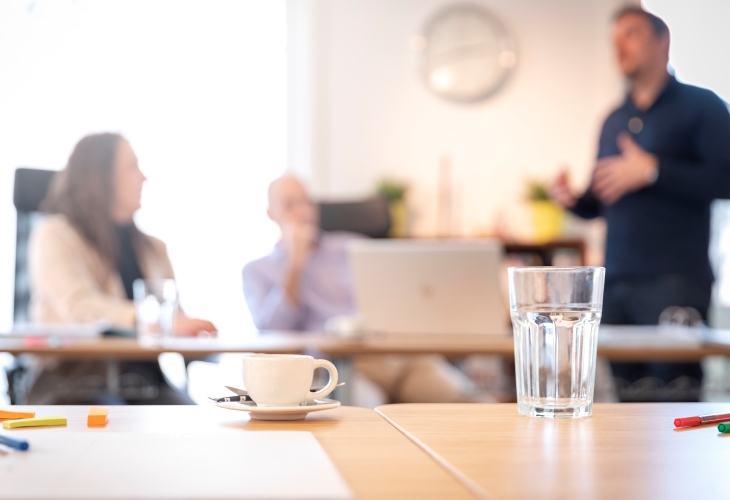 We aim to be trustworthy and generous
A wise businesswoman once told me: "If you keep your hand closed, no one will ever take what is in it but nothing will be deposited in it either; if you open your hand, some will take what you have in it, but others will deposit something".
As a team, we do not hesitate to give. We spend time with our participants long after the courses, we help them with different services, such as short-course refreshers, administrative shortcuts, or attentiveness to their financial limitations.
We also open our hands to our partners and to PECB and never hesitate to spend time for the common greater good.
So far, this approach has paid off.
We make sure that everyone in the team adapts to the customer service mindset. It is not simply solving problems for the customers. It is about creating a delightful and unique experience that develops long-term relationships and loyalty. It is not enough to deliver a course. We have to focus on the entire experience: the purchase, the preparation, the delivery, and the aftersales service. For instance, if participants have traveled to be with us, we try to make sure they enjoy their stay.
The Head of training services with her vast experience in the luxury industry, used to say: "We pamper our customers. Every customer is unique and must be delighted by our services. Every customer must feel like they are the only one". That is why we have returning customers.
We attempt to constantly observe, understand, and anticipate the needs of our customers; before, during, and most of all, after the delivery of the course. Also, we seize every opportunity to reassess and identify what leads to certain results within our organization.
As an example, we have a unique agreement with the ISO Central Secretariat that allows us to provide each participant with their own legitimate and licensed copy of the necessary ISO standard.
"Abilene Academy offers a set of quality training, adapted to the needs of the IT market. The Abilene Academy team by its professionalism allows to follow, to provide, to advise people in the choice of training, to offer several types of training in relation to each person's needs. The strength of Abilene Academy is its adaptation to our professional expectations as they bring real flexibility in the articulation of the formations which are proposed. In addition, the professionalism of the entire team makes the difference, from registration to training. Thanks to Abilene Academy" – Jean-Guy Ahanda
We are not afraid to try and fail, because we are confident in our abilities
Ideas and innovations are always there but putting them in action is another story. Many obstacles come along the way, such as time and money. However, we once decided that if 50% of our initiatives would be successful, that would be considered a very good performance. So we try and fail, try again, and again until we succeed.
The Scottish mathematician Thomas Carlyle said it best:
"Nothing builds self-esteem and selfconfidence like accomplishment".
No need to climb Everest. It suffices to look at our everyday actions and judge them with objective compassion. This way, all the little challenges count, and self-confidence is constantly nurtured.
So we will continue trying and failing, and more importantly trusting ourselves to eventually succeed. Even if that sometimes requires swimming upstream and ignoring detractors.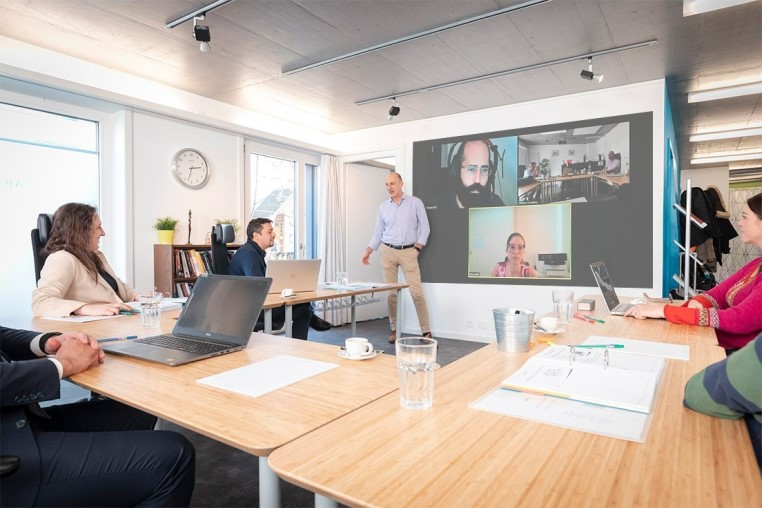 We are always on Day 1
Surely, the COVID-19 pandemic forced most of us to deploy countless resources of imagination and inventiveness to maintain our businesses afloat, "adapt or disappear", necessity is the mother of invention.
We surely did reinvent the way we work in response to the pandemic: a new course delivery platform (our #LearnAnywhere concept), a new marketing approach, and a new customer relationship channel.
And most of this change and evolution would not have been possible without PECB. After all, this is normal, it is what makes a resilient economy. But for Abilene Academy, we do not consider this enough. We will not wait to be constrained to move: reinvention is happening every day! We have adopted Amazon's CEO, Jeff Bezos, Day 1 mentality: every day of our company is Day 1 of our startup, focusing on what our customers would need, how they would need it.
"Day 2 is stasis. Followed by irrelevance. Followed by excruciating, painful decline. Followed by death. And that is why it is always Day 1." – Jeff Bezos
We do not fight change, we embrace it
Many influences tend to push us into Day 2, such as natural entropy, lack of discipline, new technology trends, competition, even success itself, because it makes you self-satisfied and lazy. The solution is to not fight against these influences but to accept them and build on them.
The economy, the crisis, the pandemic, everything gets in our way to prevent us from doing business and crushes us if we fight against it, because after all, we are insignificant. So we happily embrace the changes and make the most out of the new or changing circumstances.
We focus on the results, not on the processes
What works well today, is no guarantee of future results. So we try to stay light and agile by:
Focusing on the outcome of our actions and initiatives, not on the processes
Deciding quickly and frequently revisiting past decisions
Changing directions swiftly if we cannot reach expected results
Asking ourselves constantly where we can go from here to efficiently obtain short-term positive and gratifying outcomes with limited resources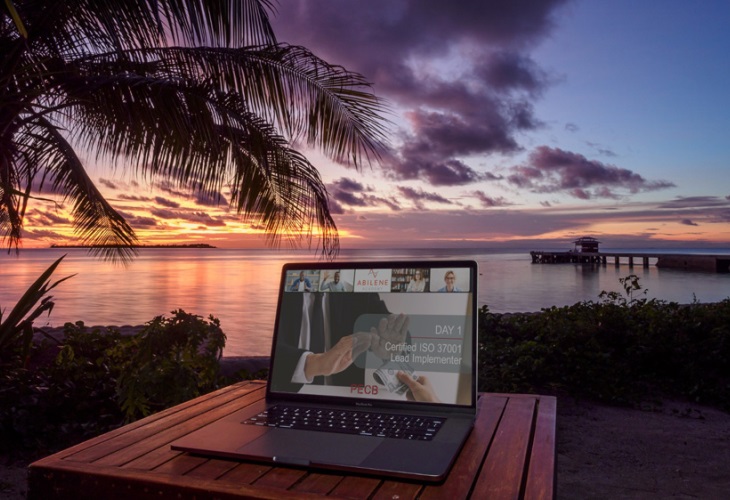 Hard work and discipline
These may be the most important factors of all. All victories inevitably come at a cost.
"What is success? I think it is a mixture of having a flair for the thing that you are doing; knowing that it is not enough, that you have got to have hard work and a certain sense of purpose" – Margaret Thatcher
We recently received the PECB Central Europe Partner of the year Award. That is validating and we are full of gratitude! But behind this award, there is a lot of sweat. Countless hours of hard, and often repetitive work as well as the implacable discipline of the Abilene Academy team.
We break some rules
This comes with creativity and innovation. Rules are there to be changed because the world changes. And because creativity is inventing, experimenting, growing, taking risks, breaking rules, making mistakes, and having fun, therefore, we extend our thanks to PECB for their flexibility and understanding.
Breaking rules is also looking outside the box, getting out of your comfort zone, and being ready to fail.
I would add eagerness to fail, because failure enables us to learn and become stronger and that brings us back to Day 1, the day when we still dream big and think that everything is possible. When we still believe that when there is a will, there is a way.
"If your dreams don't scare you, they're not big enough." – Mike Horn
We are proud to contribute to a better world
Finally, the last factor is luck. We were lucky to have been selected by a number of large international organizations and NGOs (though living near Geneva undoubtedly helps!) to assist them in implementing ISO's best practices and in delivering training courses.
We have the honor of offering our services to organizations such as: The Global Fund (whose mission is to fund projects to fight against malaria, tuberculosis, and HIV), to Gavi, the Vaccine Alliance (who contributes decisively to the fight against the SARS-CoV-2 pandemic in developing countries), the International Atomic Energy Agency (IAEA), and the International Committee of the Red Cross (ICRC).
Contributing to a better world brings us this feeling of fulfillment that makes us jump out of our beds every morning, ready to take a bite of hard work.
"Abilene Acadamy can benefit risk and information security managers in both public and private sectors to improve their organizations' ability to meet their goals. The trainers are top-notch and the venues, highly conducive to learning. Highly recommended!" – Andreas Tamberg (The Global Fund)
In conclusion
To summarize, the ingredients to our success are being trustful, generous, and self-confident. Dream big and never forget your dreams, work hard to make them a reality. Do not fight change but embrace it, break some rules, acknowledge your luck, and show gratitude. That is, at least, what worked for us. We are not so presumptuous as to think that this would work for everyone.